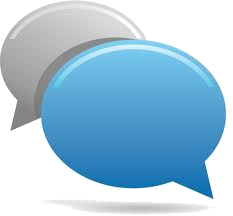 The new Christogenea website now has a chat room. Some of our brethren have long been accustomed to listening to live programs on the Chat page at the old website, rather than at Talkshoe. Now they can do that at the new website, and with the new software hopefully the experience will be even better. 
If you have an account at Christogenea, you may now log into the new site and visit the chat page at http://christogenea.org/chat. One difference with the new website is that if you do not have an account, you can still view the chat page without logging in, but you cannot participate. (The trolls will love this feature.)

If you would like to participate in the future, accounts at Christogenea are made by request to [email protected]. Please provide a user name and we will create an account for you as soon as time permits.
If you are accustomed to visiting the Chat page during our live programs, please log in and do so in advance, in order to make certain that you can get there come program time. The new Chat page has a feature which requires that the time zone be set on your user profile page, a feature which we do not like and are trying to change. If you receive an error message, you will have to visit your profile page (you will see a link called "My Account" near where you log on in the lower left-hand column), and set your time zone. We have a piece of code that we expect to do that for you, but it has not been well-tested at this point. If you do not want to reveal your time zone, you may choose any time zone from the drop-down list.
This new chat room may not seem like a big deal, because the old Christogenea website had a chat room. However the software behind this new chat room is a lot more scalable and more capable than the old one. It took a few weeks to get all of the software configured, but in setting it up we learned how to deploy some new and rather cutting-edge server-side Javascript technology that also allows us to have some other real-time data collection and presentation capabilities on the website. One use of this technology is the ability to monitor the database log in real time, and now I can watch all of the important transactions on the site as they happen – at least when I am here at my desk. That ability has already helped me in more rapidly responding to and blocking people attempting to hack or flood the site, something which happens all the time, so that saves me a lot of time in the long run. We will be looking for other useful ways to deploy this technology in the future.

Praise Yahweh!
William Finck