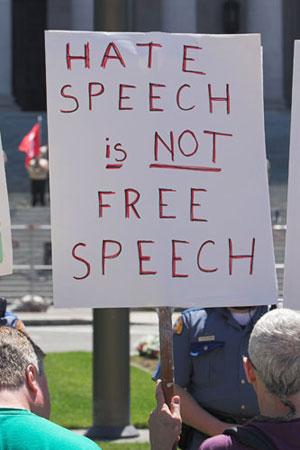 We must protest, that so-called "hate speech" is indeed as free as any other speech! When one's political opponents get to define categories of speech, the inevitable result is tyranny. The First Amendment to the Constitution of the United States of America was not deemed necessary by the founders of this nation in order to protect "nice" or "politically correct" speech. Rather, it was deemed necessary so that men would never be afraid to express the thoughts of their consciences, or to reveal what they believed to be TRUTH. The TRUTH does not need laws to defend it, only LIES do. These laws come in the form of "Hate Speech" and related legislation—which have already imprisoned and muffled many noble and otherwise law-abiding men and women in the other so-called Western Democracies, supposedly "free" nations. Freedom of Speech is a Christian ideal and its greatest threat are the enemies of God and Christ.
Those enemies of God and Christ have gotten the political power that they now enjoy by belittling God and Christ - which, shamefully, they were permitted to do in a "free" and "open" Christian society. Now that they have that political power, they hypocritically wish to silence Christians in their desperation to maintain it. If Christians had only believed Christ, that when an anti-Christ speaks, he (or she, or it) is only doing the work of his own father, the devil, and that is what they are!
This article had 1,063 reads on the Saxon Messenger website.