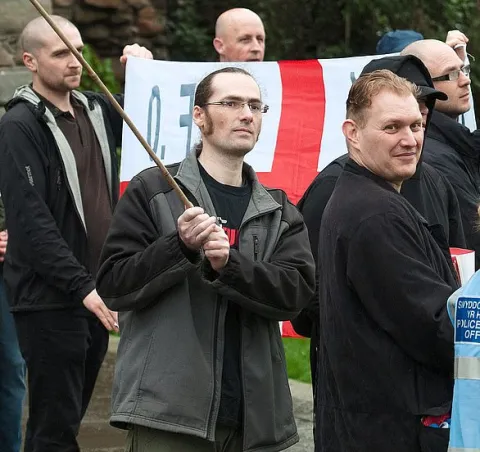 Our friend Sven Longshanks was given a two-and-a-half year prison sentence yesterday in a Welsh courtroom, for expressing unpopular but truthful opinions in as many as ten different podcasts which were published on the internet at least several years ago. The government's claim was that Sven was attempting to "incite racial hatred", something which is only treated as a crime when the accusation may be made against people who oppose certain government policies which are openly hostile to White Europeans. From his initial arrest, Sven was forbidden to speak about the case, so we do not even know precisely which podcasts it was for which he had been charged, however so far as we know, none of them were from Christogenea. The supposedly offensive podcasts were all from Sven's Radio Albion website.

See https://www.givesendgo.com/supportsven
There is no "freedom of speech" in the United Kingdom, or anywhere in Europe, so a man can go to prison merely for expressing thoughts or opinions about history or society with which the government may disagree, without any consideration as to whether those thoughts or opinions have any actual basis in fact. In this respect, Sven's case is a perfect example of how the government treats White Europeans who disagree with the diversity agenda far worse than non-White immigrants who commit actual crimes. The judge in Sven's case, whose name is Huw Rees [which can probably be Anglicized to Hugh Reese], is himself a personification of that fact.
According to the BBC, while Sven was being sentenced "judge Huw Rees said the offending amounts to a 'stain on our humanity'". Just months ago, in September of 2022, the BBC reported that this same judge unconditionally discharged a 67-year-old Pakistani immigrant and muslim imam, Khandaker Rahman for being "too ill to stand trial" for repeatedly raping a schoolgirl. So judge Rees had indeed allowed a baby rapist to go free merely for being "ill", while incarcerating another man with serious health issues, of which we shall not go into detail here, merely for expressing his own honest and factual opinions. By his own actions, Rees has proven many of Sven's opinions to be factual.
But there is more. British television station ITVX reports that in January, 2015 "A judge warned a primary school caretaker he was "taking a risk" by giving him a community sentence for possessing more than 600 indecent images of children. Judge Huw Rees let 55-year-old Michael Pendry walk free from Cardiff Crown Court. The court heard 658 vile images were found on his phone, iPad and home computer... Judge Rees told Pendry that had his offences involved children at the school he would have received a 'substantive prison sentence' but [that] he would "risk" sentencing Pendry to a community order." So long as Huw Rees is judge, children in Wales are not safe from predators.

Huw Rees is more than a judge. He is a Churchwarden of St Mary's Priory Church, Abergavenny, where he presented a sermon on another judge, Pontius Pilate, in March, 2017. So here we must state that while Huw Rees pretends to be a Christian, he is certainly no Christian, and where he pretends to be able to teach others, he should be teaching himself.
Sentencing Sven Longshanks, Rees has assumed the role of the "terrible one" of Isaiah chapter 29, whose destruction all Christians await: "20 For the terrible one is brought to nought, and the scorner is consumed, and all that watch for iniquity are cut off: 21 That make a man an offender for a word, and lay a snare for him that reproveth in the gate, and turn aside the just for a thing of nought."
Freeing Khandaker Rahman and Michael Pendry, Huw Rees failed to live up to his obligation as a judge, according to the words of Christ Himself in Luke chapter 17 as his own expressed attitudes towards other races would interpret them: "2 It were better for him that a millstone were hanged about his neck, and he cast into the sea, than that he should offend one of these little ones."
Huw Rees is a hypocritical judge, fit for a hypocritical government. He is not fit to speak about either Pontius Pilate or Sven Longshanks.