Christogenea Internet Radio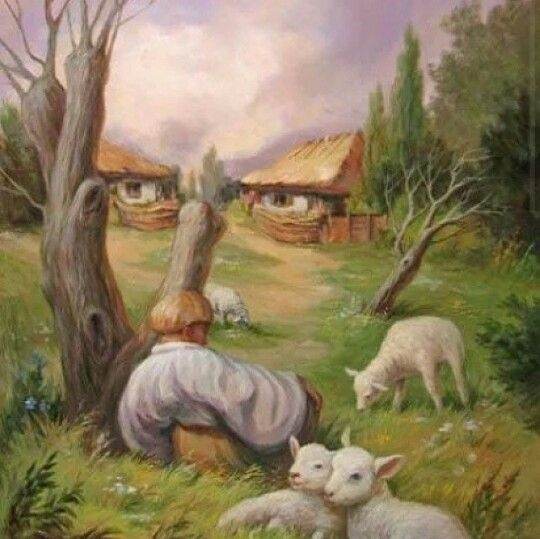 On the Gospel of John, Part 27: Hirelings and Wolves
As we began our discussion of John chapter 10, we sought descriptions in the words of the prophets of Yahweh by which we may understand The Purpose of the Shepherd. This is necessary for us to do, because Christ Himself had said, in Matthew chapter 5, "17 Think not that I am come to destroy the law, or the prophets: I am not come to destroy, but to fulfil." So if He came to fulfill the words of the prophets, then the action and the purpose of His ministry must be in conformance with their words, and therefore it is they to whom we must turn in order to better comprehend the purpose and intent of His ministry, so that we may understand what He had come to fulfill. If His intentions are not in accordance with their words, then He has destroyed them, and He cannot claim to have fulfilled them. But praise Yahweh God that He is True, and He is not a liar, since He does not change. The words of the prophets describe the purpose of Christ, and the epistles and actions of the apostles further verify that purpose. For that same reason we read in 2 Peter chapter 3 that Peter's reason for writing was: "2 That ye may be mindful of the words which were spoken before by the holy prophets, and of the commandment of us the apostles of the Lord and Saviour", because the purpose of the Shepherd was indeed the purpose which had been previously announced by the prophets.
Yahshua Christ, being the Good Shepherd, and the only true shepherd, had come only for the "lost sheep of the house of Israel", to gather them to Himself, as He Himself had professed and as the prophets had described. Furthermore, the words of the prophets had not only explained what happened to those sheep and why they were lost, but they also inform us as to where those sheep had wandered and what would become of them. By the Word of Yahweh God through the prophets, since the only purpose of the Shepherd is to regather those same lost sheep to Himself, the apostles brought the Gospel of the Shepherd to Europe, Anatolia and Mesopotamia, because it was to those same places that the sheep had wandered and that is where they expected them to be found.
Thus far in this chapter of John's gospel, Yahshua Christ had also explained that the good shepherd would enter through the door of the sheep, in verse 2 where He said "2 But he that entereth in by the door is the shepherd of the sheep." Then He asserted that He Himself is the door of the sheep, in verse 7 where He proclaimed "Verily, verily, I say unto you, I am the door of the sheep." So if He is the door, and if He came in through the door, how can these two concepts be reconciled? How can a door enter in through itself?
The only way that this can justly be interpreted is to understand that He is Yahweh God, incarnate as a man of His Own Creation. He is the door because He is the Creator of Israel, as He said in Isaiah chapter 43: "1 But now thus saith the LORD that created thee, O Jacob, and he that formed thee, O Israel, Fear not: for I have redeemed thee, I have called thee by thy name; thou art mine." Then He came through the door because He was born of the seed of Israel, as Paul describes in Hebrews chapter 2: "16 For verily he took not on him the nature of angels; but he took on him the seed of Abraham. 17 Wherefore in all things it behoved him to be made like unto his brethren, that he might be a merciful and faithful high priest in things pertaining to God, to make reconciliation for the sins of the people." And of course, only Israel ever had the law (Psalm 147:19-20), so sin could only be imputed to Israel (Romans 5:13), and Christ came to reconcile Himself to them alone, as they alone are the 'world' for which He gave His life (Wisdom of Solomon 18:24). The children of Israel are the sheep, and the Door is for them alone.
We must also bear in mind the fact that this discourse was given on the same Great Last Day of the Feast of Tabernacles which John began to describe in chapter 7 of this Gospel. So the revelation of the nature and identity of the enemies of Christ in John chapter 8 was earlier on that same day, and then Yahshua had healed a man who was blind from birth. Upon contention relating to that act, He began this discourse on the Good Shepherd. Once we connect all of the concepts which Christ explains to us in the course of this single day, we too, being blind, can be healed of our blindness. We should understand both the nature and identity of His enemies, and the nature and identity of the sheep. That we discussed at length presenting chapter 9 of John's gospel, which is our explanation of How the Blind Can See.
Now, as the discourse of the Good Shepherd continues, Yahshua Christ warns us of two other groups which can affect the sheep, hirelings and wolves. Not all hirelings, not all bad shepherds, are wolves. Wolves come from outside the sheepfold, and they are not of the sheep. But sometimes bad shepherds arise who are from among the sheep. Thus we read in the words of Paul of Tarsus, as he warns the pastors of Ephesus of what would transpire after his departure, since he understood that he was seeing them for the last time, where it is recorded in Acts chapter 20: "25 And now, behold, I know that ye all, among whom I have gone preaching the kingdom of God, shall see my face no more. 26 Wherefore I take you to record this day, that I am pure from the blood of all men. [Paul had told them the truth, so he is not responsible for them if they fail:] 27 For I have not shunned to declare unto you all the counsel of God. 28 Take heed therefore unto yourselves, and to all the flock, over the which the Holy Ghost hath made you overseers [or bishops], to feed the church of God, which he hath purchased with his own blood. [God being Christ, and Christ being God, He redeemed the children of Israel with His Own blood. What follows are the verses pertinent to our discussion:] 29 For I know this, that after my departing shall grievous wolves enter in among you, not sparing the flock. 30 Also of your own selves shall men arise, speaking perverse things, to draw away disciples after them. 31 Therefore watch, and remember, that by the space of three years I ceased not to warn every one night and day with tears."
The purpose of a hired hand in a pasture would naturally be to keep the sheep on behalf of the shepherd. Comparing the words of Paul with those of Christ here, Paul identifies the wolves as outsiders, but they can pose as hirelings, getting themselves into a position in order to mislead and then to devour the sheep. But men from among the sheep may arise to be hirelings and only seek to get the sheep to follow after themselves, diverting them away from following the Shepherd rather than guiding them along the Shepherd's path. So, Paul making that distinction for us, we may have better insight into the discourse of the Good Shepherd in John chapter 10.
We last discussed the words of Christ in verse 11 of the chapter, where He stated "I am the good shepherd: the good shepherd giveth his life for the sheep." This is the ultimate proof that He is the true Keeper of the Sheep, that He offered His life on their behalf, as He stated frequently before it actually happened. As we had explained when we encountered this verse in the first presentation of this chapter, Paul had informed us in Romans chapter 7 as to why Christ had to die for His sheep: to free the children of Israel from the penalties of the law, releasing them from the penalty of death because of the punishments that were required by the law for the sins of their ancestors. Being the bride of Yahweh, Israel having committed idolatry and adultery was under penalty of death. The husband dying, Israel was freed from the law of sin and death. But Yahweh had promised a New Covenant with those same people, as we had cited from Jeremiah chapter 31. Yahweh also promised to betroth Himself anew to those same people, as we have discussed from Hosea chapter 2, where earlier in John's gospel Christ was identified as the bridegroom of His people.
Another witness to the reasons for His death on behalf of the sheep is found in a Messianic prophecy in Isaiah chapter 53, and this passage also identifies the sheep of whom Christ had spoken here:
Isaiah 53:1 Who hath believed our report? and to whom is the arm of the LORD revealed? 2 For he shall grow up before him as a tender plant, and as a root out of a dry ground: he hath no form nor comeliness; and when we shall see him, there is no beauty that we should desire him. 3 He is despised and rejected of men; a man of sorrows, and acquainted with grief: and we hid as it were our faces from him; he was despised, and we esteemed him not. 4 Surely he hath borne our griefs, and carried our sorrows: yet we did esteem him stricken, smitten of God, and afflicted. 5 But he was wounded for our transgressions, he was bruised for our iniquities: the chastisement of our peace was upon him; and with his stripes we are healed. 6 All we like sheep have gone astray [the children of Israel who were under the law]; we have turned every one to his own way; and the LORD hath laid on him the iniquity of us all. 7 He was oppressed, and he was afflicted, yet he opened not his mouth: he is brought as a lamb to the slaughter, and as a sheep before her shearers is dumb, so he openeth not his mouth. 8 He was taken from prison and from judgment: and who shall declare his generation? For he was cut off out of the land of the living: for the transgression of my people was he stricken.
This is a digression from our commentary, but concerning this passage, "Who shall declare His generation", it may be His habitation, or even better, His race, as Gesenius describes the possible meanings of the corresponding Hebrew word, dur (1755). For that reason, christogenea can mean race of Christ. This is one of two passages which inspired the name, the other one being where this passage is quoted in words attributed to Philip at Acts 8:33.
Isaiah chapter 53 was cited many times in the New Testament, in relation to both Christ and His gospel. For example, in 1 Peter chapter 2, in reference to Christ, we read: "24 Who his own self bare our sins in his own body on the tree, that we, being dead to sins, should live unto righteousness: by whose stripes ye were healed." That last line was a direct reference to Isaiah 53, and therefore Peter's intended audience must have been comprised of the descendants of scattered Israelites, and that can certainly be established as fact. For that reason, according to Paul himself in Acts chapter 26, his ministry was conducted for the sake of the twelve tribes of Israel.
So in reference to these same sheep for whom He was stricken, according to Isaiah chapter 53, Yahshua Christ continues His discourse on the Good Shepherd and the sheep:
X 12 [P45, א, A, D and the MT insert 'But'; the text follows P75, B and W] The hired hand, who also not being the shepherd, of whom the sheep are not his own, watches the wolf coming and leaves the sheep and flees, and the wolf seizes and scatters them [A and the MT have 'seizes them and scatters the sheep'; the text follows P45, P66, P75, א, B, D and W], 13 because [The MT has 'Now the hired hand flees because', starting a new sentence; the text follows P45, P66, P75, א, A, B and D] he is a hired hand [W wants 'because he is a hired hand'] and there is no care in him concerning the sheep!
Rather than hired hand, the King James Version has hireling, which in this case may be even more appropriate. A hireling in our modern English vernacular is now considered to be a derogatory term describing a person who is employed to undertake menial work or a person who works purely for material reward. I did not employ the term because the original Greek word, μισθωτός, is not a derogatory term and only describes someone who is hired to work. However it is clear in this context that by hired hand, Christ means to describe someone who is working solely for material reward, as he has no care for the sheep. As an aside, this discourse also demonstrates the Christian necessity that one's ecclesiastical leaders must be of one's own people, which is also the manner in which the earliest Christian assemblies were first organized by the apostles.
When I interpreted verse 8 in this chapter, I made the assertion that the words of Christ here must be understood within the context of His Own time. There He had said that "All that ever came before me are thieves and robbers: but the sheep did not hear them." So I made the illustration that Christ could not have been speaking of the prophets and rulers of Israel, Moses, Joshua, David, Solomon and the rest, because they were ordained by God and they were of the sheep. Neither could they have been thieves and robbers, as they had also come in through the door of the sheep. Therefore here, Christ must have been speaking in reference to all of those who had ruled over Judaea in His own era, up to His Own time.
From the rise of Herod the Great, who was appointed king over Judaea by the Romans around 40 BC, up to the time of Christ, Roman procurators and the Edomite Herodians had ruled over Judaea, and these do indeed fit the description of the hirelings, men who were ruling over the sheep only for the sake of their own economic benefit, and who had no actual care for the sheep, since they were not of that fold. We also described how the people of Judaea were generally disaffected from these rulers, for which reason they were avoiding the synagogues and gathering by the rivers each Sabbath day, as was the Hebrew custom when there were no synagogues to attend.
The word synagogue is a compound Greek word, it is not a Hebrew word, and it simply and literally describes a gathering-place, with no actual religious connotation. Judaeans were compelled by law to attend the temple for the three main feasts each year, but they were only driven by custom to attend a local synagogue, or gathering, on the Sabbath, so in Judaea they were eschewing the synagogues and gathering at the rivers instead. The success of the ministry of John the Baptist is sufficient evidence to support our assertion.
Judaea being under the control of the Romans, perhaps the Herodians may be associated with the wolves here, who were scattering and devouring the sheep rather than having any care for them. One protest may be that the Romans were actually scattered sheep themselves, and they were. But they were also pagans who had little cognizance of their ancient connections to the children of Israel, and thus to the Judaeans.
But if the Herodians are seen as hirelings, that is also fully acceptable because they also fit that description, as we may see in the parable of the wicked husbandmen who were hired to manage the vineyard and had killed the servants and then even the son of the lord who had hired them, as Christ had described in Luke chapter 20. The high priests and other officials appointed by the Herodians over the people of Judaea certainly did act as wolves, operating in their office as a Criminal Enterprise in order to enrich themselves at the expense of the people.
The hired hand may be from of the sheep, or he may be a stranger. The husbandmen of the vineyard certainly had no relationship to the son of the lord who had hired them. But the wolves are definitely not of the sheep. They are the thieves and robbers who did not come through the door of the sheep, but had sneaked in by another way. For that reason we read in the epistle of Jude what is actually a warning quite similar to that of Paul's which we have cited from Acts chapter 20. But Jude's warning is even more descriptive as to the identification of the wolves where he wrote: "3 Beloved, when I gave all diligence to write unto you of the common salvation [common to circumcised and uncircumcised Israelites], it was needful for me to write unto you, and exhort you that ye should earnestly contend for the faith which was once delivered unto the [Old Testament] saints. 4 For there are certain men crept in unawares, who were before of old ordained to this condemnation, ungodly men, turning the grace of our God into lasciviousness, and denying the only Lord God, and our Lord Jesus Christ."
The apostle Peter also made a similar warning, in his second epistle in chapter 2, where he spoke of men who would secretly introduce heresies into the assemblies of Christ: "3 Beloved, when I gave all diligence to write unto you of the common salvation, it was needful for me to write unto you, and exhort you that ye should earnestly contend for the faith which was once delivered unto the saints. 4 For there are certain men crept in unawares, who were before of old ordained to this condemnation, ungodly men, turning the grace of our God into lasciviousness, and denying the only Lord God, and our Lord Jesus Christ." Saying "who were before of old condemned", Peter can only be referring to the same intruders whom Jude was describing, men who were thieves and robbers because they had not entered through the door of the sheep: they were neither of the Creation of Yahweh in Israel, nor even of Adam.
But if the pastors of ancient Israel, the hired hands of their time, had lived up to their obligations, the wolves intruding among the sheep would not have been able to deceive them. So the Word of Yahweh says in Jeremiah chapter 2: "8 The priests said not, Where is the LORD? and they that handle the law knew me not: the pastors also transgressed against me, and the prophets prophesied by Baal, and walked after things that do not profit." Where it says "they that handle the law knew Me not", it must be a reference to the scribes who were to create and keep copies of the law. In 1 Chronicles chapter 2 we read of Kenites who were scribes, whose background and origination are obscure, and then in Jeremiah 8:8 we read, from the Septuagint: "How will ye say, We are wise, and the law of the Lord is with us? In vain have the scribes used a false pen."
Throughout his prophecy, Jeremiah continues to describe the failure of the pastors, the hirelings of Israel, in Jeremiah chapter 10: "21 For the pastors are become brutish, and have not sought the LORD: therefore they shall not prosper, and all their flocks shall be scattered." Then in Jeremiah chapter 12: "8 Mine heritage is unto me as a lion in the forest; it crieth out against me: therefore have I hated it. 9 Mine heritage is unto me as a speckled bird, the birds round about are against her; come ye, assemble all the beasts of the field, come to devour. 10 Many pastors have destroyed my vineyard, they have trodden my portion under foot, they have made my pleasant portion a desolate wilderness." Then finally, in Jeremiah chapters 22 and 23: "22 The wind shall eat up all thy pastors, and thy lovers shall go into captivity: surely then shalt thou be ashamed and confounded for all thy wickedness…. 1 Woe be unto the pastors that destroy and scatter the sheep of my pasture! saith the LORD. 2 Therefore thus saith the LORD God of Israel against the pastors that feed my people; Ye have scattered my flock, and driven them away, and have not visited them: behold, I will visit upon you the evil of your doings, saith the LORD."
The conditions described in Jeremiah would persist, as we read in Isaiah in a Messianic prophecy of a future time, in Isaiah chapter 56: " 8 The Lord GOD which gathereth the outcasts of Israel saith, Yet will I gather others to him, beside those that are gathered unto him. 9 All ye beasts of the field, come to devour, yea, all ye beasts in the forest. 10 His watchmen are blind: they are all ignorant, they are all dumb dogs, they cannot bark; sleeping, lying down, loving to slumber. 11 Yea, they are greedy dogs which can never have enough, and they are shepherds that cannot understand: they all look to their own way, every one for his gain, from his quarter. 12 Come ye, say they, I will fetch wine, and we will fill ourselves with strong drink; and to morrow shall be as this day, and much more abundant."
So we see that the pastors, the watchmen, the hired hands, are greedy dogs, working for their own benefit and not truly caring for the sheep. So with their disregard for the sheep, every wicked beast can find its way into the sheepfold in order to scatter and devour the sheep, which had happened in ancient times, and which is also the condition of our people today, in spite of the warnings of Peter, Jude and Paul.
As a digression, my own attitude is that I would not use the word pastor as a title, even if I might be so entitled. That is because I had realized long ago, that men use titles as a pretense of authority, even when the substance of their work or the nature of what they profess merits no such authority. Of these Paul had said, in 2 Timothy chapter 4, "3 For the time will come when they will not endure sound doctrine; but after their own lusts shall they heap to themselves teachers, having itching ears; 4 And they shall turn away their ears from the truth, and shall be turned unto fables." Paul very likely had Isaiah chapter 56 in mind when he wrote that.
Now we have professors, doctors, lawyers, politicians and others in positions of authority who do not truly live up to the authority that their titles give them, and it is even more so with pastors. But I would rather have quality of my work speak for me, and not some title, so I think it is more appropriate not to attempt to use one. History demonstrates that more damage has been done to the congregations of Yahweh our God by pastors, or by priests, by men with titles, than has ever been done by those from outside of the congregations. When people are led to believe that they do not have to study for themselves, that they can get by only if they follow some hireling, they are already deceived.
Once again using my own experience as an example, I have even been told by men, and by one former friend who is now advertising the fact that he worships the devil, that "you are no pastor", and that is fine. I would not protest that, and it would never hurt my feelings. By their standards I certainly am not a pastor, and I would never want to be a pastor. They expect a pleasant and friendly counselor, a sycophant who will listen to their problems and help them find ways to justify their sins, someone who will soothe them with kind words and reassurances. Someone who will speak to them only of "God's abundant blessings", and not of the personal or national consequences for sin. Pastors do these things so that they will not alienate people, because if they alienate people they will not have their financial support. Their vocation is a craft, and not a duty. But if perhaps they do alienate anyone, those whom they have alienated only depart to find another pastor who will justify them.
Paul had likewise warned against these so-called pastors, first in Romans chapter 16: "17 Now I beseech you, brethren, mark them which cause divisions and offences contrary to the doctrine which ye have learned; and avoid them. 18 For they that are such serve not our Lord Jesus Christ, but their own belly; and by good words and fair speeches deceive the hearts of the simple." Then again in Philippians chapter 3: "17 Brethren, be followers together of me, and mark them which walk so as ye have us for an ensample. 18 (For many walk, of whom I have told you often, and now tell you even weeping, that they are the enemies of the cross of Christ: 19 Whose end is destruction, whose God is their belly, and whose glory is in their shame, who mind earthly things.) "
But too frequently, men love to be lied to. They enjoy being told only favorable things, and it often leads them to destruction. When men love lies, Yahweh sends them more lies as their punishment. There is a signal example of this in 1 Kings chapter 22. Ahab, the king of Israel, aspired to a certain military undertaking and sought out the advice of a prophet to find whether or not it would be successful. He is there recorded as having admitted that of all the prophets that he could seek, a prophet named Micaiah was the only one who spoke for Yahweh, but he also knew that Micaiah would only forewarn him of doom. So Micaiah forebode doom, and Ahab said to the King of Judah, to Jehoshaphat, whom he sought to join him in his venture: "Did I not tell thee that he would prophesy no good concerning me, but evil?" So Ahab turned and sought a favorable prophet, even though that would of course be a false prophet.
Then next we read : "20 And the LORD said, Who shall persuade Ahab, that he may go up and fall at Ramothgilead?" Ostensibly, Yahweh wanted Ahab to reject His prophet Micaiah, so that he would be punished and destroyed in his defeat. Then we read: "And one said on this manner, and another said on that manner. 21 And there came forth a spirit, and stood before the LORD, and said, I will persuade him. 22 And the LORD said unto him, Wherewith? And he said, I will go forth, and I will be a lying spirit in the mouth of all his prophets. And he said, Thou shalt persuade him, and prevail also: go forth, and do so. 23 Now therefore, behold, the LORD hath put a lying spirit in the mouth of all these thy prophets, and the LORD hath spoken evil concerning thee."
Immediately thereafter, Micaiah was confronted by false prophets who spoke well of Ahab and the prospects of his venture, so the king had Micaiah arrested as the prophet continued to prophesy doom for them all. Ahab then went off to the battle, where he was shot by an arrow and died. When men love lies, when they would rather have their ears tickled than bear to hear the truth, then they will only find more lies, and ultimately even destruction. But under those circumstances, even the hireling who remains true to his master the shepherd can be abused by sheep who prefer the lies of the wolves. It is supposed to be the job of the hireling to keep the wolves out of the sheepfold, just as the Shepherd would do.
But because the pastors had caused the sheep to be scattered, and the sheep had turned to lies, for that Yahweh says in Isaiah chapter 66, where it speaks of the people in general: "4 I also will choose their delusions, and will bring their fears upon them; because when I called, none did answer; when I spake, they did not hear: but they did evil before mine eyes, and chose that in which I delighted not." Then in the next verse, speaking of those that would remain loyal to their God, he says: "5 Hear the word of the LORD, ye that tremble at his word; Your brethren that hated you, that cast you out for my name's sake, said, Let the LORD be glorified: but he shall appear to your joy, and they shall be ashamed."
In a promise of reconciliation, the children of Israel are told that they ultimately will have good pastors, as we read in Jeremiah chapter 3, a Messianic prophecy which also reveals the location of the lost sheep and the nature of the relationship between them and their God: "14 Turn, O backsliding children, saith the LORD; for I am married unto you: and I will take you one of a city, and two of a family, and I will bring you to Zion: 15 And I will give you pastors according to mine heart, which shall feed you with knowledge and understanding…. 18 In those days the house of Judah shall walk with the house of Israel, and they shall come together out of the land of the north to the land that I have given for an inheritance unto your fathers. 19 But I said, How shall I put thee among the children, and give thee a pleasant land, a goodly heritage of the hosts of nations? and I said, Thou shalt call me, My father; and shalt not turn away from me."
In that same manner Christ continues here in His discourse on the Good Shepherd:
"14 I am the Good Shepherd and I know Mine and Mine know Me [A and the MT have 'and I am known by Mine'; the text follows P45, P66, P75, א, B, D and W], 15 [P45 inserts 'and'] just as the Father knows Me and I know the Father, and I lay down [P45, P66, א, D and W have 'and I give'] My life [or 'soul', ψυχή, as opposed to 'spirit', or πνεῦμα, see also verse 11] on behalf of the sheep.
The Father knows Me and I know the Father: as He says later, in a later discussion in verse 38 of this chapter: "that the Father is in me, and I in him." That in turn is explained by Paul in Colossians chapter 2: "9 For in him dwells all the fullness of the Godhead [or Divinity] bodily." In other words, Christ was God incarnate, or as much of the essence of God as can inhabit the body of a man.
I know Mine: Christ knows those who are His, after the manner which John described in chapter 2 of his gospel, where it speaks of His enemies: "24 But Jesus did not commit himself unto them, because he knew all men, 25 And needed not that any should testify of man: for he knew what was in man." In other words, Christ knows those who are His, and those who are not, by their appearance and nature, not by waiting around to determine their behavior or see whether or not they may sin, as "all have sinned, and come short of the glory of God" (Romans 3:23).
Even in their sin, when they were being scattered in the Assyrian captivity, Yahweh spoke of the northern kingdom of the ten tribes, in Hosea chapter 5, and said " 3 I know Ephraim, and Israel is not hid from me: for now, O Ephraim, thou committest whoredom, and Israel is defiled." But from Ezekiel chapter 34 and other Old Testament prophecies, we may be confident that the sheep which Christ knows are the same sheep of the Old Testament children of Israel, who were promised ultimate reconciliation to God, as we read: "11 For thus saith the Lord GOD; Behold, I, even I, will both search my sheep, and seek them out. 12 As a shepherd seeketh out his flock in the day that he is among his sheep that are scattered; so will I seek out my sheep, and will deliver them out of all places where they have been scattered in the cloudy and dark day." These alone are the "lost sheep" for whom Christ had come. The sheep of God's pasture are never described as being random believers from any other race or nation. Rather, they are only those same lost sheep of the ancient Israelites, and only for them is the message of the gospel.
Yahweh created them, and He knows them, just as He also said in Amos chapter 3: "1 Hear this word that the LORD hath spoken against you, O children of Israel, against the whole family which I brought up from the land of Egypt, saying, 2 You only have I known of all the families of the earth: therefore I will punish you for all your iniquities." The purpose of the Shepherd was to reconcile those same children of Israel after their punishment is completed. But in that punishment and reconciliation, we read another prophecy in Jeremiah chapter 30: "11 For I am with thee, saith the LORD, to save thee: though I make a full end of all nations whither I have scattered thee, yet will I not make a full end of thee: but I will correct thee in measure, and will not leave thee altogether unpunished." This is repeated in Jeremiah 46:28.
Mine know Me: The children of God can recognize Yahweh their God in Christ if only they so choose, as Paul cited the 95th Psalm, which says "7 For he is our God; and we are the people of his pasture, and the sheep of his hand. To day if ye will hear his voice, 8 Harden not your heart, as in the provocation, and as in the day of temptation in the wilderness: 9 When your fathers tempted me, proved me, and saw my work." Twice in his epistle to the Hebrews, in chapters 3 and 4, Paul cited the line that says "To day if ye will hear his voice, harden not your hearts.…"
But Christ Himself also prophesied that there would be false Christs, and that many would be deceived. When a denominational Christian admonishes someone to "know Jesus", very often it is a false Christ which they are trying to introduce, a false concept of Jesus that they are preaching. With so much modern propaganda, how can anyone know who the real Christ is? This we read in Matthew chapter 24: "23 Then if any man shall say unto you, Lo, here is Christ, or there; believe it not. 24 For there shall arise false Christs, and false prophets, and shall shew great signs and wonders; insomuch that, if it were possible, they shall deceive the very elect. 25 Behold, I have told you before. 26 Wherefore if they shall say unto you, Behold, he is in the desert; go not forth: behold, he is in the secret chambers; believe it not." Well, neither is He found in the modern churches, who all teach a foreign and false Christ which is not the Christ described in the Scriptures. So when our brethren reject Christ, often they are rejecting a false Christ, and when they do hear His voice they shall accept Him.
Now here in John chapter 10, He is speaking in Judaea, where there is a remnant of true Israelites who were nearly all of the tribes of Judah, Benjamin and Levi, living among a larger population of foreigners, the Edomites and those of other nations, and He speaks next in reference to the "lost sheep", the scattered Israelites which were described by the prophets:
16 And I have [P66 and D have 'Now I also have'] other sheep which are not from this pen, and these it is necessary for Me to bring [P66 has 'gather'] and they shall hear My voice, and they [P66, א, A and the MT have 'it'; the text follows P45, B, D and W] shall be one flock, one shepherd.
In Ezekiel chapter 11 there is a prophecy of the alienation which would arise between the remnant of Judah in Jerusalem and the Israelites of the captivity, and the prophet is praying for those who were left in Judah: "13 And it came to pass, when I prophesied, that Pelatiah the son of Benaiah died. Then fell I down upon my face, and cried with a loud voice, and said, Ah Lord GOD! wilt thou make a full end of the remnant of Israel? 14 Again the word of the LORD came unto me, saying, 15 Son of man, thy brethren, even thy brethren, the men of thy kindred, and all the house of Israel wholly, are they unto whom the inhabitants of Jerusalem have said, Get you far from the LORD: unto us is this land given in possession. 16 Therefore say, Thus saith the Lord GOD; Although I have cast them [the captivity of Israel] far off among the heathen, and although I have scattered them among the countries, yet will I be to them as a little sanctuary in the countries where they shall come. 17 Therefore say, Thus saith the Lord GOD; I will even gather you from the people, and assemble you out of the countries where ye have been scattered, and I will give you the land of Israel."
There is more to this phrase "land of Israel" than is apparent, and it is not in Palestine, as we read in Deuteronomy chapter 32 of something that was not fulfilled in Palestine: "8 When the most High divided to the nations their inheritance, when he separated the sons of Adam, he set the bounds of the people according to the number of the children of Israel. 9 For the LORD'S portion is his people; Jacob is the lot of his inheritance." Then we read in 2 Samuel 7:10, where the prophet was speaking to David in Palestine: "10 Moreover I will appoint a place for my people Israel, and will plant them, that they may dwell in a place of their own, and move no more…" So the new home of which Samuel had prophesied cannot be in Palestine. These prophecies having preceded Ezekiel, the future land of which Ezekiel had spoken is not in Palestine. In Isaiah, who also preceded Ezekiel, we read in Isaiah chapter 27, where he is speaking of Yahweh that "6 He shall cause them that come of Jacob to take root: Israel shall blossom and bud, and fill the face of the world with fruit." The word for world there is tebel (Strong's # 8398), which Gesenius equates to the Greek word οἰκουμένη, referring to the inhabited and civilized portion of the earth.
So it is prophesied by Ezekiel that the remnant of Judah, or at least the inhabitants of Jerusalem, would reject the Israelites of the captivities, even so far as saying to them "Get you far from the LORD". Later, when Paul is chosen to bring the gospel to the twelve tribes of Israel, his commission as it is given in Acts chapter 9, as we have translated the instructions which were transmitted by Christ to Hananias, read in part: "For he is a vessel chosen by Me who is to bear My Name before both the Nations and kings of the sons of Israel." Our translation of this passage is perfectly valid in spite of the fact that it reflects a major divergence with all of the popular translations. Later, in Acts chapter 22, Paul was arrested in the temple and he was permitted to address the men of Judaea as he was being brought to prison, and speaking of Christ, he attested that Christ had told him to "Go, because I shall send you off to distant nations." Then at that very point where Paul said that, Luke records: "22 Now they listened until this word, and raised their voice saying 'Take such as him from the earth! For it is not fit that he lives!'" So here we evidence the record of the fulfillment of those words of Yahweh found in Ezekiel chapter 11. The Judaeans after the time of Christ did not want His gospel to go out to the nations of scattered Israel, as Ezekiel had said that they did not want to see them reconciled to Yahweh. But even later, in Acts chapter 26, Paul still found the courage to attest that "6… for the hope of the promise having been made by God to our fathers I stand being judged, 7 for which our twelve tribes serving in earnest night and day hope to attain, concerning which hope I am charged by the Judaeans…" That too, is a record of the fulfillment of Ezekiel 11:15. But today's pastors, all of them hirelings and wolves, neither teach nor even understand any of this.
As we had already explained in the last presentation in this commentary on John, The Purpose of the Shepherd, Ezekiel himself was a prophet of the captivity, and he himself had observed what was becoming of the many tens of thousands of Israelites who were taken into that captivity. Then even the Judaean historian Flavius Josephus informs us that "there are but two tribes in Asia and Europe subject to the Romans, while the ten tribes are beyond Euphrates till now, and are an immense multitude, and not to be estimated by numbers." The prophet Isaiah, in chapter 66 of his prophecy, informed us where these Israelites would later be found, and it was to those people whom Paul had brought the gospel, although Paul also went to people who had descended from much earlier migrations of the ancient Israelites, such as the Illyrians, Romans, and Dorian Greeks.
The remnant of Judah in Palestine had also grown considerably during the Hellenistic period, and many of them were found spread throughout the empire, as Paul had encountered them in his travels. So in spite of the fact that many of the Judaeans were converted Edomites, and never accepted the Gospel, as we shall see that Christ attests later in this chapter of John, there is another prophecy later in Ezekiel that Israel and Judah would once again be reconciled to one another. It must also be noted that much of Judah was also taken into Assyrian captivity along with Israel, but had lost their identity as Judah just as the Israelites had also lost their own identity, all of them taking to paganism. Furthermore, Ezekiel was writing perhaps a hundred years after most of the Israelites were taken into Assyrian captivity.
This prophecy of reunification is found in Ezekiel chapter 37: "15 The word of the LORD came again unto me, saying, 16 Moreover, thou son of man, take thee one stick, and write upon it, For Judah, and for the children of Israel his companions: then take another stick, and write upon it, For Joseph, the stick of Ephraim, and for all the house of Israel his companions: 17 And join them one to another into one stick; and they shall become one in thine hand. 18 And when the children of thy people shall speak unto thee, saying, Wilt thou not shew us what thou meanest by these? 19 Say unto them, Thus saith the Lord GOD; Behold, I will take the stick of Joseph, which is in the hand of Ephraim, and the tribes of Israel his fellows, and will put them with him, even with the stick of Judah, and make them one stick, and they shall be one in mine hand. 20 And the sticks whereon thou writest shall be in thine hand before their eyes. 21 And say unto them, Thus saith the Lord GOD; Behold, I will take the children of Israel from among the heathen, whither they be gone, and will gather them on every side, and bring them into their own land: 22 And I will make them one nation in the land upon the mountains of Israel; and one king shall be king to them all: and they shall be no more two nations, neither shall they be divided into two kingdoms any more at all: 23 Neither shall they defile themselves any more with their idols, nor with their detestable things, nor with any of their transgressions: but I will save them out of all their dwelling-places, wherein they have sinned, and will cleanse them: so shall they be my people, and I will be their God. 24 And David my servant shall be king over them; and they all shall have one shepherd: they shall also walk in my judgments, and observe my statutes, and do them."
The reference to "David my servant" is a reference to Yahshua Christ, as David stood as a type for the Messiah in the words of several of the prophets. So the making of Israel and Judah into one stick correlates to the words of Christ here in John 10:16 where He said "And I have other sheep which are not from this pen, and these it is necessary for Me to bring and they shall hear My voice, and they shall be one flock, one shepherd." For this purpose did Paul say in his epistles, for example in Galatians 3:28, "There is not one Judaean or Greek… for all you are one in Christ Yahshua", and at Romans 10:12 "For there is no distinction of Judaean and Greek", that his mission being to the twelve tribes of Israel, whether they were of the remnant of Judaea or of the "children of God scattered abroad", to which John refers in chapter 11 of his gospel, they would all be made into one stick in Christ, according to this prophecy of Ezekiel.
But that prophecy is not yet fully completed, as we see the promise of the ultimate objective of a new covenant where the prophet continues: "25 And they shall dwell in the land that I have given unto Jacob my servant, wherein your fathers have dwelt [aside from any apparent interpretation, this is not necessarily in Palestine, as the Greek of the Septuagint, as well as Brenton's translation of it, has 'where their fathers dwelt']; and they shall dwell therein, even they, and their children, and their children's children for ever: and my servant David shall be their prince for ever. 26 Moreover I will make a covenant of peace with them; it shall be an everlasting covenant with them: and I will place them, and multiply them, and will set my sanctuary in the midst of them for evermore. 27 My tabernacle also shall be with them: yea, I will be their God, and they shall be my people. 28 And the [nations] shall know that I the LORD do sanctify Israel, when my sanctuary shall be in the midst of them for evermore." If any so-called pastor, whether he be a hireling or a wolf, teaches that anyone but the people of Israel and Judah could be added to this "one stick", then he is a scatterer devouring the sheep. Christ came only for the sheep, and those sheep are identified only as the children of Israel, the genetic children of the twelve tribes, or two houses of Israel, throughout all of the prophecies which He came to fulfill.
The identity of the Shepherd and the sheep is consistent throughout the Scripture. For example, from the 23rd Psalm we read: "1 The LORD is my shepherd; I shall not want." And again, from the 80th Psalm, which was written by Asaph, who was a prophet of the captivity: "1 Give ear, O Shepherd of Israel, thou that leadest Joseph like a flock; thou that dwellest between the cherubims, shine forth. 2 Before Ephraim and Benjamin and Manasseh stir up thy strength, and come and save us. 3 Turn us again, O God, and cause thy face to shine; and we shall be saved. 4 O LORD God of hosts, how long wilt thou be angry against the prayer of thy people? 5 Thou feedest them with the bread of tears; and givest them tears to drink in great measure. 6 Thou makest us a strife unto our neighbours: and our enemies laugh among themselves. 7 Turn us again, O God of hosts, and cause thy face to shine; and we shall be saved." Of course, their salvation is in Christ, and He came only to save them, as the prophets had promised.
Now Christ attests that the Father loves Him for what He does:
"17 For this reason the Father loves Me, because I lay down [here 'lay down' is consistent in all the manuscripts, where in verses 11 and 15 some manuscripts have 'give'] My life [ψυχή] in order that I would receive it again.
Christ has already said that He lays down His life for His sheep. This is also found in the messianic prophecy of Daniel chapter 9, a prophecy which also accurately predicted the time of His advent, where it says "26 And after threescore and two weeks shall Messiah be cut off, but not for himself…" and Daniel continues to speak of Him as if He did not actually die, because God may die as a man, but God cannot truly die. As Yahweh said in Isaiah, in chapter 44: "6 Thus saith the LORD the King of Israel, and his redeemer the LORD of hosts; I am the first, and I am the last; and beside me there is no God."
So it must be, that Yahshua Christ is Yahweh God incarnate, and therefore He is one and the same with the Father. But He came to live and die as a man, and to be an example to men, an example that men should follow. So men should know, that when they devote their lives to their kindred, as He did, then God will also love them. For that same reason Christ had said, as it is recorded in Matthew chapter 16: "If any man will come after me, let him deny himself, and take up his cross, and follow me." So a true pastor, who is only a hired hand, devotes his life to his people, rather than taking advantage of them and filling his belly while fleeing at the sight of the wolves, as do the hirelings.
Now, the divine nature of Christ is once again revealed in His next statement:
18 No one takes it from Me. Rather I lay it down by Myself. [D wants this second sentence.] I have authority [ἐξουσία , or power, or even means] to lay it down, and I have authority [ἐξουσία] to receive it again. This command I have received from My Father."
Again He speaks as an example to men, but at the same time He attests that it is His Own will and power by which He dies, and it is His Own will and power by which He shall survive that death. Later, Christ would tell Pontius Pilate "Thou couldest have no power at all against me, except it were given thee from above: therefore he that delivered me unto thee hath the greater sin." By this we see that Christ laid the blame for His death at the feet of His enemies the Jews, and not on the Romans.
David frequently referred to the power of God over death and the hope of man in resurrection, for example in the 30th Psalm: "15 But God will redeem my soul from the power of the grave: for he shall receive me." But David also being a type for Christ, both in his life and in the prophetic literature, the apostles themselves cited the 16th Psalm as a reference to Christ, where David wrote: "10 For thou wilt not leave my soul in hell; neither wilt thou suffer thine Holy One to see corruption."
Now the discourse of the Good Shepherd is completed, and John observes the reactions of the people who heard it, which must have been a considerable crowd:
19 There was division again [P66, A and the MT have 'Therefore there was division again'; D has only 'Therefore there was division'; the text follows P75, א, B and W] among the Judaeans on account of these words.
Later in this chapter, in another exchange which takes place perhaps two months later, Christ tells His adversaries " 26 But ye believe not, because ye are not of my sheep, as I said unto you", ostensibly referring back to the events of this day.
20 Then many from among them said [P45 and D insert "that"] "He is mad and has a demon! Why do you listen to Him?"
The question here begins with the negative particle, μή, which indicates that a negative answer was expected. His adversaries here attempted to ridicule anyone who believed His words. So once again, the enemies of Christ sought to dehumanize Him by accusing Him of having a demon, and by dehumanizing Him with such slander, they would make it easier to convince the people to reject Him, and ultimately to kill Him. But at least some of those who were present had known better, as only a short time before this Christ had healed the eyes of the man who was blind from birth, and they responded:
21 Others [P66, א and W have "But others"] said "These are not the words of one possessed by a demon! Is a demon able to open the eyes of the blind?"
We may also ask, is a demon able to teach the sheep? At least most of the wolves are indeed also demons themselves. There are indeed serious and valid reasons why, for much of history, people were told what to believe, rather than having a choice in the matter. The "Age of Liberty" which corresponded with the rise of Democracy and the emancipation of the Jews in modern times, is a complete deception. The Middle Ages were certainly not perfect, but at least the wolves were not roaming freely in the sheepfold, creating fifty million heresies by which to deceive and scatter the sheep. Now after they have done that, they flood it with goats and dogs. If your pastor does not teach the differences between cattle and cattle, between the fat and the lean and the sheep and the goats, then he is no pastor at all, but only a hireling, or perhaps a wolf.
As Christ had told His students, in Luke chapter 6: "Can the blind lead the blind? shall they not both fall into the ditch?" So in Deuteronomy chapter 28, in the curses of disobedience, we read: "18 Cursed be he that maketh the blind to wander out of the way. And all the people shall say, Amen." But the priests of the time of Christ could not open the eyes of the blind, so as the people said in reaction to the miracle, in John chapter 9: "32 Since the world began was it not heard that any man opened the eyes of one that was born blind. 33 If this man were not of God, he could do nothing." So as we read in Isaiah chapter 42 of the coming of a savior to Israel, a part of His purpose would be "To open the blind eyes", and His adversaries had no excuse for not believing Him. But they were the wolves to whom the hirelings had turned over the flock, and the wolves could not possibly believe Him so long as they were eating freely of the sheep.
This is the seemingly abrupt end of John's record of the Great Last Day of the Feast of Tabernacles, of what I would esteem to be the year 31 AD, six months before that Passover on which Yahshua Christ did lay down His life for His sheep. The reasons for my estimation of the chronology are given in my June, 2012 commentary on Luke chapter 3. When we resume, it is two months later, probably in what would be our month of December, where Christ is found in the temple once again for a feast which was first started by the Maccabees around 160 BC.