Christogenea Internet Radio
In our last presentation of Paul's epistle to the Ephesians, we took a long digression in order to explain that Jesus hates, and to also explain some of what it is that Jesus hates. Doing so, we did not have the opportunity to discuss some of the first 12 verses of Ephesians chapter 5 from all of the perspectives in which they need to be discussed. We hope to compensate for that here by repeating those first 12 verses, summarizing and adding to what we have previously explained.
Paul's Epistle to the Ephesians Part 7: Menage a Trois: the order of the Kingdom
The French phrase menage a trois means a household for three. The enemies of Yahweh our God have ascribed to it a meaning in modern literature which it the phrase by itself does not convey, just as they corrupt every other facet of society with their gross perversions. The French word menage refers to the order of a household, and it is related to our English word manage, as well as words such as manor and mansion. As we approach the end of this chapter of Ephesians, it will become apparent why we have subtitled this program Menage a Trois: the order of the Kingdom. The order of the creation of Yahweh our God is indeed an order of interdependent family units each independently arranged in a menage a trois between a man, a woman, and God Himself, and no Christian household can be healthy and complete without all three members.
As we have previously detailed here in these presentations, in the first half of Paul's epistle to the Ephesians he had explained to them many of the reasons why they should be Christians, which are related to Covenant Theology and the apostle's ministry of reconciliation to the nations of scattered Israel. Now in this second half of his epistle, he explains to them how they should be Christians, exhorting them to keep the commandments of Christ, to adhere to the truth of God in spite of the worldly falsehoods, and to act towards one another with kindness, patience and charity, maintaining unity in the bond of the Spirit in Christ.
Making this exhortation, here in Ephesians chapter 5 Paul wrote: "1 Therefore you must be imitators of Yahweh, as beloved children, 2 and walk in love, just as Christ has also loved us, and surrendered Himself on our behalf, an application and sacrifice to Yahweh for an essence of sweet aroma." And of course, the Messiah had suffered and died on behalf of the sins of the children of Israel so that the children of Israel could be reconciled to God, as the prophets foretold in places such as Daniel chapter 9 and Isaiah chapter 53.
On this account Paul warns the Ephesians concerning sin, and he wrote: "3 But fornication and all uncleanness or greediness you must not even specify among you, just as is suitable with saints, 4 and abusiveness and foolish speaking or ribaldry, which things are not fitting, but thanksgiving instead. 5 This is known by you: that any fornicator, or unclean or greedy person - who is an idolater, has no inheritance in the Kingdom of the Anointed and of Yahweh."
Yet Paul says in his epistle to the Romans, in chapter 11, that "all Israel shall be saved", so we hear the question asked, that if any of the children of Israel have done any of these things, how could those who have done such things be saved? Yet the purpose of Christ is forgiveness and mercy for sin, so that the children of Israel may return to their God and repent of their sin. Where Paul had said that "all Israel shall be saved", he was paraphrasing in reference to the Word of Yahweh as it is found in Isaiah chapter 45.
There are commentators who attempt to reconcile the apparent discrepancy by claiming that the "all Israel" to which Paul had referred were merely all the tribes of Israel, meaning portions of Israel from each of the twelve tribes. But that is not what it says in Isaiah, where we read: "17 But Israel shall be saved in the LORD with an everlasting salvation: ye shall not be ashamed nor confounded world without end. 18 For thus saith the LORD that created the heavens; God himself that formed the earth and made it; he hath established it, he created it not in vain, he formed it to be inhabited: I am the LORD; and there is none else. 19 I have not spoken in secret, in a dark place of the earth: I said not unto the seed of Jacob, Seek ye me in vain: I the LORD speak righteousness, I declare things that are right. 20 Assemble yourselves and come; draw near together, ye that are escaped of the nations: they have no knowledge that set up the wood of their graven image, and pray unto a god that cannot save. 21 Tell ye, and bring them near; yea, let them take counsel together: who hath declared this from ancient time? who hath told it from that time? have not I the LORD? and there is no God else beside me; a just God and a Saviour; there is none beside me. 22 Look unto me, and be ye saved, all the ends of the earth: for I am God, and there is none else. 23 I have sworn by myself, the word is gone out of my mouth in righteousness, and shall not return, That unto me every knee shall bow, every tongue shall swear. 24 Surely, shall one say, in the LORD have I righteousness and strength: even to him shall men come; and all that are incensed against him shall be ashamed. 25 In the LORD shall all the seed of Israel be justified, and shall glory."
So the ultimate purpose of God is that every knee shall bow and that every tongue swear unto Him, referring to every one of the seed of Jacob. Paul had cited that portion of the passage more fully in Romans chapter 14, and again in respect to Christ in Philippians chapter 2. So Isaiah concludes in the final verse of the chapter: "In the LORD shall all the seed of Israel be justified, and shall glory," and he is not merely referring to portions of each of the twelve tribes. Rather, he is referring to all the seed of Israel, meaning each individual Israelite.
If either Paul or Isaiah meant merely all of Israel which have not repented before death, then there is no meaning to the words of Paul where he says in 1 Timothy chapter 5 that "24 Some men's sins are open beforehand, going before to judgment; and some men they follow after." So it is evident that some of the seed of Israel may not repent until, as Paul explained in Romans chapter 14, "we shall all stand before the judgment seat of Christ. 11 For it is written, As I live, saith the Lord, every knee shall bow to me, and every tongue shall confess to God."
Therefore, where Paul says here "that any fornicator, or unclean or greedy person - who is an idolater, has no inheritance in the Kingdom of the Anointed and of Yahweh", Christians should understand the importance of repentance for sin before facing the judgment seat of Christ, as Paul had explained in his second epistle to the Corinthians, in chapter 5: "10 For we must all appear before the judgment seat of Christ; that every one may receive the things done in his body, according to that he hath done, whether it be good or bad." There is no discrepancy in these ideas. All Israel shall be saved, but all Israelites shall not receive equal reward. As it says in Daniel, "thy people shall be delivered, every one that shall be found written in the book. And many of them that sleep in the dust of the earth shall awake, some to everlasting life, and some to shame and everlasting contempt." As Paul had said in his first epistle to the Corinthians, "If in this life only we have hope in Christ, we are of all men most miserable."
Concerning sin, Paul then warns that: "6 No one must deceive you with empty words, for on account of these things the wrath of Yahweh comes upon the sons of disobedience. 7 Therefore you must not be partakers with them."
As we illustrated at length in our last segment of this presentation, the denominational churches are convincing people to "hate the sin, but love the sinner", however that is a false gospel. In 1 Corinthians chapter 5 Paul had said "11 But now I have written unto you not to keep company, if any man that is called a brother be a fornicator, or covetous, or an idolater, or a railer, or a drunkard, or an extortioner; with such an one no not to eat." In Romans chapter 1 Paul had warned that not only are sinners worthy of the punishment of the laws of Yahweh, but also those who are accepting of such sinners. Christians must hate the sin, and they must also hate the sinner, meaning that they must ostracize unrepentant sinners from their communities. Until they do, Christians shall suffer the same punishments that the sinners are liable for. That is why all of the formerly Christian nations are being overrun with aliens in this very day today. We see this, in part, in the curses of disobedience given to the ancient children of Israel where it says in Deuteronomy chapter 28 that: "32 Thy sons and thy daughters shall be given unto another people, and thine eyes shall look, and fail with longing for them all the day long: and there shall be no might in thine hand. 33 The fruit of thy land, and all thy labors, shall a nation which thou knowest not eat up; and thou shalt be only oppressed and crushed always: 34 So that thou shalt be mad for the sight of thine eyes which thou shalt see."
And today we sit in that very anger, watching White men cohabit with females of the yellow races, or White women taken away with negros. Watching Europe being overrun with Arabs and Turks, and America with Mexicans. Watching the Kingdom of God, the imaginably superior White race allow itself to be consumed with people who are not even people, and even inviting them to do so.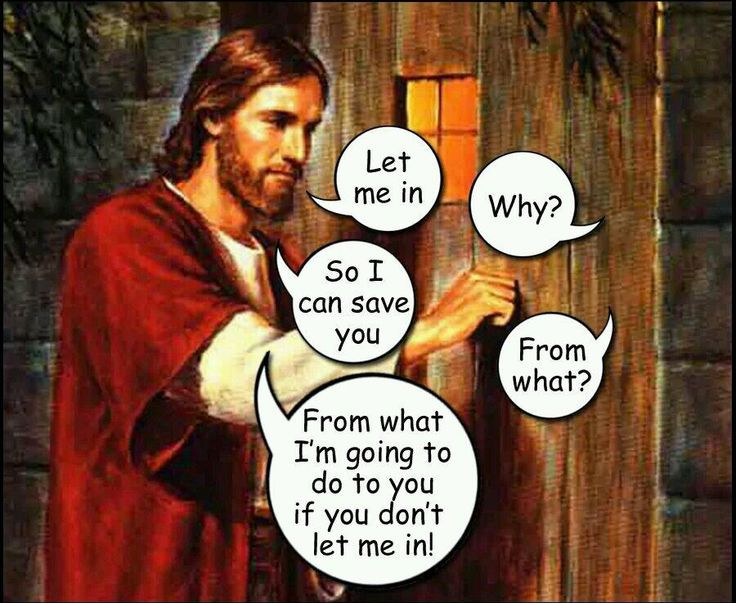 Recently, there has been a certain meme circulating in social media, of a hippie-looking Jesus figure knocking on a wooden door. The voice inside says "what do you want", and the hippie-looking Jesus answers "Let me in so that I can save you". The voice inside says "save me from what?" So the hippie-looking Jesus is portrayed as saying "From what I am going to do to you if you don't let me in".
The meme is supposed to show a contradiction in the Christian faith. But what it portrays is not at all Christian. The meme is a mischaracterization of Christianity promoted by those who hate Christ. The faith of our fathers is not centered around Christ punishing men merely for not believing Him, but rather it is centered around sin and the consequences of sin. When the White man keeps the laws of his God, the Spirit of God cohabits with the White man and he is not harmed by evil. When the White man departs from the laws of his God, the Spirit of God abandons the White man to his own devices, and the White man suffers as a natural result of his departure from God. Ultimately the punishment may be from God, but that is because it is a part of the natural order of His creation, or the natural consequences of the corruption of that creation. Therefore the punishment is actually self-inflicted, because the White man in his sin refuses to acknowledge the natural order of the creation.
It is the arrogance of man to deny the Creator, thinking that if he were his own god he could only be held accountable to himself. Therefore man will be punished by his Creator until, as Paul wrote in Philippians chapter 2, "every tongue should confess that Jesus Christ is Lord, to the glory of God the Father." So accepting Christ, one accepts that there is a God who created man, who also has a natural law that man should abide by in order to succeed in the establishment of civilization and live in harmony with his fellow men. Abiding in the law, the wicked and the enemies of God would be ostracized and marginalized from society. Therefore here in Ephesians Paul warns these Christians that "No one must deceive you with empty words, for on account of these things", referring to the sinful acts which he mentioned, "the wrath of Yahweh comes upon the sons of disobedience."
Then, because they certainly are descendants of the ancient Israelites, he further exhorts them: "8 For you were once darkness, but are now light in the Prince. Walk as children of light. 9 (For the fruit of the light is in all goodness and justness and truth, 10 scrutinizing what is acceptable to the Prince.)"
The purpose of the Gospel, as it was announced by Zacharias the father of John the Baptist and recorded in Luke chapter 1, was, in part, "To give knowledge of salvation unto his people by the remission of their sins, Through the tender mercy of our God; whereby the dayspring from on high hath visited us, To give light to them that sit in darkness and in the shadow of death, to guide our feet into the way of peace." Christ Himself had announced, as it is recorded in John chapter 8, that: "I am the light of the world: he that followeth me shall not walk in darkness, but shall have the light of life." Christ also spoke of Himself in John chapter 12, where He said to His followers "Yet a little while is the light with you. Walk while ye have the light, lest darkness come upon you: for he that walketh in darkness knoweth not whither he goeth. 36 While ye have light, believe in the light, that ye may be the children of light."
These announcements in the Gospel are in fulfillment of certain Messianic prophecies, such as that which is found in Isaiah chapter 42: "5 Thus saith God the LORD, he that created the heavens, and stretched them out; he that spread forth the earth, and that which cometh out of it; he that giveth breath unto the people upon it, and spirit to them that walk therein: 6 I the LORD have called thee in righteousness, and will hold thine hand, and will keep thee, and give thee for a covenant of the people, for a light of the Nations; 7 To open the blind eyes, to bring out the prisoners from the prison, and them that sit in darkness out of the prison house." These prisoners were the children of Israel in captivity and alienated from Yahweh their God, who were then being reconciled to God through Christ. So Christ quoted from those same chapters of Isaiah where he is recorded in Luke chapter 4 as having announced that "The Spirit of the Lord is upon me, because he hath anointed me to preach the gospel to the poor; he hath sent me to heal the brokenhearted, to preach deliverance to the captives, and recovering of sight to the blind, to set at liberty them that are bruised, To preach the acceptable year of the Lord."
The light which came into the world in Christ is that same light which came out of the pages of the Old Testament. Therefore the only way that Christians can be found "scrutinizing what is acceptable to the Prince" is by examining the Scriptures of the Old Testament, as Paul had said in his epistle to the Romans, in chapter 15: "For whatsoever things were written aforetime were written for our learning, that we through patience and comfort of the scriptures might have hope."
And finally Paul once again speaks of rejecting sinners, where he says: "11 And have no fellowship with the unfruitful works of darkness, but instead even reprove them. 12 For the things being done by them secretly it is disgraceful even to speak of."
So Christians should not "hate the sin. Love the sinner". Rather, Christians should "hate the sin, and reprove the sinner", and then ostracize the sinner from their community. By examining the commandments of Christ in the Old Testament, which He had exhorted His followers to keep, Christians "scrutinizing what is acceptable to the Lord" must see that fornicators, sodomites, and all other such sinners must be ostracized, or the communities in which they are accepted shall suffer the judgment of God. Get rid of the Sodomites, or end up like Sodom.
As Paul had said here earlier, "No one must deceive you with empty words, for on account of these things the wrath of Yahweh comes upon the sons of disobedience. Therefore you must not be partakers with them." There is no escaping that judgment. Denying that God exists, denying that for our White race salvation can only be found in Christ, will not allow our race to escape that judgment. One's denial of God does not change the reality of God. If we could be our own gods, at this very moment perhaps we would not be overrun by those who hate us. The proof of the wrath of God is manifest in every White nation today.
Thirteen hundred years ago the Christian Charles Martel stopped the vast armies of the Arabs in their tracks at Tours, and turned them out of France. Appropriately, he looted the Romish churches to pay his troops. Six hundred years ago, the advances of the Turks were halted by Christian armies on the plains of Kosovo, and only a little over three hundred years ago they were finally stopped for good at the gates of Vienna. From there they were ultimately pushed back out of Central Europe. But now over these past two hundred years the White European nations have abandoned Christianity, have come to be ruled over by Jews, and the Arabs and Turks merely walk into Europe in ever-increasing numbers. These circumstances are not a coincidence, and those who do not return to Christ and repent of their sins shall all suffer. Those who seek to be their own gods and secure their own destiny are failing miserably, and they shall all perish in their futility.
13 Now all things being reproved by the light are made manifest. 14 For everything being made manifest is light. Therefore He says: "Awaken, you who are sleeping, and rise up from among the dead, and Christ shall shine upon you."
The Codex Bezae (D) ends verse 14 rather curiously, "...and rise up from the dead, and you shall touch Christ."
Here Paul seems to be paraphrasing from both Isaiah 26:19 and Isaiah 60:1.
The first passage, from Isaiah chapter 29, carries a message of deliverance for the children of Israel in their reconciliation to Yahweh their God, but a message of destruction for the enemies of their God: "13 O LORD our God, other lords beside thee have had dominion over us: but by thee only will we make mention of thy name. 14 They are dead, they shall not live; they are deceased, they shall not rise: therefore hast thou visited and destroyed them, and made all their memory to perish. 15 Thou hast increased the nation, O LORD, thou hast increased the nation: thou art glorified: thou hadst removed it far unto all the ends of the earth. [The scattered children of Israel.] 16 LORD, in trouble have they visited thee, they poured out a prayer when thy chastening was upon them. 17 Like as a woman with child, that draweth near the time of her delivery, is in pain, and crieth out in her pangs; so have we been in thy sight, O LORD. 18 We have been with child, we have been in pain, we have as it were brought forth wind; we have not wrought any deliverance in the earth; neither have the inhabitants of the world fallen. [The scattered Israelites in their nations cannot save themselves from the inhabitants of the world.] 19 Thy dead men shall live, together with my dead body shall they arise. Awake and sing, ye that dwell in dust: for thy dew is as the dew of herbs, and the earth shall cast out the dead. 20 Come, my people, enter thou into thy chambers, and shut thy doors about thee: hide thyself as it were for a little moment, until the indignation be overpast. [This is reminiscent of the Passover deliverance in Egypt, where those who had the blood of the lamb on their doorposts were not touched by the angel of death.] 21 For, behold, the LORD cometh out of his place to punish the inhabitants of the earth for their iniquity: the earth also shall disclose her blood, and shall no more cover her slain."
The second passage, found in Isaiah chapter 60, also bears a message of deliverance, with similar language: "1 Arise, shine; for thy light is come, and the glory of the LORD is risen upon thee. 2 For, behold, the darkness shall cover the earth, and gross darkness the people: but the LORD shall arise upon thee, and his glory shall be seen upon thee. 3 And the Gentiles shall come to thy light, and kings to the brightness of thy rising." the darkness that covers the earth in this second passage seems to be a reference to the indignation of God to befall the people in verse 20 of the first passage.
Speaking on a personal level, answering questions about his own motivation and the purpose of his ministry, Paul had said in 1 Corinthians chapter 4: "4 Indeed not one thing for myself am I conscious, although not in this have I been proven, but it is the Prince who examines me. 5 Consequently, do not judge one prematurely, until the Prince should come, who will both illuminate the secrets of darkness, and make known the counsels of hearts; then at that time to each there will be approval from Yahweh." And this is one more reason why we must understand that "all Israel shall be saved" in spite of what we ourselves perceive of men, because only God knows the truth behind the causes of the acts of men.
As Christ Himself said in the Gospel, as it is recorded in John chapter 14, "I am the way, the truth, and the life: no man cometh unto the Father, but by me." Christ is the true light, as He refers to Himself in the Revelation as "the bright and morning star", and the true and original meaning of the term "sun god", since He alone brings the true light into the world. Therefore, in Romans chapter 2, Paul spoke of "the day when God shall judge the secrets of men by Jesus Christ".
15 So then [A interpolates "brethren"; the text follows P46, א, and B, and D and the MT which vary slightly] watch precisely how you walk, not as the stupid, but as the wise,
The word rendered as "stupid" is ἄσοφοι (Strong's # 781 – which appears only here in the New Testament), and "wise" is σοφοί (Strong's # 4680). An alternative to stupid is unwise, however we purposely chose to be rather blunt. It is stupid to deny God and walk in sin, especially when – even without the admission of God – it is noticeably wiser to abstain from sin for the benefit of one's own brethren and community. In other words, the natural law of God should be natural to man as well, and man only rejects that law in his own unnatural affections, in lust and arrogance. So Paul advises upon:
16 Buying the time, because the days are evil.
The Greek verb ἐξαγοράζω (Strong's # 1805), is literally "to buy up", according to Liddell & Scott, although where it appears in the context of Galatians 3:13 and 4:5, redeem is certainly acceptable. The word appears in the New Testament in one other place, Colossians 4:5, where once again time is the object, and therefore the literal rendering of the phrase, "buying the time" is most appropriate and also certainly fits our English idiom as well. The word appears once in the Septuagint at Daniel 2:8, where for the phrase ὅτι καιρὸν ὑμεῖς ἐξαγοράζετε we may write "that you are bargaining for time", where Brenton has "And the king answered and said, I verily know that ye are trying to gain time, because ye see that the thing has gone from me."
In these past two chapters of this epistle, in response to the evil world around them, Paul is telling these Ephesians to work towards the restoration of the saints, which is the body of Christ, to speak the truth with love, to rebuke and reprove those who do evil, and now to "buy the time" because the days are evil, which indicates that Christians should not attempt to take the vengeance of Yahweh against the wicked into their own hands. In this manner Paul also says that:
17 For this reason do not be foolish, rather understand what is the will [א has "mind"] of the Prince [P46 has "Christ"; A has "God"].
In this regard the apostle John wrote in chapter 5 of his first epistle: "16, If one should see his brother committing a sin not resulting in death, he shall ask and he shall give life to him, to those sinning not resulting in death. There is a sin resulting in death. I do not speak concerning that, that one should ask! 17 All sin is injustice, yet there is sin not resulting in death. 18 For we know that each who has been born from of Yahweh does not sin, rather he born from of Yahweh keeps himself and the Evil One does not touch him. 19 We know that we are from of Yahweh and the whole Society lies in the power of the Evil One. 20 Yet we know that the Son of Yahweh has come and gave to us an understanding that we may know the truth, and we are in the truth, among the number of His Son Yahshua Christ. He is the true God and eternal life."
So Christians should not speak the truth with love on account of the world, but they should speak the truth with love and reprove the sinners among their brethren in spite of the world. As Paul had said in Romans chapter 12, in turn quoting from Deuteronomy chapter 32 "19 Dearly beloved, avenge not yourselves, but rather give place unto wrath: for it is written, Vengeance is mine; I will repay, saith the Lord." However Yahweh God works through His people, and in his second epistle to the Corinthians Paul advised them to be prepared "to revenge all disobedience, when your obedience is fulfilled." So in this regard Paul further admonishes the Ephesians:
18 And do not be intoxicated with wine, in which there is abandonment, rather you be filled with the Spirit,
In Psalm 104 we read some of the blessings of God: "14 He causeth the grass to grow for the cattle, and herb for the service of man: that he may bring forth food out of the earth; 15 And wine that maketh glad the heart of man, and oil to make his face to shine, and bread which strengtheneth man's heart." Likewise, in Proverbs chapter 3: "9 Honour the LORD with thy substance, and with the firstfruits of all thine increase: 10 So shall thy barns be filled with plenty, and thy presses shall burst out with new wine." But wine can also be medicinal, as Paul advised Timothy to "use a little wine for thy stomach's sake and thine often infirmities."
So while wine can be beneficial, intoxication is certainly something to be avoided, as Paul also warned against those who were "given to much wine" in his epistles to both Timothy and Titus. Likewise the apostle Peter in chapter 4 of his first epistle discussed the former sins of the children of Israel, who had "lusts, excess of wine, revellings, banquetings, and abominable idolatries".
The abandonment to which intoxication leads is illustrated in part in Isaiah chapter 5: "11 Woe unto them that rise up early in the morning, that they may follow strong drink; that continue until night, till wine inflames them! 12 And the harp, and the viol, the tabret, and pipe, and wine, are in their feasts: but they regard not the work of the LORD, neither consider the operation of his hands." In this same regard Paul continues in his admonishment, that Christians do consider the work of Yahweh:
19 talking to yourselves with psalms and hymns and spiritual songs [P46 and B want "spiritual"; A has "and spiritual songs with thankfulness"; the text follows א, D, and the MT], singing and making melody in your heart to the Prince. 20 At all times being thankful for all things in the name of our Prince, Yahshua Christ, to Yahweh, even the Father [P46 and D have "to the Father, even God" (the phrase is a hendiadys); the text follows א, A, B, and the MT].
The phrase which is literally "talking to yourselves" may have been rendered "speaking among yourselves". As we have said previously, in our previous discussion of verses 3 and 4 of this chapter, a Christian's prayer should be his thought, and Christian thought should be one's prayer. There should be no distinction. King David, who had continually meditated on the law of God, and often had psalms and hymns as well, should be a primary example of what Paul describes here. Likewise, from the 77th Psalm, a psalm of Asaph, we read: "11 I will remember the works of the LORD: surely I will remember thy wonders of old. 12 I will meditate also of all thy work, and talk of thy doings."
In the balance of this chapter we find the foundations for true Christian community, and Paul begins by admonishing Christians to:
21 Subject yourselves to one another in fear of Christ:
Some editors read verse 21 as a conclusion to verse 20. Such a reading is only plausible if the reading of א, A, and I, or of D and M, where the verb is repeated, is accepted at verse 22. Other editors, as we also have here, place this verse at the beginning of a new paragraph, in a sentence continued by verse 22. This is possible regardless of which reading of 5:22 is accepted.
The Greek word φόβος (Strong's # 5401) is literally fear, although it may have been rendered as awe or reverence.
This is what Christ himself had taught at the famous Sermon on the Mount recorded in the Gospels of both Matthew and Luke. As, for example, Christ had said in Matthew chapter 5: "39 Now I say to you, not to oppose evil, but whoever slaps you on your right cheek, turn for him also the other. 40 And to him desiring for you to be judged and to receive your cloak, give up to him also the shirt. 41 And whoever shall press you for one mile, go with him two. 42 Give to him asking you, and you should not turn away from him wishing to borrow from you." Of course, Christ was only speaking in reference to the children of Israel, but in this manner , as He had said earlier in that same chapter, "16 Let your light so shine before men, that they may see your good works, and glorify your Father which is in heaven."
Yahshua Christ had devoted His life for the benefit of His people, as Paul had said here in verse 2 of this chapter, "walk in love, just as Christ has also loved us, and surrendered Himself on our behalf". Christians should in turn devote their lives for the benefit of their people, as Christ admonished in Luke chapter 9: "If any man will come after me, let him deny himself, and take up his cross daily, and follow me." The same is recorded in Matthew chapter 16 and in Mark chapters 8 and 10. If all Christians devoted their lives for the benefit of their brethren and their communities, in little time the Kingdom of Heaven would materialize.
22 wives, to their own husbands, as if to the Prince, 23 because the husband is head of the wife, as also Christ is head of the assembly: [the MT interpolates "and"; the text follows P46, א, A, B, D, I, and 048] He is deliverer of the body.
The Codices Sinaiticus (א), Alexandrinus (A) and Freerianus (I) have verse 22 to read in part "wives must submit themselves to their own husbands"; the Codex Beza (D) and the Majority Text have "wives, submit yourselves to your own husbands"; the text, which wants the verb, follows the 3rd century papyrus P46 and the Codex Vaticanus (B).
24 But as the assembly is subject to Christ, in that manner also wives in everything to the husbands.
So while Christian wives must submit themselves to their husbands, in turn Christian husbands must be subject to Christ. Therefore the Christian marriage has three parties: Christ being the first part, the husband being the second part, and the wife being the third part. That is indeed the original and only legitimate menage a trois, and every Christian marriage should be viewed with that perspective.
25 Husbands, love the wives [D and te MT have "love your own wives"; the text follows א, A, B, and 048], just as Christ has also loved the assembly, and had surrendered Himself for it,
Husbands should love their wives to the same extent that Yahshua Christ loved the children of Israel: that He was even willing to die on their behalf. Men should be willing to die for their families. BUT IF There is an illustration throughout Scripture, that the children of Israel as a people are collectively the wife of Yahweh their God. Christ died on behalf of His wife. That is the analogy often used in the prophets, and especially in Hosea, and that is also the analogy used by Paul, for instance in Romans chapter 7, and again in 2 Corinthians chapter 11.
So in Romans 7, speaking of the relationship of Israel with Yahweh under the judgments of the law, Paul wrote "2 For a woman married to a living husband is bound by law; but if the husband should die, she is discharged from the law of the husband: 3 so then as the husband is living, she would be labeled an adulteress if she were found with another man; but if the husband should die, she is free from the law, she is not an adulteress being found with another man. 4 Consequently, my brethren, you also are put to death in the law through the body of Christ; for you to be found with another, who from the dead was raised in order that we should bear fruit for Yahweh." Yahshua Christ had died in place of the children of Israel, as the nation, the wife of Yahweh, had committed adultery and were therefore liable to die under the law.
Yahweh, being, God has the ability to fulfill the letter of the law by dying, but then to take His life back again. So Paul says in 2 Corinthians chapter 11: "2 For I admire you with zeal of Yahweh; for I have joined you to one Husband, to present a chaste virgin to Christ." This is in fulfillment of the words of the prophet Hosea, through whom Yahweh had promised the children of Israel "19 And I will betroth thee unto me for ever; yea, I will betroth thee unto me in righteousness, and in judgment, and in lovingkindness, and in mercies. 20 I will even betroth thee unto me in faithfulness: and thou shalt know the LORD."
Yahshua Christ, being Yahweh God manifest in the flesh, is representative of the husband of the collective children of Israel. His relationship with Israel may also be described as a menage a trois, between God the Father, Yahshua Christ, and the children of Israel. It must also be noted, that anyone attempting to introduce any other people into the relationship besides the children of Israel, is basically accusing Christ of committing adultery.
26 in order that He would consecrate it, cleansing it in the bath of the water in the word, 27 that He may present it to Himself in honor, the assembly not having a blemish or a wrinkle or any of such things, but that it would be holy and blameless.
Here we see the true Christian baptism. No ritual will be of any service to man as a replacement for this: that it is Word of God by which men are truly cleansed. Yahshua Christ Himself stated to His disciples, as it is recorded in John chapter 15: "3 You are already clean because of the word which I have spoken to you." Here in Ephesians 4:5 Paul had asserted that there is "one Lord, one faith, one baptism", and of course all Christians should be able to count to one. Therefore the Christian who immerses himself in the Word of God and seeks to live by it has no need for any ritual conducted by men. The apostle Peter, in the third chapter of his first epistle, spoke similarly where he said that baptism was "not the putting away of the filth of the flesh, but the answer of a good conscience toward God".
28 So husbands are obliged to love their own wives, as their own bodies; he who is loving his own wife loves himself. 29 No one has at any time hated his own flesh, but nourishes and comforts it, just as also Christ [the MT has "the Lord"; the text follows P46, א, A, B, D, 048, and 0285] the assembly, 30 because we are members of His body.
The Codex Bezae (D), the 6th century Codex known only as 0285, and the Majority Text all have appended to the end of verse 30 the phrase "from of His flesh, and from of His bones", a phrase which the King James Version also has. The text of the Christogenea New Testament follows the 3rd century papyrus P46 and the Codices Sinaiticus (א), Alexandrinus (A), Vaticanus, and Vaticanus Graecus 2061 (or 048).
The interpolation is a citation from the law found at Genesis 2:23, whereupon seeing Eve for the first time Adam is depicted as having said "This is now bone of my bones, and flesh of my flesh: she shall be called Woman, because she was taken out of Man." These are the grounds for a lawful marriage, that the woman be of the same racial stock as the man. For that very reason, we are told that Yahweh God had introduced to Adam every beast of His creation, "but for Adam there was not found an help meet for him." So Eve was depicted as having been created from Adam's own body, so that she would be a suitable wife.
Here Paul also infers that as a man naturally provides for himself and his family, that Yahshua Christ in turn provides for His people in that same manner, because the Christian assembly is indeed the body of Christ in the same manner that a man and a woman become one body, as Paul illustrates in the following verse:
31 "For this reason shall a man leave father and mother and shall join to his wife, and the two shall be for one flesh."
Here Paul cites Genesis 2:24, where we see the plan of God was revealed even before either Adam or Eve had become father or mother, a fact often overlooked by those who comment on Genesis chapter 3. So from the beginning, where we see father and mother mentioned, we see that man was indeed made to have children. This passage from Genesis was also cited at Matthew 19:5, Mark 10:7, and at 1 Corinthians 6:16.
Where the law speaks of men, it should also hold for women, that they should put their husbands above their parents and siblings. It is not that sons should abandon their parents, since see frequently in the Old Testament the responsibility of a son to look after his parents in their old age. But the husband-wife union is preeminent above other family relations. Thus Paul concludes:
32 This mystery is great, and I speak for Christ and for the assembly.
We would insist that ultimately, the "one flesh" of the husband and wife is found in the resulting children. But Paul refers to a mystery where he speaks for Christ and the assembly, and not merely for husband and wife. Yahshua Christ, being Yahweh God incarnate, is joined to the assembly, which are the children of Israel as "one flesh", and that is the mystery of which Paul speaks.
33 Nevertheless, each and every one of you must love his own wife as himself, and the wife should see that she fear [or be in awe or respect of] the husband.
This is the natural order of God, and this is the original menage a trois of the Creation of God. Yahweh God is first, and then man, and then his wife. The woman was created as the help-mate for man, as we may read in Genesis 2:20, where "for Adam there was not found an help meet for him", and the response was to create Eve. Therefore the woman was created on account of man, as Paul himself says in 1 Corinthians chapter 11 that "9 Neither was the man created for the woman; but the woman for the man."
In the opening of Genesis chapter 3, the woman is found alone with the serpent. [We are not told where Adam was, but perhaps he was off watching a ball game and having a beer.] Because the woman was found alone, she was seduced. Thus Paul says in 1 Timothy chapter 2 that "Adam was not deceived, but the woman had been thoroughly beguiled when the transgression occurred." For this reason, Paul advises elsewhere, in 1 Corinthians chapter 7, that a man should not be separated from his wife, where he said "… 2 but because of fornication each man must have his own wife, and each woman must have her own husband. 3 The husband must render the obligation due to the wife, and in like manner the wife also to the husband. [Here Paul is speaking of the obligation of sexual relations with a spouse.] 4 The wife does not have authority over her own body, but the husband; and in like manner also the husband does not have authority over his own body, but the wife. 5 Do not withdraw from one another, unless in agreement for a time, in order that you devote time to prayer, and come together into one place again, that the Adversary [or Satan] would not tempt you due to your incontinence." And this too is a reference to Genesis chapter 3.
So Eve sinned when she was seduced, and Adam then made a conscious decision to follow her, purposely disobeying Yahweh his God. So it is apparent, that a woman should not be apart from her husband, or it is an invitation to sin, and a man should not depart from the ways of his God for that same reason. Where Yahweh says to Eve in Genesis chapter 3 that "thy desire shall be to thy husband, and he shall rule over thee", He is not changing the natural order, but rather is only reaffirming it because the woman had departed from it when she submitted herself to the serpent. So the married couple are the basic unit of the Kingdom of God, the model for the body of Christ, and it requires all three members, God, husband and wife, to keep each of these basic units intact.