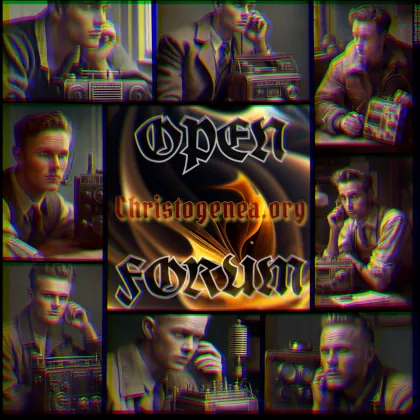 At the beginning of the program I thought this Euro Forum was a couple of weeks late, but it really has been overdue since June. I apologize to our European friends for my forgetfulness!
This Sunday afternoon we were joined by some of our friends in Europe, Britain, Australia and elsewhere for topical discussions and fellowship. Among the subjects discussed:
A recent appearance by Joe from the Christogenea Forum on a podcast called the "Godcast", where he defended our Christian Identity profession  . Since they are tied into the jew Mike Enoch's TRS network, and since they are highly critical of our profession, we would rather refer to them as The Dogcast, which is much more appropriate.

Some of the political circumstances in Germany, As well as some of the cultural conditions among Europeans in Germany and Britain. Are Europeans as depraved as they appear to be in social media? Of course, many Americans are no less depraved. Here we contrasted some of the more civil cultural habits remembered from our youth.
Of course there was more...
Listen to Joe on the July 1st episode of the Dogcast here. They claim this is the "raw" recording but we have reports that it was edited.

I had connection issues during the course of the program. The recording here was made on the server. For my local recording, see the link below or click here.