Christogenea Internet Radio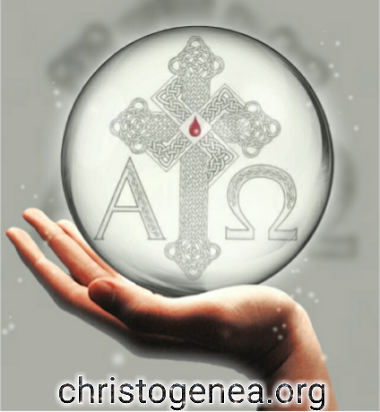 On the Gospel of John, Part 43: My Will, or His Will?
The first pronoun in the subtitle is meant not in reference to myself, but to the reader or listener of this presentation.
Presenting our commentary on the lengthy prayer of Yahshua Christ which is found in John chapter 17, I hope to have explained sufficiently what it is to be "not of the world", as Christ had prayed for His disciples and said: "16 They are not of the world, even as I am not of the world. 17 Sanctify them through thy truth: thy word is truth." But in spite of that, I understand that there are always going to be lingering questions, as it is a broad topic with great implications as to how a Christian should conduct himself as he abides within the world. It is certainly evident that Christians must remain in the world physically if the Kingdom of God is ever going to be "on earth as it is in heaven", so Christ had also prayed saying "15 I pray not that thou shouldest take them out of the world, but that thou shouldest keep them from the evil." Therefore Christians must live and survive in the world, while at the same time eschewing the evils which are also in the world.
Just as soon as I had made that presentation, the very next morning, I confronted an individual who is involved in some of our Social Media circles, a professed Identity Christian, who was speaking of American presidential politics when he made the statement that "I'm morally obligated to continue to vote conservative so more ultra liberal communists don't get elected. That will at least give us time to reach more of our people with the truth until we can get someone worthy of the position." But this is precisely the sort of worldly attitude that Christians are expected to depart from. Perhaps I would have ignored his statement, except that he said he was "morally obligated", which startled me because it is an idea which is found nowhere in Scripture. Engaging with the world in order to choose what is perceived to be the lesser of two evils is still a conscious decision to engage with evil. It is almost as if claiming that we should decide which of the seven heads and ten horns of the beast of the Revelation might treat us more nicely, and cast our vote for it.
This also reflects the attitude that men can save themselves, when Yahweh our God has offered us no such hope. Only He can save us, and while we may not be able to perceive precisely how that shall happen, it will not be by putting our trust in man. Furthermore, the Scripture has fully informed us that there will not be anyone else who is "worthy of the position", because our only just ruler is Christ, and He alone is our rightful King. The proper attitude for Christians is reflected in the 56th Psalm: "11 In God have I put my trust: I will not be afraid what man can do unto me." Then again in the 146th Psalm, without the added words, we read: "3 Put not your trust in princes, nor in the [a] son of man, in whom there is no help." In Proverbs chapter 29 we read that "25 The fear of man bringeth a snare: but whoso putteth his trust in the LORD shall be safe." How could we claim a "moral obligation" to vote for any man as our ruler, when our Bibles tell us exactly the opposite? Instead, our only moral obligation as Christians is to love our brethren, keep the commandments, and wait upon Christ for our salvation. That is what God Himself has told us that we should do, so that truly is our moral obligation.
There was a presentation which we offered here in March of 2016 titled The Kingdom of Heaven, or the Elections of Men? There I spoke of the Presidential politics of the time and said "So we hope Trump wins, if only to show White Nationalists how stupid they are for having any hope in such a man, or for having any hope in a man at all." Now after four years of exactly what I had said would happen, many other Identity Christians have still not learned any better. But I would have said the same thing about any other popular candidate, and I will say the same thing about the next popular candidate.
So after explaining that no so-called "conservative" has ever managed or even ventured to rewind the progressive political agenda of the last several centuries, in that presentation I concluded in part that: "The Kingdom of Heaven is here and now, and consists of good fish. The bad fish, however, are all of the non-White races, as well as the Jewish tares hidden among the White wheat. In order to establish the rule of our God all of these aliens and mongrels must be distinguished, removed, and destroyed in the fires of hell…. To hope for a Trump victory in order to maintain the status quo is only to hope that it is not our generation which must live up to this Christian responsibility. Voting for Trump, we are voting for compromise and appeasement. Doing this, we continue to defer the Kingdom of God for the sake of the children of the Devil. But if Trump is real, there will be war. Christ did not tell His apostles to wait for a good Roman emperor to convert, or to try to manipulate their own way into Roman rulership and change things for the better through legislation. Rather, in Daniel it is written that the Kingdom of Heaven would 'break in pieces and consume' all other worldly kingdoms, and that too was done in a great battle. The rest of the Revelation is no different, and the battle ahead is even greater. It is our obligation to prepare ourselves and our people for it now. That can not be done at the ballot box. We are not going to vote ourselves salvation."
Christians who realize the significance of the words of Christ, who cleanse themselves in His Word and realize that they should separate themselves from the evil in the world should not turn back again to the ballot boxes in hope that they will choose a man who can give them a better life, or at least sustain the level of comfort which they presently enjoy until someone even better comes along. Of course, we also realize that there is more to coming out of the world than desisting from its politics. We should forsake all idolatry, which includes worldly movies, professional sports, television entertainments and all of the related distractions which the devil sets before us daily, hoping to pull us away from our God so that ultimately we accept and partake of his sins.
It is true that Yahweh had often raised up men in ancient Israel to deliver His people from diverse troubles. Notable among them may be Samson, Gideon and Jephthah. But the deliverance which Yahweh wrought through these men was always temporary, sometimes passing even before the men themselves had passed. When the children of Israel demanded an earthly ruler, as it is described in 1 Samuel chapter 8, it was accounted a grievous sin. Putting our hopes in an earthly ruler of our own choosing is a sin no less grievous, even if it was an act foreseen by our God. In April of 2018 I made a presentation titled Waiting on the Lord, why do we have divisions? This attitude among some of us, that we should put our hope in men and engage with the politics of the world is one significant reason why we do have divisions. When will we learn, that we cannot save ourselves, and that ultimately we will only be preserved by our God, on His terms, by His will, and not our own?
Among many other passages of Scripture which I had cited in that presentation which also support the assertion that Christians should not involve themselves in worldly politics, I had cited Paul of Tarsus from 1 Corinthians chapter 1 where he wrote: "4 I thank my God always on your behalf, for the grace of God which is given you by Jesus Christ; 5 That in every thing ye are enriched by him, in all utterance, and in all knowledge; 6 Even as the testimony of Christ was confirmed in you: 7 So that ye come behind in no gift; waiting for the coming of our Lord Jesus Christ: 8 Who shall also confirm you unto the end, that ye may be blameless in the day of our Lord Jesus Christ. 9 God is faithful, by whom ye were called unto the fellowship of his Son Jesus Christ our Lord." In response to that passage I said in part that "faith is not believing that you can have what you wish or covet, the Christian faith is the belief that Yahweh God can and will do what He promises." We are not Christians so that we can impose our own will on the world. Rather, Christians should seek to understand and conform themselves to what is God's will for the world.
Then later in that same presentation I cited Paul's words in Hebrews chapter 10: "35 Cast not away therefore your confidence, which hath great recompence of reward. 36 For ye have need of patience, that, after ye have done the will of God, ye might receive the promise. 37 For yet a little while, and he that shall come will come, and will not tarry. 38 Now the just shall live by faith: but if any man draw back, my soul shall have no pleasure in him. 39 But we are not of them who draw back unto perdition; but of them that believe to the saving of the soul." Waiting on Christ, we come out from the world, we separate ourselves from its evil deeds, and that includes a withdrawal from worldly politics. We cannot have faith in Christ and at the same time wait "until we can get someone worthy of the position", the position in which they can rule over us, speaking in reference to some future political candidate. We can have no true confidence in Christ if we also attempt to justify putting our confidence in some wicked man to somehow be a worthy ruler.
Being not of the world, we should not care who the world elects, because whoever the world elects will ultimately despise the Body of Christ, as Christ Himself had also said in John chapter 15 that "19 If ye were of the world, the world would love his own: but because ye are not of the world, but I have chosen you out of the world, therefore the world hateth you." The Romans, even in the time of the Empire, had elections for magistrates and municipal officials, but the apostles after hearing this discourse did not think that they should begin to partake in those elections. Paul traveled to Jerusalem for the feasts, but he is never recorded as having returned to Tarsus in order to vote in an election. Instead, Paul had prayed that "20 … the God of peace, that brought again from the dead our Lord Jesus, that great shepherd of the sheep, through the blood of the everlasting covenant, 21 Make you perfect in every good work to do his will, working in you that which is wellpleasing in his sight, through Jesus Christ; to whom be glory for ever and ever. Amen."
Do not be engaged in seeking worldly rulers, in seeking worldly justice, because all you are ever going to get is disappointed, is screwed, while at the same time you have forsaken Yahshua Christ our Savior. You cannot have it both ways. It is one or the other. It is my will, or His Will.
Now with that we shall proceed with our commentary on the gospel of John.
It was in the opening verses of John chapter 13 that the apostle had begun to describe the last Passover dinner which Christ had with His disciples, and it was already taking place. From that point John recorded a long discourse between Christ and His friends, during which He had taught them many things, ending with a lengthy prayer on their behalf, and also on behalf of all of those who in the future would accept them and their accounts of His gospel. Now as we commence with John chapter 18, the evening is finally about to come to a close, but not as such occasions are typically expected to end. Although Christ had been warning His disciples repeatedly that He was going to be taken and executed, and what would result from that, as this evening draws to an end they still do not anticipate what is about to happen. So now, with his account of the long discourse of Christ being completed, John writes:
XVIII 1 Saying these things Yahshua went out with His students across the brook of Kedron where there was a garden, into which He and His students entered.
Here John's language is not entirely indicative as to whether Yahshua had completed all of His discourse before He entered into the garden, which was called Gethsemane in other gospels. It is possible that John did not want to interrupt his record of that discourse with the details of the journey. The verb for saying is in the aorist tense, and that only indicates that He began speaking to them before they entered the garden, and even before they "went out" from the house where they had eaten, but not whether or not His speaking was completed when they did finally enter the garden.
Therefore it is also possible, but not necessarily true, that the prayer which Yahshua had uttered as it is recorded in John chapter 17 is an account of the same prayer which is mentioned in Matthew chapter 26 where we read, as the King James Version has it, "36 Then cometh Jesus with them unto a place called Gethsemane, and saith unto the disciples, Sit ye here, while I go and pray yonder." It may well have been a part of the same prayer, which John was able to recollect while the other apostles had a different perspective. As we have often stated throughout this commentary, it seems that John's purpose when he wrote his gospel was to clarify or to include things that were not included in the other gospel accounts.
But if it was a part of the same prayer, John did not repeat the portion which Matthew and the other gospel writers did describe. In Matthew chapter 26 we read: "36 Then cometh Jesus with them unto a place called Gethsemane, and saith unto the disciples, Sit ye here, while I go and pray yonder. 37 And he took with him Peter and the two sons of Zebedee, and began to be sorrowful and very heavy. 38 Then saith he unto them, My soul is exceeding sorrowful, even unto death: tarry ye here, and watch with me. 39 And he went a little further, and fell on his face, and prayed, saying, O my Father, if it be possible, let this cup pass from me: nevertheless not as I will, but as thou wilt." This prayer, or part of a prayer, was not recorded by John at all, but it is in the other three gospels.
The two sons of Zebedee are our apostle John, the writer of this gospel, and James the younger, whose death some time shortly before the Spring of 44 AD is recorded in Acts chapter 12. Herod Agrippa I had him slain, and Herod's own death is recorded at the end of that chapter. So it is evident in Matthew that Peter, John and the younger James may have had a better opportunity to hear the entire prayer of Yahshua, while Matthew, Mark and Luke record only a small portion of it, because it certainly must have been much longer. While Peter had an opportunity to hear it, he fell asleep, so he may have missed much of it. The next verse in that chapter of Matthew reads: "40 And he cometh unto the disciples, and findeth them asleep, and saith unto Peter, What, could ye not watch with me one hour?" So James may have also fallen asleep. But if John fell asleep as well, then perhaps this is not the same prayer which we see in John chapter 17, or he should not have been able to record it at such length. Where Christ had said "one hour", referring to the period of time through which Peter could not stay awake, there we may perceive that His prayer was indeed much longer than the small portion recorded in Matthew and the other gospels. For that reason, it is my opinion that the prayer in John chapter 17 was given there at that time, but it cannot be proven beyond doubt. In any event, we must bear in mind that many of the differences among the gospel accounts are due to differences in perspective, as well as differences as to what each writer had thought necessary to include, among other lesser factors.
Now rather than elaborating on anything else which may have happened at Gethsemane, John turns to describe the betrayal of Christ:
2 Now Ioudas His betrayer also knew the place, because many times Yahshua gathered there with His [P66 has "the"] students.
The phrase ὁ παραδιδοὺς is a Substantive, a definite article with a present tense participle form of the verb παραδίδωμι, which means to hand or give over, or in a negative sense, to betray. So here it is properly treated as a noun, betrayer, where in the King James Version it is rendered here as a verb.
But as for the betrayal itself, there is no law which forbade the act which Judas was committing. Often in Scripture the word παραδίδωμι appears in the Septuagint to describe where Yahweh gave over the enemies of Israel into their hands, or, when they were being punished, where He had given Israel into the hands of their enemies. The only law which I could find against such an action is given only in a specific circumstance, in Deuteronomy 23:15 where the law forbids the forced return of an escaped servant to his master, and it says: "15 Thou shalt not deliver unto his master the servant which is escaped from his master unto thee: 16 He shall dwell with thee, even among you, in that place which he shall choose in one of thy gates, where it liketh him best: thou shalt not oppress him." The law does not forbid the delivering of a man who is perceived to be a transgressor to the authorities, and rather, it often insists upon the delivering of transgressors.
However the same word παραδίδωμι also appears in the Septuagint in a Messianic prophecy in Isaiah chapter 53, where we read: "6 All we as sheep have gone astray; every one has gone astray in his way; and the Lord gave him up [παρέδωκεν αὐτὸν] for our sins." Then again a little further on: "12 Therefore he shall inherit many, and he shall divide the spoils of the mighty; because his soul was delivered to death [παρεδόθη εἰς θάνατον]: and he was numbered among the transgressors; and he bore the sins of many, and was delivered [παρεδόθη] because of their iniquities." So we see that it is Yahweh Himself who had given His Christ over to His enemies, and Judas was merely the vehicle by which the act was accomplished.
Yet regardless of whether or not Judas had actually transgressed any law, Christ had warned, as it is recorded in Luke chapter 22, "22 And truly the Son of man goeth, as it was determined: but woe unto that man by whom he is betrayed!" So although betrayal in itself is not a transgression of the law, perhaps the ultimate fate of Judas is a manifestation of the truth of the words of Christ in Matthew chapter 7 where He said "12 Therefore all things whatsoever ye would that men should do to you, do ye even so to them: for this is the law and the prophets." So Judas' handing over of Christ to His adversaries appears to be in violation of the spirit of the law, but not of the letter.
So after his account of this event, John does not mention Judas again. But in Matthew chapter 27 we read of the aftermath of this event: "3 Then Judas, which had betrayed him, when he saw that he was condemned, repented himself, and brought again the thirty pieces of silver to the chief priests and elders, 4 Saying, I have sinned in that I have betrayed the innocent blood. And they said, What is that to us? see thou to that. 5 And he cast down the pieces of silver in the temple, and departed, and went and hanged himself." Apparently, even a devil can admit having done wrong, and have guilty feelings about it, but that still does not mean that devils shall be granted forgiveness or salvation.
Then in Acts chapter 1 we read where Peter described the end of Judas and said: "18 Now this man purchased a field with the reward of iniquity; and falling headlong, he burst asunder in the midst, and all his bowels gushed out. 19 And it was known unto all the dwellers at Jerusalem; insomuch as that field is called in their proper tongue, Aceldama, that is to say, The field of blood." But in Matthew chapter 27 we find that Judas did not really purchase the field himself, but rather, Peter is crediting Judas with a decision that the priests had made for him, as after he hanged himself Matthew informs us that "6 … the chief priests took the silver pieces, and said, It is not lawful for to put them into the treasury, because it is the price of blood. 7 And they took counsel, and bought with them the potter's field, to bury strangers in. 8 Wherefore that field was called, The field of blood, unto this day." Neither does Judas' having hanged himself conflict with Peter's report that Judas "falling headlong, he burst asunder in the midst, and all his bowels gushed out", as this may very well record what had happened to Judas after he hanged himself: that after he was cut down his body was thrown into the field which his own money had purchased. So once again we see the gospel accounts differ because of a difference in perspective, but putting them both together we may begin to piece together a more complete picture of the events which they describe.
Where it was apparent that Judas had a guilty conscience and Matthew wrote that he "repented himself", as the King James Version has it, evidently feeling regret for his betrayal, that does not by itself indicate that Judas, being a devil, could ever be granted forgiveness or be redeemed. Rather, it only indicates that the will of God was fulfilled. In his own brief account of Judas' fate in Acts chapter 1, Peter cited the 109th Psalm in relation to Judas. There we read, in a Messianic prophecy: "4 For my love they are my adversaries: but I give myself unto prayer. 5 And they have rewarded me evil for good, and hatred for my love. 6 Set thou a wicked man over him: and let Satan stand at his right hand. 7 When he shall be judged, let him be condemned: and let his prayer become sin. 8 Let his days be few; and let another take his office."
Of the twelve disciples which Christ had chosen, He Himself had said that Judas was a devil. Of all of His adversaries over the course of His ministry, only Judas had an opportunity to partake in, or at least, to observe, the love which Christ had extended to all of His disciples. The presence of Judas among the disciples led to the fulfillment of the Word of God where we read in the 41st Psalm that "9 … mine own familiar friend, in whom I trusted, which did eat of my bread, hath lifted up his heel against me." But then Judas' regret over that act also led to his fulfilling the will of God by killing himself, as we see in the 109th Psalm where it is says "Let his days be few; and let another take his office."
So Judas Iscariot is a perfect example of the fact that even a devil may be used by Yahweh God in order to fulfill His will. Therefore men should know that no matter who gets elected to hold any office, no matter who is placed into a position of worldly power, it is ultimately so that the will of God is fulfilled. In their arrogance, men might think that they can do differently, but the result will not be any different. For now, Judas earns his eternal notoriety, as John continues:
3 Then Ioudas, receiving a cohort and deputies from among the high priests and from among the Pharisees [A, C, W and the MT have only "and Pharisees"; B "and the Pharisees"; the text follows א and D], comes there with torches and lamps and weapons.
Notice that where John had written "then Judas, receiving a cohort", the words seem to attribute to Judas a greater role than that of a passive informant. The construction of John's sentence in Greek also suggests that there was a cohort, and then deputies of the high priests, and additionally, deputies of the party of the Pharisees. The high priests of the time were of the party of the Sadducees, which is evident in Acts 5:17 and in the histories of Josephus. The term translated as cohort describes a military unit, and where the word χιλίαρχος appears in verse 12 to describe the officer which led them, it is evident that they must have been on loan for the occasion from the Roman officials in Jerusalem. Very frequently there was a Roman cohort assigned to the temple, and especially at the time of the Passover, as we shall see described by Josephus. So if the high priests could convince the Roman officials that Christ was the leader of a sedition, as they also later testified before Pilate, then for that reason it certainly seems to have been placed at their disposal.
This cohort was no small number of soldiers, and here it was evidently placed under the command of Judas and the deputies of the Judaeans for the purpose of seizing Yahshua Christ. In Matthew chapter 26 we read of Christ at this very time: "47 And while he yet spake, lo, Judas, one of the twelve, came, and with him a great multitude with swords and staves, from the chief priests and elders of the people." This is similar to the parallel accounts provided by Mark and Luke. However here in John it is the Greek word σπεῖρα, which is "a band of men" in the King James Version, which is translated as cohort. According to Liddell & Scott, the word σπεῖρα was "used to translate the Roman manipulus" where they cite the roughly contemporary histories of Polybius, Strabo, Flavius Josephus and Plutarch.
William Whiston, in his translation of Josephus' Wars of the Judaeans, 2:224, translated this same word σπεῖρα as cohort where he wrote "224 for when the multitude were come together to Jerusalem, to the feast of unleavened bread, and a Roman cohort stood over the cloisters of the temple, (for they always were armed and kept guard at the festivals, to prevent any sedition which the multitude thus gathered together might make". Since tens of thousands of people from Judaea regularly attended the Passover celebrations, we see that a cohort must have been a formidable number if it was expected to keep the peace in a time of sedition and with such a large crowd. Discussing the earlier chapters of John and the events leading up to this evening, we saw that there was already a great multitude of people in Jerusalem in anticipation of this Passover.
The word χιλίαρχος which appears later in this chapter in relation to the leader of this cohort describes a leader of a thousand, a position higher than that of centurion, which was only a leader of a hundred. In the manipular system of the Roman army which was employed up to the third century BC, a maniple consisted of 60 to 120 men, but in the late second century BC the manipulus was replaced by the cohors. In that more recent system each legion had as many as 5,000 men which were divided into 10 cohorts. The size of a cohort varied, as there were different types of cohorts, from 360 to as many as 800 soldiers. With this it is evident, that the high priests had sent a formidable number of troops with Judas in order to seize Christ, even if the precise size of the force is difficult to determine. Of course, by that Yahshua Himself was not surprised or intimidated, as John continues:
4 Therefore [א, D and W have 'But'; the text follows A, B, C and the MT] Yahshua knowing all the things coming upon Him went out and says [א, A, W and the MT have "upon Him having gone out said"; the text follows B, C and D] to them "What do you seek?"
As we have explained earlier in this commentary on the Gospel of John, and especially in parts 39 and 40, Yahweh God permits men to come to an understanding and realization of the meaning of His Word on a need-to-know basis, and this is evident in the descriptions made of the apostles themselves throughout these events which they described in the gospels. This is also evident in Luke chapter 18, where Christ is still in Galilee with His disciples some weeks before this time and we read: " 31 Then he took unto him the twelve, and said unto them, Behold, we go up to Jerusalem, and all things that are written by the prophets concerning the Son of man shall be accomplished. 32 For he shall be delivered unto the Gentiles, and shall be mocked, and spitefully entreated, and spitted on: 33 And they shall scourge him, and put him to death: and the third day he shall rise again. 34 And they understood none of these things: and this saying was hid from them, neither knew they the things which were spoken."
So even though they were plainly told these things by Christ Himself, and on more than one occasion, they were nevertheless prevented from understanding these words until after the events which were described had actually taken place. We must also bear this same thing in mind when we read prophecy today, and try to imagine for ourselves just how it may unfold. We are not going to be able to succeed in that endeavor, ostensibly so that the Word of God comes to fruition without the possibility of our interference.
John did not record the entire prayer of Christ at Gethsemane that evening, but parts which he had left out were recorded in the other gospels. So we read in Matthew chapter 26, where after he describes that Christ had taken aside Peter, John and James: "38 Then saith he unto them, My soul is exceeding sorrowful, even unto death: tarry ye here, and watch with me. 39 And he went a little further, and fell on his face, and prayed, saying, O my Father, if it be possible, let this cup pass from me: nevertheless not as I will, but as thou wilt." Christ knew the trial which He was about to face, and He xpressed the sentiment that His Own will, as a man, did not matter, that even if He would rather not have suffered, it is nevertheless the will of God which must prevail, and He was exhibiting His voluntary submission to that. So this also serves as an example to men.
Now the question which Christ has asked of the men who sought Him is answered:
5 They replied to Him "Yahshua the Nazoraian [D has 'Nazarene']". He [א, A, C, W and the MT have "Yahshua"; the text follows B and D] says "I am [B inserts 'Yahshua']".
According to most of the manuscripts, Christ replied in two words, ἐγώ εἰμι. The Greek phrase has a pronoun meaning I and a verb which by itself means I am, or in such a construction, often simply am. Colloquially it may be translated I am he, as it is in the King James Version. The Codex Vaticanus (B) inserts Ἰησοῦς after the phrase, which is the name that we transliterate as Yahshua.
The word Nazoraian, Ναζωραῖος in Greek, is a toponym indicating that Christ was from Nazareth, much like Floridian may be used as a label for someone from Florida. It is not directly related to the Old Testament term Nazirite, and that term represents a concept which the enemies of Christ certainly would not have expressed in relation to Him, as they despised Him. The Codex Bezae has "Nazarene", but that is only a variation of the same word. We discussed the meaning of the two terms, and the resulting fact that the young sect of Christians was called by the term Nazoraians by the Judaeans of the first century, in Part 5 of this commentary, The Focus of the Disciple.
As a digression, Josephus used the plural of the term Ναζωραῖος, which Whiston translated as Nazarites, where he wrote in Antiquities Book 19 that Herod Agrippa I had "ordained that many of the Nazarites should have their heads shorn." That happened around 41 AD, and Josephus must have been referring to the Christians of Jerusalem which Herod had later persecuted more harshly as it is described in Acts chapter 12. Then, as late as Acts chapter 24, in events which transpired around 58 AD, Paul of Tarsus was accused of being "a ringleader of the sect of the Nazarenes."
Now John mentions Judas for the last time:
And Ioudas His betrayer [P66 wants the words for "His betrayer"] also stood with them.
Here John seems to once again emphasize the fact that Judas Iscariot was purposely standing with those who were in opposition to Christ, exhibiting an active role in His arrest. Now Christ answers, and we see something else which is not at all mentioned in the other gospels:
6 Then as He said to them [C and the MT insert "that"; the text follows א, A, B, D and W] "I am", they withdrew to the rear and fell to the ground.
Perhaps the phrase "they withdrew to the rear and fell to the ground" may have been better rendered colloquially "they fell backwards to the ground." While we do not see this mentioned in the other three gospels, as it is also typical of John, the portions of this event which are described by all of the other gospels are, for the most part, omitted here. So, for example, the account famous kiss of betrayal which Judas had imparted to Christ is also wanting here. Yet some of these things which John records were not mentioned in the other gospels, for whatever reason. I may only conjecture that perhaps the gospel writers had purposely omitted many of the miraculous aspects of these events so that the focus would be on the plain message of Christ rather than on the miracles. But the many reports of miracles certainly did facilitate its spread.
So Matthew wrote here at this point that: "48 Now he that betrayed him gave them a sign, saying, Whomsoever I shall kiss, that same is he: hold him fast. 49 And forthwith he came to Jesus, and said, Hail, master; and kissed him. 50 And Jesus said unto him, Friend, wherefore art thou come? Then came they, and laid hands on Jesus, and took him." For whatever reason this is wanting in John, it must have happened just before Christ had questioned the rest of them, where John continues:
7 There He questioned them again, "What do you seek?" And they said "Yahshua the Nazoraian". 8 Yahshua replied: "I said to you that I am, therefore if you seek Me, let them go",
Here Christ was offering Himself in compliance to them, and since they themselves did not answer anything concerning the others, for that He expected them to leave His companions unmolested. So now John explains that this did indeed happen:
9 in order that the Word would be fulfilled which said that "those whom You gave to Me, I have lost not one from among them".
Here John interprets this saying of Christ from the prayer in John chapter 17 in an immediate sense, and while that is certainly correct, the fulfillment of the words of the prayer should not necessarily be limited to that interpretation alone. In Luke chapter 19, upon the repentance of Zacchaeus, Christ had declared "10 For the Son of man is come to seek and to save that which was lost." In Matthew chapter 15, Christ professed that He was sent "unto the lost sheep of the house of Israel." These sheep are first identified in Ezekiel chapter 34, in a lengthy Messianic prophecy concerning the ancient children of Israel where Yahweh declares that "I will seek that which was lost, and bring again that which was driven away", referring to the Israelites of the captivities. For that reason, Christ said in that same prayer in John chapter 17, that "Neither pray I for these alone, but for them also which shall believe on me through their word", because they were to carry His gospel to the "lost sheep of the house of Israel".
The Gospel itself is a matter of prophecy, for example in Isaiah chapter 52: "7 How beautiful upon the mountains are the feet of him that bringeth good tidings, that publisheth peace; that bringeth good tidings of good, that publisheth salvation; that saith unto Zion, Thy God reigneth!" First, the word "gospel" means good tidings. Then, the publishing of peace was the announcement of the end of the enmity which Yahweh had with Israel. For that, Paul told the Ephesians that their feet should be "shod with the preparation of the gospel of peace", and as he also explained to the Colossians, He blotted out the ordinances which inhibited His reconciliation, or again to the Ephesians, He abolished the enmity caused by the violation of the law. Finally, salvation, promised to Israel alone throughout the prophecies of Isaiah, was to be announced to Zion. Mount Zion was used as an allegory for Israel throughout the Psalms and the prophets, for example as we read in the 149th Psalm: "2 Let Israel rejoice in him that made him: let the children of Zion be joyful in their King." Of course, Christ Himself is that King.
Now John describes an event which is also found in the other three gospels, where it is described as immediately following the kiss of Judas:
10 Then Simon Petros, having a sword, drew it and struck the servant of the high priest and cut off his right ear. And Malchos was the name of the servant.
In Luke's account it is explained that Christ had immediately healed the servant's ear, so perhaps that saved Peter from being punished for his wayward action. As we have illustrated in the past, Peter was very stubborn and often had to suffer things three times in order to be shown the truth. So earlier this same evening, as we read in Luke chapter 22, Christ had exclaimed that "22 … truly the Son of man goeth, as it was determined: but woe unto that man by whom he is betrayed!" Then, upon explaining to Peter that He had already spared him of trials, Peter insisted, contrary to the will of Christ, "33 And he said unto him, Lord, I am ready to go with thee, both into prison, and to death." So Christ responded: "34 And he said, I tell thee, Peter, the cock shall not crow this day, before that thou shalt thrice deny that thou knowest me." Later this same night Peter does deny Christ three times, and upon the third time he finally realized the error of his ways.
After the resurrection, Peter became vexed once again when Yahshua told him for the third time that if he loved Him, he must feed His sheep, as it is recorded in John chapter 21. Then several years after that, as it is recorded in Acts chapter 10, Peter needed to be shown the vision of the sheet come down from heaven three different times in order to be prepared to receive the messengers who were coming to him from the household of Cornelius. But Peter's stubborn attitude is most apparent where, while they were still in Galilee, as it is recorded in Matthew chapter 16: "21 From that time forth began Jesus to shew unto his disciples, how that he must go unto Jerusalem, and suffer many things of the elders and chief priests and scribes, and be killed, and be raised again the third day. 22 Then Peter took him, and began to rebuke him, saying, Be it far from thee, Lord: this shall not be unto thee. 23 But he turned, and said unto Peter, Get thee behind me, Satan [Peter became an adversary when he opposed the Word of God]: thou art an offence unto me: for thou savourest not the things that be of God, but those that be of men."
This attack on this servant was a bold move on the part of Peter, since the cohort brought to Gethsemane by Judas must have greatly outnumbered the disciples of Christ. Furthermore, it is evident that the disciples had with them only two swords, which was hardly sufficient for them to defend themselves against an entire troop of professional soldiers. As it is recorded in Luke chapter 22, after Christ had warned Peter that he would deny Him earlier this same evening, we read: "35 And he said unto them, When I sent you without purse, and scrip, and shoes, lacked ye any thing? And they said, Nothing. 36 Then said he unto them, But now, he that hath a purse, let him take it, and likewise his scrip: and he that hath no sword, let him sell his garment, and buy one. 37 For I say unto you, that this that is written must yet be accomplished in me, And he was reckoned among the transgressors: for the things concerning me have an end. 38 And they said, Lord, behold, here are two swords. And he said unto them, It is enough. 39 And he came out, and went, as he was wont, to the mount of Olives; and his disciples also followed him." Evidently, Christ was warning them that they would have to defend themselves after He was taken from them, but that until then, as He also said, "this that is written must yet be accomplished in me… for the things concerning me have an end."
The name Malchus itself is evidently a Hellenized form of one or another Hebrew words which mean king or kingdom. [See Strong's Hebrew dictionary #'s 4428 and 4438.] So if we look for an allegory in that, it may be imagined that if Peter's will had succeeded, and if Christ was not executed, then Peter and all of Israel would remain cut off from the Kingdom of God, even though it was rather implausible that Peter could have succeeded on his own. Christ had to die in order that Israel would be freed from the judgments of the law, as Paul of Tarsus had later explained in Romans chapter 7, so that Israel could then be reconciled to God in Christ. The children of Israel being reconciled to God, they may now await the manifestation of His Kingdom which is their ultimate promise. But they cannot ever accomplish that by any will of their own.
So Christ responds to Peters actions, where John wrote:
11 Therefore Yahshua said to Petros: "Put the sword into the sheath! The cup which the [P66 has 'My'] Father gave to Me, shall I not drink it?"
The word for sheath is θήκη (Strong's # 2336), which is a case or a chest, but also according to Liddell & Scott, a sheath, of a sword. The word only appears this one time in the New Testament.
Speaking of the cup, Christ had to drink of it, because it was written aforetime in many places throughout the Word of God, which certainly is the expression of His Will. The ultimate sacrifice is described in these same terms in the 116th Psalm: "13 I will take the cup of salvation, and call upon the name of the LORD. 14 I will pay my vows unto the LORD now in the presence of all his people. 15 Precious in the sight of the LORD is the death of his saints. 16 O LORD, truly I am thy servant; I am thy servant, and the son of thine handmaid: thou hast loosed my bonds. 17 I will offer to thee the sacrifice of thanksgiving, and will call upon the name of the LORD. 18 I will pay my vows unto the LORD now in the presence of all his people, 19 In the courts of the LORD'S house, in the midst of thee, O Jerusalem. Praise ye the LORD." For this sacrifice was Christ called "the Lamb of God" and "the Lamb slain from the foundation of the world", as we may also read in Genesis chapter 22: "8 And Abraham said, My son, God will provide himself a lamb for a burnt offering: so they went both of them together."
After the Resurrection, and just before the Ascension of Christ, in Acts chapter 1 we read where the apostles had "asked of him, saying, Lord, wilt thou at this time restore again the kingdom to Israel? 7 And he said unto them, It is not for you to know the times or the seasons, which the Father hath put in his own power." Even here, if it were the Will of God, He would easily have prevailed, as it is recorded in the gospel of Matthew that at this very time, after commanding that Peter put his sword away, Christ had also said to Peter "53 Thinkest thou that I cannot now pray to my Father, and he shall presently give me more than twelve legions of angels? 54 But how then shall the scriptures be fulfilled, that thus it must be?" There are still things written in the Scriptures which are not quite fulfilled, and thus it must be, so we will not vote for ourselves salvation.
So Judas was an example that even a devil can be used by Yahweh to fulfill His Will. Today also, Yahweh is using devils to fulfill His will, both devils elected to positions as rulers and devils in the gutters and streets of all of our cities.
But to the contrary, the apostle Peter is an example that even a disciple of Christ can be stiff-necked and seek only to fulfill his own will. For this reason, whenever a Christian feels that he should take some drastic action on behalf of Christ, as Peter had attempted to take, he must first stop and ask "Is it my will, or His Will?" One must consider whether an action is truly within the will of God, or if it is merely one's own will, whereby one is certainly destined to fail. Peter was spared having to suffer the consequences of his rash decisions, where today we may not be spared in that same manner.
Even today Christians have much better and more fruitful endeavors, where they should be seeking to fulfill the Will of God rather than to be occupied with the political arguments of the world. It is not the Will of God that we vote ourselves out of Babylon. Neither can it be by the will of man that the Kingdom of Heaven finally supplants all earthly Kingdoms, but only by the Will of God.