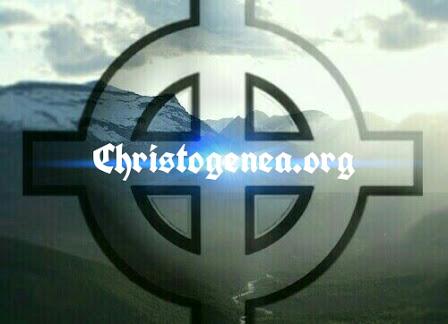 William Finck and Sven Longshanks of Radio Aryan discuss the Abrahamic Covenant, the imposition of the practice of circumcision and what it meant, and related Biblical topics which are the basis for understanding Christianity and the New Covenant.

William Finck's opening notes and some of the Scriptures discussed are found below:
The Old World
While Paul did not call it paganism, he was referring to the errors of pagan Greeks and Romans where in his epistle to the Colossians he made a reference to the worship of angels. These are, ostensibly, fallen angels, who sought to be worshiped as gods but who were truly demons, as we also read in the Old Testament. This is also evident, from an opposing perspective, in Mesopotamian inscriptions. So all of the White Genesis 10 nations went off into paganism, going after their own way and not seeking the God of their fathers. Paul also explained this in Acts chapter 14, where he said that God had "in times past suffered all nations to walk in their own ways", referring to those White Adamic nations which are listed in Genesis chapter 10. Paul spoke those words to Adamic but non-Israelite Lycaonians.
Abraham's own fathers were pagan, as we read in Joshua chapter 24 where it is said that "Your fathers dwelt on the other side of the flood in old time, even Terah, the father of Abraham, and the father of Nachor: and they served other gods." The flood there is a reference to the river Euphrates. Abraham was from Padanaram, or the Plain of Aram, which is north of the Euphrates in the far northern part of Mesopotamia, a traditionally Aryan land. The Bible story is an account of Abraham being called out by God from this old pagan world, and placed in the land of his enemies, which exhibits the power of God to preserve His people against all odds. This story begins in Genesis chapter 12.
In a historical perspective, and following the more accurate and more likely Septuagint chronology, the flood of Noah happened before 3200 BC and the call of Abraham was around 2000 BC. There were older cultures, but they did not belong to the Adamic race of the Genesis accounts. The Bible tells of pre-adamic Whites, which it refers to as "fallen angels", who mixed their race and confused the Creation of God, which is depicted as an act of rebellion. The non-White races must be related to these, since they are all rejected by Scripture and none of them were created by God. After the flood, non-Adamic peoples who were not descended from Noah first appear in Genesis chapter 15. The epistles of the apostles, as well as books now missing from the Bible, especially the Book of Enoch and the Book of Giants, all help to clarify these things.
Today we are pulled into the same paganism, by the same people, who are the corrupted descendants of those so-called fallen angels. They mock the Bible because they cannot properly understand it. They promote the ridiculous "big bang theory", the concept of evolution and the idea that life derived from chaos, which Jewish so-called scientists such as Carl Sagan termed the "primordial ooze", stories which are really not very different than the primordial sea of Tiamat, and in reality modern science is based in large part on ancient pagan myths and Talmudic sorcery.
Paul was speaking to men of the Biblical Javan, as the Athenians were descended primarily from Ionian Greeks, where he said in Acts chapter 17 that God "26… hath made of one blood all nations of men for to dwell on all the face of the earth, and hath determined the times before appointed, and the bounds of their habitation; 27 That they should seek the Lord, if haply they might feel after him, and find him, though he be not far from every one of us: 28 For in him we live, and move, and have our being; as certain also of your own poets have said, For we are also his offspring." Where he said "made of one" and "all nations" he was paraphrasing Deuteronomy 32:8, and meant only the nations of the Adamic race first listed as they existed at the time of Moses, in Genesis chapter 10. The other races cannot claim any such origin.
But even in Paul's time, there were only a few remnants of that old Genesis 10 world that which remained intact. Most of it had already been race-mixed with Canaanites and the non-White races. The Canaanites were in ancient times race-mixed with Kenites and Rephaim, the descendants of fallen angels, and with other tribes who had no origin in Genesis chapter 10. The descendants of the children of Israel, along with remnants of some of the other Genesis 10 nations, were now mostly in Europe, for which reason the apostles of Christ went to Europe.
With the rise of Islam a few hundred years later, the last remnants of the ancient White world in Mesopotamia, the Levant and north Africa, were on an irreversible path to destruction. But now we are getting ahead of ourselves. We should return to Genesis and focus on the Abrahamic covenants, because they are the foundation of the promise of Christ and the New Covenant.
Abrahamic covenant
Genesis 12:1 Now the LORD had said unto Abram, Get thee out of thy country, and from thy kindred, and from thy father's house, unto a land that I will shew thee: 2 And I will make of thee a great nation, and I will bless thee, and make thy name great; and thou shalt be a blessing: 3 And I will bless them that bless thee, and curse him that curseth thee: and in thee shall all families of the earth be blessed.
Genesis 17:1 And when Abram was ninety years old and nine, the LORD appeared to Abram, and said unto him, I am the Almighty God; walk before me, and be thou perfect. 2 And I will make my covenant between me and thee, and will multiply thee exceedingly. 3 And Abram fell on his face: and God talked with him, saying, 4 As for me, behold, my covenant is with thee, and thou shalt be a father of many nations. 5 Neither shall thy name any more be called Abram, but thy name shall be Abraham; for a father of many nations have I made thee. 6 And I will make thee exceeding fruitful, and I will make nations of thee, and kings shall come out of thee. 7 And I will establish my covenant between me and thee and thy seed after thee in their generations for an everlasting covenant, to be a God unto thee, and to thy seed after thee.
Discussion: Why Circumcision? I cannot prove empirically why circumcision was imposed, but the way it was seen throughout the Old Testament as well as the apparent effects which it had are enough to form a viable hypothesis explaining why it was imposed.
Points: Baal & phallus worship. In an almost entirely White world, racial differences were immediately apparent as nudity for men was ordinary. Circumcision helped ensure separation of races. After the enemies of God, the Edomites, accepted circumcision, Christians rejected it and that also helped to distinguish them from us until relatively modern times.
Genesis 28:12 And he dreamed, and behold a ladder set up on the earth, and the top of it reached to heaven: and behold the angels of God ascending and descending on it.  13 And, behold, the LORD stood above it, and said, I am the LORD God of Abraham thy father, and the God of Isaac: the land whereon thou liest, to thee will I give it, and to thy seed;  14 And thy seed shall be as the dust of the earth, and thou shalt spread abroad to the west, and to the east, and to the north, and to the south: and in thee and in thy seed shall all the families of the earth be blessed.  15 And, behold, I am with thee, and will keep thee in all places whither thou goest, and will bring thee again into this land; for I will not leave thee, until I have done that which I have spoken to thee of.
Genesis 35:9 And God appeared unto Jacob again, when he came out of Padanaram, and blessed him. 10 And God said unto him, Thy name is Jacob: thy name shall not be called any more Jacob, but Israel shall be thy name: and he called his name Israel. 11 And God said unto him, I am God Almighty: be fruitful and multiply; a nation and a company of nations shall be of thee, and kings shall come out of thy loins; 12 And the land which I gave Abraham and Isaac, to thee I will give it, and to thy seed after thee will I give the land.
Genesis 48:15 And he blessed Joseph, and said, God, before whom my fathers Abraham and Isaac did walk, the God which fed me all my life long unto this day, 16 The Angel which redeemed me from all evil, bless the lads; and let my name be named on them, and the name of my fathers Abraham and Isaac; and let them grow into a multitude in the midst of the earth. 17 And when Joseph saw that his father laid his right hand upon the head of Ephraim, it displeased him: and he held up his father's hand, to remove it from Ephraim's head unto Manasseh's head. 18 And Joseph said unto his father, Not so, my father: for this is the firstborn; put thy right hand upon his head. 19 And his father refused, and said, I know it, my son, I know it: he also shall become a people, and he also shall be great: but truly his younger brother shall be greater than he, and his seed shall become a multitude of nations. 20 And he blessed them that day, saying, In thee shall Israel bless, saying, God make thee as Ephraim and as Manasseh: and he set Ephraim before Manasseh. 21 And Israel said unto Joseph, Behold, I die: but God shall be with you, and bring you again unto the land of your fathers. 22 Moreover I have given to thee one portion above thy brethren, which I took out of the hand of the Amorite with my sword and with my bow.
Jeremiah 31:31 Behold, the days come, saith the LORD, that I will make a new covenant with the house of Israel, and with the house of Judah: 32 Not according to the covenant that I made with their fathers in the day that I took them by the hand to bring them out of the land of Egypt; which my covenant they brake, although I was an husband unto them, saith the LORD: 33 But this shall be the covenant that I will make with the house of Israel; After those days, saith the LORD, I will put my law in their inward parts, and write it in their hearts; and will be their God, and they shall be my people.