Christogenea Internet Radio
The Epistles of Paul - Romans Part 4, 04-25-2014
Discussing Romans chapter 2 we saw that the prophets of Yahweh announced the failure of the law of God on the part of the children of Israel because they refused to keep it. With that, Yahweh God Himself also announced that the ritual sacrifices, feasts and other works of the law conducted by the children of Israel would no longer be acceptable to Him. Establishing these things, we cited lengthy passages from 1 John chapter 1, Isaiah chapter 1, Hosea chapter 8 and Jeremiah chapter 6. All of these prophets were found to be in agreement with Habakkuk, whom Paul had quoted in Romans chapter 1, where that prophet said that the law had failed because Israel did not keep it, and for that reason "the just shall live by faith", as Paul had quoted. We must always bear in mind that none of this is about the failure of God, but rather it is about the education of His people.
With such an understanding, we may then perceive why Paul told the Romans "for as many as have done wrong without law, without law then are they cleansed; and as many as have done wrong in the law, by the law they will be judged", at Romans 2:12. The prophets had also clearly foretold that the dispersed children of Israel, who no longer had the Levitical law, would be cleansed of their sins by Yahweh apart from the law. So apart from Yahshua Christ there is no propitiation for sin, and those many Judaeans of the first century who rejected Christ would be judged by the law. For that same reason Christ told them that they would die in their sins.
From John chapter 8, the King James Version: "21 Then said Jesus again unto them, I go my way, and ye shall seek me, and shall die in your sins: whither I go, ye cannot come. 22 Then said the Jews, Will he kill himself? because he saith, Whither I go, ye cannot come. 23 And he said unto them, Ye are from beneath; I am from above: ye are of this world; I am not of this world. 24 I said therefore unto you, that ye shall die in your sins: for if ye believe not that I am he, ye shall die in your sins." His sheep, who as the apostle John explains in his first epistle are also born from above, hear His voice and they follow Him. His enemies, born of the world, have no part with Him. It is therefore the truth of the Gospel which separates the wheat and the tares.
We see this very thing prophesied in Isaiah chapter 52, whereby we may also perceive that the enemies of Christ were not the people of God: "6 Therefore my people shall know my name: therefore they shall know in that day that I am he that doth speak: behold, it is I. 7 How beautiful upon the mountains are the feet of him that bringeth good tidings, that publisheth peace; that bringeth good tidings of good, that publisheth salvation; that saith unto Zion, Thy God reigneth!" As Christ told His enemies in John chapter 10, "26 But ye believe not, because ye are not of my sheep, as I said unto you. 27 My sheep hear my voice, and I know them, and they follow me". Many of those who rejected Christ were indeed later judged by the law: the law of the kinsman avenger, in the destruction of Jerusalem prophesied in Daniel chapter 9. Those who remain await the Lake of Fire.
In Romans 2:13-16 Paul defined the "just" as those of the dispersions of Israel who had the law written on their hearts, according to prophecies found in Jeremiah and Isaiah, and who sought to put that into practice. Then from Romans 2:17 Paul addressed the Judaeans in the context of their adherence to the law, informing them that if they transgressed any part of it that they could not remain in the grace of God, that their circumcision would become uncircumcision, ostensibly because there is no longer any valid propitiation for sin apart from Christ. Commencing with Romans chapter 3, Paul explains the advantage of those Judaeans who have the circumcision and the Word of God, and nevertheless states that their lack of faith – because they rejected Christ – would not nullify the faith. Therefore when Yahweh imposes His wrath upon them, He was not unjust for doing so. Paul understood that wrath was coming, and expressed as much in Romans 16:20 where he told the Romans that Yahweh would crush Satan under their feet shortly. Not 13 years after Paul wrote this epistle, the Roman armies destroyed Jerusalem and 1.1 million of the Judaeans.
Here with Romans 3:9, Paul commences by asking a rhetorical question comparing those in Christ to the Judaeans who were of the circumcision and kept the Law, but who were not of the faith of Christ.
9 What then, are we better? Not at all: for we previously accused both Judaeans [A interpolates first] and Greeks all with being at fault: 10 just as it is written, "that there is none righteous, not even one: 11 there is none understanding, there is not one seeking after Yahweh."
The Codex Claromontanus (D) begins verse 9 with a different question: "What then, do we hold the advantage?" D also wants previously in the statement that follows.

For Paul to assert that the Greeks to whom he refers were at fault, or under sin as the phrase is usually rendered, Paul must have considered that they were indeed of the dispersions of the children of Israel, because only Israel ever had the law and therefore only Israel could have been held liable for sin under the law. Furthermore, since Paul is quoting Psalm 14 here in relation to Greeks, the words of that Psalm only being applicable to the children of Israel, Paul must be including those same Greeks. Indeed, the Romans and several of the major Greek tribes did descend from the children of Israel. For those Greeks who did not, Paul distinguishes them where he encountered them, such as the Lycaonians at Acts chapter 14 and the Athenians at Acts chapter 17.
We have just cited John chapter 8, where Christ told those who opposed Him that they would die in their sins. This begs the question as to how the enemies of Christ, the Edomite infiltrators of Judaea, could die in their sins since they were never given the law in spite of having claimed it for themselves. However the apostle Peter mentions the "angels that sinned" long before the law was given to Israel. Paul explains this in Romans chapter 5 where he says "For until the law sin was in the world: but sin is not imputed when there is no law." Sin is violation of God's law, but was not imputed unless God's law was known. According to the plan of God, among men His law was only made known to the children of Israel, which is stated explicitly in Psalm 147:19-20, and also inferred in Amos 3:2. The law being given to Israel, which was a matter of the covenant relationship which Israel had with God, the children of Israel also received a means of propitiation for violation of the law. The purpose of the law was to make manifest the elect people of God. The Edomites, who were among God's enemies, took His law upon themselves and made themselves cognizant of it, but they never had any propitiation when they violated it. As Paul says in Romans 3:20, "through the law is knowledge of sin". Therefore these enemies of God have condemned themselves, and Paul explains in Romans 3:19 that "every mouth shall be stopped".
Most King James Version cross-references acknowledge that Romans 3:11 is a citation of Psalm 14:2, and it is also cross-referenced to Psalm 53:2 and Ecclesiastes 7:20. It may just as easily be a paraphrase of statements found in Isaiah 41:26-28, which is also presented as a dialogue: "26 Who hath declared from the beginning, that we may know? and beforetime, that we may say, He is righteous? yea, there is none that sheweth, yea, there is none that declareth, yea, there is none that heareth your words. 27 The first shall say to Zion, Behold, behold them: and I will give to Jerusalem one that bringeth good tidings. 28 For I beheld, and there was no man; even among them, and there was no counsellor, that, when I asked of them, could answer a word."
However from verses 12 through 18, those same cross-references offer as citations a mere smattering of verse fragments found in other Psalms or in the words of the prophet Isaiah. The references are hardly worth repeating, since Paul is certainly not taking short phrases from random passages of Scripture in order to somehow mold his own account of the Word of God outside of its original context. That is what the Judaized denominational Christians do, and the manufacture of those cross-references unjustly attributes such a practice to Paul!
12 "They have all turned away, together they have become unprofitable; there is none practicing kindness, there is not so much as one; 13 their throat is an open tomb, with their tongues they have dealt treacherously; the poison of asps is under their lips, 14 of which the [B has their] mouth is full of curses and bitterness; 15 swift are their feet to shed blood; 16 ruin and suffering are in their ways; 17 and a way of peace they have not known; 18 there is no fear of Yahweh before their eyes."
In truth, Romans 3:11 is a paraphrase of the idea expressed in Psalm 14:1 and elsewhere in Scripture. However Psalm 14:1 is describing the result of the action related at Psalm 14:2, where God is depicted as looking down upon men and seeing no one who would seek righteousness.
Psalm 14, from the Septuagint: "1 For the end, Psalm of David. The fool has said in his heart, There is no God. They have corrupted themselves, and become abominable in their devices; there is none that does goodness, there is not even so much as one. 2 The Lord looked down from heaven upon the sons of men, to see if there were any that understood, or sought after god. [So here it is evident that in Romans 3:9-11 Paul expresses the result of God's observation as it is depicted in Psalm 14:1-2. Paul's text at Romans 3:12-18 is practically verbatim from the Greek of Psalm 14:3 from the Septuagint:] 3 They are all gone out of the way, they are together become good for nothing, there is none that does good, no not one. [The Masoretic Text version has only that first sentence.] Their throat is an open sepulchre; with their tongues they have used deceit; the poison of asps is under their lips: whose mouth is full of cursing and bitterness; their feet are swift to shed blood: destruction and misery are in their ways; and the way of peace they have not known: there is no fear of God before their eyes. [We will supply the rest of the Psalm, which Paul did not cite in Romans, where the subject changes to the enemies of God among His people:] 4 Will not all the workers of iniquity know, who eat up my people as they would eat bread? they have not called upon the Lord. 5 There were they alarmed with fear, where there was no fear; for God is in the righteous generation [or race, γενεά]. 6 Ye have shamed the counsel of the poor, because the Lord is his hope. 7 Who will bring the salvation of Israel out of Sion? when the Lord brings back the captivity of his people, let Jacob exult, and Israel be glad."
And once again, quoting such a large portion of this Psalm in reference to both "Judaean and Greek", Paul is also informing us that both the Judaeans and the Greeks which he refers to are of the genetic children of Israel, those of the remnant and those of the dispersion, because the words of the Psalm clearly and exclusively refer to the children of Israel. Where Paul cites that "they have all turned away" he cannot possibly be referring to anyone but the genetic children of Israel! That is our obligation, when a citation from the Old Testament is made by a New Testament writer, to go back and examine the context of the passage being quoted, and examine how that passage applies in the New Testament, from the context of the original passage and not from our own contrivance.
19 Now we know that whatever the law says, to those in the law it speaks, that every mouth shall be stopped, and all the cosmos [the society, or world, however here the meaning must transcend what is immediately visible of the world] will be brought under the judgment of Yahweh, 20 since from the rituals of the law not any [literally all] flesh will be deemed acceptable in His sight; indeed through the law is knowledge of error.
We have already exhibited the words of the prophets which attest that Yahweh would no longer accept sacrifices and offerings under the law as propitiation for the sins of the children of Israel. The Judaeans who cling to the law for their righteousness had knowledge of sin, but they had no propitiation for their sin. Christians submit themselves to the judgment of God, and they seek and shall obtain His mercy through Christ, knowing that they have sinned. Therefore Christ is our propitiation. From 1 John chapter 2: "1 My children, I write these things to you in order that you do not do wrong. And if one should do wrong, we have an Advocate with the Father: the righteous Yahshua Christ. "
By the phrase "works of the law" Paul refers to the rituals of the law, and this is evident in several places. First there is Numbers 4:47, where explaining the method by which the Levites would be numbered for the census Moses instructs that they count "from five and twenty years old and upward till fifty years old, every one that goes in to the service of the works, and the charge of the things that are carried in the tabernacle of witness." The phrase "service of the works" describes the conduct of the works of the law, those rituals which were ordained to be conducted by the Levites. At the end of Numbers chapter 8 we see an instruction that Levites over the age of fifty "... shall not work any longer … he shall not do works...", meaning that from that age Levites should no longer be assigned the conduct of rituals such as sacrifices. This word used in the Septuagint to describe such works is the same word which Paul uses in these passages.
Furthermore, in the Dead Sea Scrolls, there is a phrase which is a title for one of the more widely known scrolls usually identified as 4QMMT. This Scroll is sometimes called "The Sectarian Manifesto", as it is in The Dead Sea Scrolls, A New Translation, by Wise, Abegg and Cook. In that volume, in an introduction to 4QMMT (which consists of the Dead Sea Scrolls fragments 4Q394 through 4Q399) the book says that "In all of antiquity only the Sectarian Manifesto and Paul's letters to the Galatians and Romans discuss the connection between works and righteousness." Of course, we would assert that while it was not phrased in the same manner, a major component of the ministry of Christ had the purpose of illustrating that same distinction, as well as the epistle of James. The introduction in the book, found on page 454, continues by explaining that MMT, for the Hebrew words Miqsat Ma'ase Ha-Torah, is "an acronym from the Hebrew words meaning 'some of the works of the Law'". The subject of the scroll is, of course, the rituals of the law. Therefore we see that the phrase Ma'ase Ha-Torah, or "works of the law", was used by others at a time nearly contemporary to that of Paul in relation to the rituals of the Old Testament law.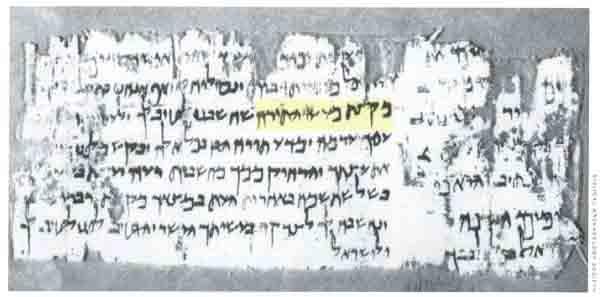 In another article, entitled Paul, "Works of the Law" and MMT which appeared in the November-December 1994 issue of Biblical Archaeology Review, one of the same men, Martin Abegg, wrote that "A few minutes with a concordance of the Septuagint, the Greek translation of the Hebrew Bible, leaves little doubt that the Greek equivalent of ma'ase ha-torah is likely ergon nomou. Ergon nomou is commonly translated in English versions of the New Testament as 'works of the law.' This well-known Pauline phrase is found in Romans 3:20, 28 and in Galatians 2:16; 3:2, 5, 10." For this reason, in order to eliminate any confusion, the phrase which literally means works of the law is translated as rituals of the law in the Christogenea New Testament whenever it appears in these contexts .
21 But now apart from the law, the justice of Yahweh is made known, as attested by the law and the prophets; 22 but justice of Yahweh through the faith of Yahshua [B wants Yahshua] Christ, for all of those who [B has for them who] are believing, for there is no distinction:
And here Paul succinctly expresses a summation of everything which we have insisted upon in evaluating his words thus far. There is no distinction between those Israelites of the remnant in Judaea who retained the law and the circumcision, and those Israelites of the dispersion who were returning to Yahweh in Christ.
From Isaiah chapter 53: "1 Who hath believed our report? and to whom is the arm of the LORD revealed? 2 For he shall grow up before him as a tender plant, and as a root out of a dry ground: he hath no form nor comeliness; and when we shall see him, there is no beauty that we should desire him. 3 He is despised and rejected of men; a man of sorrows, and acquainted with grief: and we hid as it were our faces from him; he was despised, and we esteemed him not. 4 Surely he hath borne our griefs, and carried our sorrows: yet we did esteem him stricken, smitten of God, and afflicted. 5 But he was wounded for our transgressions, he was bruised for our iniquities: the chastisement of our peace was upon him; and with his stripes we are healed. 6 All we like sheep have gone astray; we have turned every one to his own way; and the LORD hath laid on him the iniquity of us all." The report of the Gospel was intended for "all we like sheep ... gone astray … and the LORD hath laid on him the iniquity of us all". Therefore the sheep who had gone astray are the exclusively intended recipients of the Gospel.
As the Assyrian and Babylonian deportations of Israel and Judah were occurring, the children of Israel were called to return to Yahweh their God by the prophets. From Jeremiah chapter 4: "1 If thou wilt return, O Israel, saith the LORD, return unto me: and if thou wilt put away thine abominations out of my sight, then shalt thou not remove." From Isaiah chapter 44: "21 Remember these, O Jacob and Israel; for thou art my servant: I have formed thee; thou art my servant: O Israel, thou shalt not be forgotten of me. 22 I have blotted out, as a thick cloud, thy transgressions, and, as a cloud, thy sins: return unto me; for I have redeemed thee."
In order to return to Yahweh, the children of Israel must accept and believe the Gospel of Christ. Therefore speaking of the punishment of Israel the Word of God says in Hosea chapter 2: "5 For their mother [the nation of Israel] hath played the harlot: she that conceived them hath done shamefully: for she said, I will go after my lovers [the other nations], that give me my bread and my water, my wool and my flax, mine oil and my drink. 6 Therefore, behold, I will hedge up thy way with thorns, and make a wall, that she shall not find her paths. 7 And she shall follow after her lovers, but she shall not overtake them; and she shall seek them, but shall not find them: then shall she say, I will go and return to my first husband; for then was it better with me than now [Israel, the nation, shall return to Yahweh her God]. 8 For she did not know that I gave her corn, and wine, and oil, and multiplied her silver and gold, which they prepared for Baal. 9 Therefore will I return, and take away my corn in the time thereof, and my wine in the season thereof, and will recover my wool and my flax given to cover her nakedness. 10 And now will I discover her lewdness in the sight of her lovers, and none shall deliver her out of mine hand. 11 I will also cause all her mirth to cease, her feast days, her new moons, and her sabbaths, and all her solemn feasts. 12 And I will destroy her vines and her fig trees, whereof she hath said, These are my rewards that my lovers have given me: and I will make them a forest, and the beasts of the field shall eat them. 13 And I will visit upon her the days of Baalim, wherein she burned incense to them, and she decked herself with her earrings and her jewels, and she went after her lovers, and forgat me, saith the LORD."
However speaking of the reconciliation of Israel, the Word of God continues in that same chapter of Hosea: "14 Therefore, behold, I will allure her, and bring her into the wilderness, and speak comfortably unto her. [This is the woman who fled to the wilderness, and who was nourished by the angels - the messengers of the Christian gospel - as it is described in Revelation chapter 12.] 15 And I will give her her vineyards from thence, and the valley of Achor for a door of hope [that is where Achan, the prospective usurer with the Babylonian garment, was slain]: and she shall sing there, as in the days of her youth, and as in the day when she came up out of the land of Egypt. 16 And it shall be at that day, saith the LORD, that thou shalt call me Ishi; and shalt call me no more Baali. 17 For I will take away the names of Baalim out of her mouth, and they shall no more be remembered by their name. 18 And in that day will I make a covenant for them with the beasts of the field, and with the fowls of heaven, and with the creeping things of the ground: and I will break the bow and the sword and the battle out of the earth, and will make them to lie down safely. 19 And I will betroth thee unto me for ever; yea, I will betroth thee unto me in righteousness, and in judgment, and in lovingkindness, and in mercies. 20 I will even betroth thee unto me in faithfulness: and thou shalt know the LORD. 21 And it shall come to pass in that day, I will hear, saith the LORD, I will hear the heavens, and they shall hear the earth; 22 And the earth shall hear the corn, and the wine, and the oil; and they shall hear Jezreel. 23 And I will sow her unto me in the earth; and I will have mercy upon her that had not obtained mercy [a reference to Israel deported in punishment]; and I will say to them which were not my people, Thou art my people [a reference to Israel alienated from God]; and they shall say, Thou art my God."
The promise of the prophets is that Yahweh and Israel would be reconciled, and that Yahweh would betroth Himself once again to Israel. He does so through Yahshua Christ. That is why John the Baptist described Christ as the bridegroom. From John 3:29: "29 He that hath the bride is the bridegroom: but the friend of the bridegroom, which standeth and heareth him, rejoiceth greatly because of the bridegroom's voice: this my joy therefore is fulfilled." That is why Paul, addressing the Christian assembly at Corinth, stated in 2 Corinthians 11:2 that "I have espoused you to one husband, that I may present you as a chaste virgin to Christ." Both John the Baptist and Paul of Tarsus were teaching the fulfillment of Hosea 2:19-20. This is the law and the prophets which Yahshua Christ came to fulfill. There will be a greater discussion of this in Romans chapter 7, where we encounter a lengthy analogy on the subject by Paul himself.
23 for all have done wrong and fall short of the honor of Yahweh;
Indeed, all Israelites have sinned, and all Israelites require the mercy and propitiation found only in Christ. From Ecclesiastes chapter 7: "20 For there is not a just man upon earth, that doeth good, and sinneth not."
From the Wisdom of Salomon, chapter 15 "1 But thou, O God, art gracious and true, long-suffering, and in mercy ordering all things, 2 For if we sin, we are thine, knowing thy power: but we will not sin, knowing that we are counted thine. 3 For to know thee is perfect righteousness: yea, to know thy power is the root of immortality."
We shall discuss the Christian paradox concerning sin, forgiveness and the law where Paul himself further discusses it, in Romans chapter 4.
24 being freely accepted by His favor, through the redemption that is at the hands of Christ Yahshua;
The Greek word ἐν (Strong's # 1722) is literally in, but here it is idiomatically rendered at the hands of, as Liddell & Scott attest that it was used to refer to something "in one's hands, within one's reach or power".
From Isaiah chapter 52: "2 Shake thyself from the dust; arise, and sit down, O Jerusalem: loose thyself from the bands of thy neck, O captive daughter of Zion. 3 For thus saith the LORD, Ye have sold yourselves for nought; and ye shall be redeemed without money. 4 For thus saith the Lord GOD, My people went down aforetime into Egypt to sojourn there; and the Assyrian oppressed them without cause. 5 Now therefore, what have I here, saith the LORD, that my people is taken away for nought? they that rule over them make them to howl, saith the LORD; and my name continually every day is blasphemed. 6 Therefore my people shall know my name: therefore they shall know in that day that I am he that doth speak: behold, it is I. 7 How beautiful upon the mountains are the feet of him that bringeth good tidings, that publisheth peace; that bringeth good tidings of good, that publisheth salvation; that saith unto Zion, Thy God reigneth!" The Gospel message is clearly the announcement of this redemption to the children of Israel, who sold themselves for nought and who would be redeemed without money.
One place where the law of redemption is explained in Scripture is in Leviticus chapter 25, speaking of a man sold into slavery: "48 After that he is sold he may be redeemed again; one of his brethren may redeem him: 49 Either his uncle, or his uncle's son, may redeem him, or any that is nigh of kin unto him of his family may redeem him; or if he be able, he may redeem himself." The children of Israel "sold yourselves for nought; and ye shall be redeemed without money." The reasons why that was necessary shall indeed be made apparent as we progress through Paul's epistle to the Romans.
That Yahweh is the Redeemer of Israel is mentioned at least a dozen or so times in the Old Testament, especially in Jeremiah and Isaiah but also in Psalms and Proverbs. From Jeremiah chapter 50: "33 Thus saith the LORD of hosts; The children of Israel and the children of Judah were oppressed together: and all that took them captives held them fast; they refused to let them go. 34 Their Redeemer is strong; the LORD of hosts is his name: he shall thoroughly plead their cause, that he may give rest to the land, and disquiet the inhabitants of Babylon." From Isaiah chapter 49: "7 Thus saith the LORD, the Redeemer of Israel, and his Holy One, to him whom man despiseth, to him whom the nation abhorreth, to a servant of rulers, Kings shall see and arise, princes also shall worship, because of the LORD that is faithful, and the Holy One of Israel, and he shall choose thee. 8 Thus saith the LORD, In an acceptable time have I heard thee, and in a day of salvation have I helped thee: and I will preserve thee, and give thee for a covenant of the people, to establish the earth, to cause to inherit the desolate heritages; 9 That thou mayest say to the prisoners, Go forth; to them that are in darkness, Shew yourselves. They shall feed in the ways, and their pastures shall be in all high places." Paul quotes from that same passage in his second epistle to the Corinthians.
From Jeremiah chapter 31, in that same chapter where the explicit promise of a new covenant with Israel is found, we see this: "10 Hear the word of the LORD, O ye nations, and declare it in the isles afar off, and say, He that scattered Israel will gather him, and keep him, as a shepherd doth his flock. 11 For the LORD hath redeemed Jacob, and ransomed him from the hand of him that was stronger than he." In Galatians chapter 4 Paul attests: "4 And when the fulfillment of the time had come, Yahweh had dispatched His Son, having been born of a woman, having been subject to law, 5 in order that he would redeem those subject to law, that we would recover the position of sons. 6 And because you are sons, Yahweh has dispatched the Spirit of His Son into our hearts, crying Father, Father." There is no place in Scripture where we find redemption for anyone other than the children of Israel, because everyone else is irrelevant in that context.
25 whom Yahweh set forth as a propitiation through faith [A wants through faith, P40, B and the MT have through the faith] in His blood, for a display of His justice by means of the pretermission of forthcoming errors, 26 by the tolerance of Yahweh; for the display of His justice in the present time; for He is just [literally for Him to be just] and is accepting of him that is from the faith of Yahshua.
Redemption was one facet of the Passion of the Christ, and propitiation is another. These two facets converge in Paul's epistle in Romans chapter 7. We have already cited the Messianic prophecy of Isaiah chapter 56 where it relates to the propitiation for sin which was in Christ. In Daniel chapter 9, in another Messianic prophecy, from verse 24 we see the purpose of the Christ was "to finish the transgression, and to make an end of sins, and to make reconciliation for iniquity, and to bring in everlasting righteousness, and to seal up the vision and prophecy, and to anoint the most Holy." This does not mean that men would be able to cease from sin, but that sin would no longer be imputed to Israel, which we shall discuss where Paul makes the same assertion in Romans chapter 4.
In this regard, there is another misunderstanding which must be explained here, concerning the word forthcoming as it appears here in verse 25. For that word, the King James Version simply has past, as if the forgiveness of sins which is in Christ is only for sins which occurred prior to His Passion, which is exactly how many fools have interpreted the passage. If Paul had meant this, then how could Paul himself look for such forgiveness if he sins? Yet Paul explained in Romans chapter 7 that sin dwells in him, in his members, and therefore he was weak to prevent himself from sinning. Since all men sin, as Paul himself says here, then according to the popular translations of this passage only those who sin before the cross of Christ are saved, and the entire Revelation of Yahshua Christ, speaking of the future, is for nought since we are all doomed to the Lake of Fire. However the apostle John assures us that if we sin, we have an advocate in Yahshua Christ (1 John 2:1). Therefore Paul cannot be intending to describe only past sins here in Romans 3:25.
Among many others, there is another example in James chapter 5: "15 And the prayer of faith shall save the sick, and the Lord shall raise him up; and if he have committed sins, they shall be forgiven him.... 19 Brethren, if any of you do err from the truth, and one convert him; 20 Let him know, that he which converteth the sinner from the error of his way shall save a soul from death, and shall hide a multitude of sins." How could this happen after the Resurrection, which is when James wrote these words, if Christ only came for the remission of past sins?
There are two Greek words in the phrase διὰ τὴν πάρεσιν τῶν προγεγονότων ἁμαρτημάτων, which is rendered here "by means of the pretermission of forthcoming errors", which must be discussed, πάρεσις, a noun derived from the verb παρίημι, and προγεγονότων, which is a form of the verb προγίγνομαι. The word πάρεσις is defined by Liddell & Scott as "a letting go, remission", citing the New Testament as their only authority. In such cases, if as a translator I am not entirely happy with the definition of a noun or adjective which is derived from a verb, I assert the prerogative of examining the meaning of the original verb and using that as a model for translating the noun or adjective. In this instance, the result is not significantly different, however I thought it opportune to use this example to explain the methodology. The verb, παρίημι, is "to let drop beside or at the side, let fall … to pass by, pass over, leave out … to pass unnoticed, disregard, let alone" and examples are given where it was used in equivalence to the Latin word praetermittere, which is the word from which we get pretermission. In English pretermission has the same meaning, which is to disregard intentionally or allow to pass unnoticed or unmentioned (thefreedictionary.com). The full definition of the word, and Paul's reasons for choosing it, are therefore realized in his remarks concerning the imputation of sin in Romans chapter 4, where he quotes from Psalm 32, where it says "blessed is the man to whom Yahweh will not impute sin".
The verb προγεγονότων is a Perfect Active Genitive Plural Participle of προγίγνομαι (4266), which Liddell & Scott primarily define as to "come forward...to be born before, exist before" but also merely as "former" and of events, as a Substantive in the Perfect tense it can mean "things of old time". However it is an issue of Christian doctrine to know that the errors which were committed by the children of Adam throughout the ages were foreknown by Yahweh their God, although certainly not in the sense that those sins were actually approved of by God.
There is an example of the foreknowledge of Israel's sin in Deuteronomy chapter 30: "1 And it shall come to pass, when all these things are come upon thee, the blessing and the curse, which I have set before thee, and thou shalt call them to mind among all the nations, whither the LORD thy God hath driven thee, 2 And shalt return unto the LORD thy God, and shalt obey his voice according to all that I command thee this day, thou and thy children, with all thine heart, and with all thy soul; 3 That then the LORD thy God will turn thy captivity, and have compassion upon thee, and will return and gather thee from all the nations, whither the LORD thy God hath scattered thee." Israel was scattered into many nations in punishment. When Israel chooses obedience, Israel shall be gathered to Christ. Until then, the sins of Israel are indeed forgiven. There is an ongoing forgiveness of sins in Christ, until when Israel is gathered to Him. This Paul himself shall explain in the chapters to come.
Among other words or phrases, the word γεγονότων alone, without the prefix προ which primarily means before or in front of, could be used to signify something past, and Paul used similar forms of the word in this tense at Romans 6:5, 11:25, and elsewhere. Paul may just as well have used γεγονότων alone to signify past here if that were what he truly meant.
In his Greek-English lexicon, Joseph Thayer notes a usage for προγεγονότων in Homer, in the Iliad (18:525, οἳ δὲ τάχα προγένοντο [and they quickly came into view]) where it clearly means "to come into view". The large 9th edition of the Liddell & Scott Greek-English lexicon cites the same example and others showing that the word in the past tense refers to something which "came into sight".
The sins of men were known by God before the foundation of the world, and therefore Peter says that Christ was "a lamb without blemish and without spot: who verily was foreordained before the foundation of the world" (1 Peter 1:20). If the sins of men "came into sight" with Yahweh before men even existed, then for that reason was Yahshua Christ foreordained, to be a propitiation for those forthcoming sins, those sins which before the creation of man had come into the sight of God, and in that manner the Christogenea New Testament translation of Romans 3:25 is assuredly correct.
From Zechariah chapter 8: "13 And it shall come to pass, that as ye were a curse among the heathen, O house of Judah, and house of Israel; so will I save you, and ye shall be a blessing: fear not, but let your hands be strong."
27 Where then is the reason to boast? It has been excluded. Through what sort of law, of the rituals? No, but through a law of faith. 28 We therefore conclude by reasoning a man to be accepted by faith apart from rituals of the law.
From Deuteronomy chapter 10, from Brenton's Septuagint: "20 Thou shalt fear the Lord thy God, and serve him, and shalt cleave to him, and shalt swear by his name. 21 He is thy boast, and he is thy God, who has wrought in the midst of thee these great and glorious things, which thine eyes have seen."
As Paul explains in Romans chapter 4, Abraham believed God, and he was justified, and his righteousness was manifest apart from any law. We should therefore also believe as Abraham did, which is what the Christian faith truly is, to believe God and the certainty of his promises to our fathers.
29 Is Yahweh of the Judaeans only? And not of the Nations? Yea, also of the Nations, 30 seeing that it is Yahweh alone who will accept the circumcised from faith, and the uncircumcised through the faith.
This is yet another passage which the universalists love to take out of context. What nations are Paul talking about? Could it be that Paul is talking about specific nations, or is he talking about any nations in general? It is the context of the Biblical promises which define the faith that Paul refers to in verses 27 and 28. Since the faith is also the faith of Abraham, as Paul explains in Romans chapter 4, then the nations which Paul refers to must be in accordance with what Abraham had faith in, because the term "faith of Abraham" must describe what Abraham believed. It refers to a substance, and not to a degree.
For an understanding of what Abraham believed, we have to examine what Abraham was promised. From Genesis chapter 17: "4 As for me, behold, my covenant is with thee, and thou shalt be a father of many nations. 5 Neither shall thy name any more be called Abram, but thy name shall be Abraham; for a father of many nations have I made thee. 6 And I will make thee exceeding fruitful, and I will make nations of thee, and kings shall come out of thee. 7 And I will establish my covenant between me and thee and thy seed after thee in their generations for an everlasting covenant, to be a God unto thee, and to thy seed after thee." The faith of Abraham was that his offspring would become many nations, and that those nations would come from him, from out of his loins. That is where seed comes from, and seed is the word used to describe those nations throughout the rest of Scripture.
The story of Abraham's immediate descendants relates how these promises were funneled down to Jacob, and Yahweh repeats them to Jacob in Genesis 35:10-11: "10 And God said unto him, Thy name is Jacob: thy name shall not be called any more Jacob, but Israel shall be thy name: and he called his name Israel. 11 And God said unto him, I am God Almighty: be fruitful and multiply; a nation and a company of nations shall be of thee, and kings shall come out of thy loins".
In turn, blessing his sons, Jacob especially blessed the sons of Joseph with similar promises, in Genesis chapter 48: "17 And when Joseph saw that his father laid his right hand upon the head of Ephraim, it displeased him: and he held up his father's hand, to remove it from Ephraim's head unto Manasseh's head. 18 And Joseph said unto his father, Not so, my father: for this is the firstborn; put thy right hand upon his head. 19 And his father refused, and said, I know it, my son, I know it: he also shall become a people, and he also shall be great: but truly his younger brother shall be greater than he, and his seed shall become a multitude of nations."
Then Jacob blessed all of his sons together, as it is recorded in Genesis chapter 49: "1 And Jacob called unto his sons, and said, Gather yourselves together, that I may tell you that which shall befall you in the last days [a term which means in the future] .... 3 Reuben, thou art my firstborn, my might, and the beginning of my strength, the excellency of dignity, and the excellency of power: Unstable as water, thou shalt not excel; because thou wentest up to thy father's bed; then defiledst thou it: he went up to my couch. Simeon and Levi are brethren; instruments of cruelty are in their habitations.... I will divide them in Jacob, and scatter them in Israel. Judah, thou art he whom thy brethren shall praise... The sceptre shall not depart from Judah, nor a lawgiver from between his feet, until Shiloh come; and unto him shall the gathering of the people be.... Zebulun shall dwell at the haven of the sea; and he shall be for an haven of ships... Issachar is a strong ass couching down between two burdens.... 16 Dan shall judge his people, as one of the tribes of Israel.... Gad, a troop shall overcome him: but he shall overcome at the last. 20 Out of Asher his bread shall be fat, and he shall yield royal dainties. 21 Naphtali is a hind let loose: he giveth goodly words. 22 Joseph is a fruitful bough, even a fruitful bough by a well; whose branches run over the wall.... 26 The blessings of thy father have prevailed above the blessings of my progenitors unto the utmost bound of the everlasting hills: they shall be on the head of Joseph, and on the crown of the head of him that was separate from his brethren. 27 Benjamin shall ravin as a wolf: in the morning he shall devour the prey, and at night he shall divide the spoil. 28 All these are the twelve tribes of Israel: and this is it that their father spake unto them, and blessed them; every one according to his blessing he blessed them."
As it is recorded in Deuteronomy chapter 33, similar blessings were dispensed upon the twelve tribes by Moses: "Let Reuben live, and not die; and let not his men be few.... Hear, LORD, the voice of Judah, and bring him unto his people.... And of Levi he said, Let thy Thummim and thy Urim be with thy holy one, whom thou didst prove at Massah, and with whom thou didst strive at the waters of Meribah.... And of Benjamin he said, The beloved of the LORD shall dwell in safety by him.... And of Joseph he said ... His glory is like the firstling of his bullock, and his horns are like the horns of unicorns: with them he shall push the people together to the ends of the earth: and they are the ten thousands of Ephraim, and they are the thousands of Manasseh. And of Zebulun he said, Rejoice, Zebulun, in thy going out; and, Issachar, in thy tents. They shall call the people unto the mountain; there they shall offer sacrifices of righteousness: for they shall suck of the abundance of the seas, and of treasures hid in the sand. And of Gad he said, Blessed be he that enlargeth Gad.... And of Dan he said, Dan is a lion's whelp: he shall leap from Bashan. And of Naphtali he said, O Naphtali, satisfied with favour, and full with the blessing of the LORD: possess thou the west and the south. And of Asher he said, Let Asher be blessed with children; let him be acceptable to his brethren, and let him dip his foot in oil.... Happy art thou, O Israel: who is like unto thee, O people saved by the LORD, the shield of thy help, and who is the sword of thy excellency! and thine enemies shall be found liars unto thee; and thou shalt tread upon their high places."
The apostle James directed his singular epistle to the "twelve tribes scattered abroad". Paul of Tarsus reckoned the children of Israel as twelve tribes, describing them as the recipients of the promise in Christ in Acts chapter 26, nearly thirty years after the Resurrection of Christ. The basis for Paul's ministry was his knowledge of where these tribes were, and those are the nations to whom he carried the Gospel. Those are the nations to which he refers here in Romans chapter 3, and the proof is throughout his epistles.
For one example, the scepter of Judah is indeed apparent in ancient history. We have already asserted that the Romans descended from the Trojans, who in turn descended primarily from the Zerah branch of the tribe of Judah. Strabo says of the Trojans that they "waxed so strong from a small beginning that they became Kings of Kings" (Geography, 12.8.7), and describes the Trojan royal dynasties which ruled over all the related peoples, including the Carians, Lycians, Mysians, Leleges and Cilicians (13.1.7). These were the tribes of the Phoenicians who were making colonies throughout the Mediterranean not long after the Exodus. The Roman Caesars claimed their own descent from these same Trojan princes, namely from Aeneas the son of Priam. The Trojans were seen throughout ancient history as legitimate royalty, even centuries after their defeat by the Danaan Greeks. The origins of many of the Greek tribes descended from Israel are also fully apparent in history. Christian Identity is the faith of Abraham, because it is a belief in the promises made to Abraham, where we then study history and archaeology in order to examine the substance which reveals the truth of those promises.
31 Do we then nullify the law by faith? Certainly not! Rather we establish the law.
Christians, those who claim to be of Christ, have an obligation to be obedient to Christ if indeed they are Christians. However Paul is not asserting that we should establish the Levitical law. In fact, another reason why Abraham was accounted righteous is explained in Genesis 26:5, "Because that Abraham obeyed my voice, and kept my charge, my commandments, my statutes, and my laws", and this was several centuries before the Levitical law. Therefore it is apparent that there are laws of God which transcend the Levitical law.
In Hebrews chapter 7, after Paul explains that Christ is a priest after the order of Melchizedek, having nothing to do with Levi, he says"12 For the priesthood being changed, from necessity a change of law happens also. 13 For he whom these things are spoken has part in a different tribe, from which no one has made an offering at the altar." The end of the ritual offerings was also foretold in the prophets, as we have already presented here at length. After further explaining the nature of Christ as a Melchizedek priest, and the inability of rituals to do away with sin, in Hebrews chapter 8 Paul cited the very same prophecy of Jeremiah which he also referred to here in Romans chapter 2, in relation to the promise of a New Covenant where he quotes the prophecy which says "10 For this is the covenant which I will devise with the house of Israel after those days, says Yahweh: giving My laws into their minds, I will also inscribe them upon their hearts, and I will be for a God to them, and they shall be for a people to Me."
Paul quotes that same portion of Jeremiah once again in Hebrews chapter 10, where he proceeds to explain how it was that Christ stood as a sacrifice in the place of all of the ritual sacrifices of the Levitical law. He then explains that "19 Therefore brethren, having liberty into the entrance of the holy places in the blood of Yahshua 20 by a new and living way through the veil which He has consecrated for us, that is, of His flesh, 21 and a great priest over the household of Yahweh, 22 we should approach with a true heart, in certainty of faith having purified the hearts from a wicked conscience, and having washed the body in pure water [which is the Word of God in Christ, Ephesians 5:26] 23 we should hold fast the profession of the expectation without wavering; for He making the promise is trustworthy. 24 And we should consider one another, in regard to stimulation of love and of good deeds, 25 not forsaking the gathering of ourselves together, as is a habit with some, but encouraging, and by so much more as you see the day approaching."
Yahshua Christ said "if you love Me, keep My commandments", and then He issued one new commandment, something which is apparent in the law but is not explicitly mandated: "A new commandment I give unto you, That ye love one another; as I have loved you, that ye also love one another." (John 13:34). The moral laws of God are summarized in the ten commandments, and it is these which Christ professes that men must keep if they seek righteousness. In John chapter 14 He explained "21 He that hath my commandments, and keepeth them, he it is that loveth me: and he that loveth me shall be loved of my Father, and I will love him, and will manifest myself to him."
These commandments which He refers to are made manifest in the Gospel, for instance in Matthew chapter 5: "17 Think not that I am come to destroy the law, or the prophets: I am not come to destroy, but to fulfil. 18 For verily I say unto you, Till heaven and earth pass, one jot or one tittle shall in no wise pass from the law, till all be fulfilled. 19 Whosoever therefore shall break one of these least commandments, and shall teach men so, he shall be called the least in the kingdom of heaven: but whosoever shall do and teach them, the same shall be called great in the kingdom of heaven." Then in Matthew chapter 19: "16 And, behold, one came and said unto him, Good Master, what good thing shall I do, that I may have eternal life? 17 And he said unto him, Why callest thou me good? there is none good but one, that is, God: but if thou wilt enter into life, keep the commandments. 18 He saith unto him, Which? Jesus said, Thou shalt do no murder, Thou shalt not commit adultery, Thou shalt not steal, Thou shalt not bear false witness, 19 Honour thy father and thy mother: and, Thou shalt love thy neighbour as thyself." And from Matthew chapter 22: "37 Jesus said unto him, Thou shalt love the Lord thy God with all thy heart, and with all thy soul, and with all thy mind. 38 This is the first and great commandment. 39 And the second is like unto it, Thou shalt love thy neighbour as thyself. 40 On these two commandments hang all the law and the prophets."
Three times in the Revelation are the commandments of God upheld in the words of Christ.
Revelation 12: "17 And the dragon was wroth with the woman, and went to make war with the remnant of her seed, which keep the commandments of God, and have the testimony of Jesus Christ."
Revelation 14: "12 Here is the patience of the saints: here are they that keep the commandments of God, and the faith of Jesus."
Revelation 22: "14 Blessed are they that do his commandments, that they may have right to the tree of life, and may enter in through the gates into the city."
The moral laws of God are immutable, and they cannot be done away with. In other places, Paul clearly advises against fornication, homosexuality and other things not mentioned explicitly in the ten commandments but prohibited in the laws in Leviticus and Deuteronomy. All Christians have an obligation to seek and uphold this morality. Eventually, all Christians shall uphold them. In the subsequent chapters of Romans, however, Paul draws a distinction between the spirit of the law and the letter of the law. He is not wrong for doing so. Christ often conflicted with the Pharisees over this same thing, where he was often accused by them for breaking the letter of the law while indeed the intentions of the spirit were greater. We shall indeed examine these things as we proceed through Paul's epistle.
[Over and above these things, in Isaiah chapter 56 we see that the eunuch and the dry tree, which are metaphors for Israelites in the captivities, who take it upon themselves to keep His sabbaths and the precepts of His covenant, are given a place even above that of sons and daughters. Of course, the eunuch and the dry tree are sons and daughters in the first place.]