Christogenea Internet Radio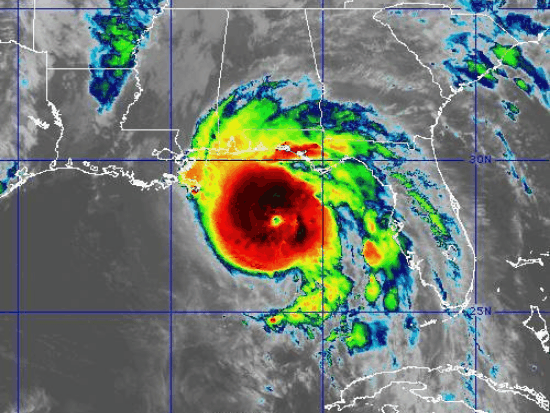 The Hurricast, Part 1
Tonight I am going to talk briefly about our personal experience in the aftermath of Hurricane Michael, just to have it on record. Then we will also present an interview with Shaun Winkler, a friend and fellow League of the South member from Mississippi who came to Florida as a volunteer in the hurricane relief effort. Because I have had many inquiries as to my own well-being and also that of Christogenea, my ministry, and how we are fairing after the storm, I will begin with an account from a personal perspective.
Wanting to wisely invest and preserve the money which Clifton Emahiser had left us upon his passing this past July, just about six weeks before the recent hurricane, Melissa and I had bought a house in a sportsman's mecca an hour's drive north and west of where we lived near Panama City. We had hoped that it would become a sometimes retreat, a refuge of sorts, as well as a potentially profitable investment property. In that way we would be doing what Clifton wanted, which is for me to be able to perpetuate our ministry, while we would also be preserving the value of the original investment. So we began to decorate the place, spending my weekly day or day-and-a-half off there, but we did not plan to live there full time. Much of my work at Christogenea depends on high speed Internet and a reliable cell phone connection, and the area this house is in has neither of those luxuries. But there are plenty of deer, bear, hyenas, fish, and, reportedly, even alligators.
We were there the evening before Hurricane Michael hit Florida, sharing a beer on the porch swing, but returned to our home north of Panama City in the early hours of the morning. Melissa wanted to stay, but we didn't yet know exactly where the storm would hit, and the roads are better and the house much further from water, so it seemed to be the logical choice. Around that same time, the force of the storm was upgraded, from category two to three and quickly to four. Now the risk was much more serious, and it happened so quickly that better advanced preparation was hardly possible.
I was up and working at my desk when the lights went out at 10:00 AM Wednesday morning, October 10th. Although the wind had been picking up, tracking the storm on the Internet, which also went out at that same time, I didn't expect any outage for at least another hour. Around forty minutes later the last of my computers went off, after the backup batteries exhausted themselves. From that point I lost track of time, a situation which actually persisted for at least the next several days.
A short time later I stepped out on our front deck. There was a stand of pine trees near our home, but on our neighbor's property. They were waving so violently, I thought to move our vehicles as far away from them as possible, so I drove them around to the far side of the house. Within the next few minutes, three large pine trees came crashing down into our yard, right near where the vehicles had been parked.
After moving the Jeeps, I went back into the house, expecting to ride out the storm by curling up with a book. But only a few minutes later a loud crash was heard on our roof. So I went to the far side of the house to inspect the damage, the end which is near that same stand of pine trees. Looking at the sky through my roof, another and much larger crash sounded as a larger section of tree came down nearly right over my head. There was a large hole in the roof over half of my library, and the rain water was pouring into four rooms of our 10-room house. I found Melissa praying on the bedroom floor. So enlisting her and the help of a friend who was staying there with us, we spent the next half hour or so moving books to a dry part of the house. During this process, two more large pine trees crashed down right near one another on the front corner of that same end of the house, totally destroying one room and seriously damaging the room behind it, the same one which was struck in the beginning. The wall at that end of the house was almost completely blown out, and half the roof caved in. Wind and rain pouring in, the front half of the storm began to subside just when we thought that half the house may be blown apart. During those last minutes, the recreational travel trailer we purchased for our travels last February, which had escaped the falling the trees, was flipped over by the wind.
After the eye of the hurricane passed over our heads, something which seemed to take only ten or so minutes, the back half of the storm began blowing in the opposite direction. But thankfully, this half was not nearly as eventful for us. The only damage which it caused was to destroy our well house, which in turn broke up the pipes from the well to the pressure tank. It also tore the electrical connections from the side of our home, and broke the largest limbs from the two oak trees we have in our front yard. The falling limbs themselves caused no damage except to the lawn.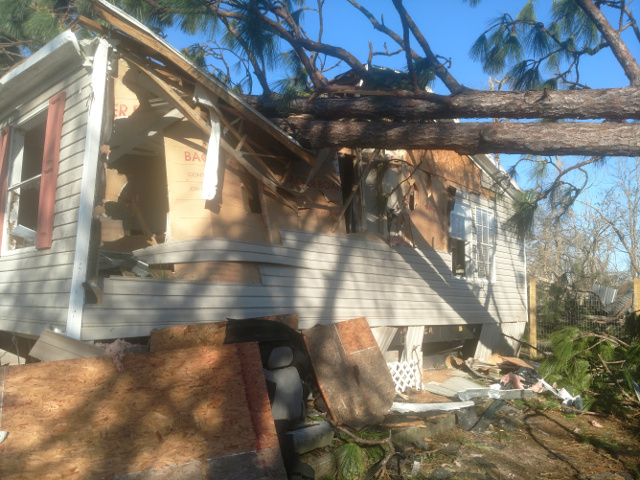 Nearly every tree in our back yard, at least one large pine and four or five oaks, were taken down by the storm, nearly all of them uprooted. Six of our neighbor's pines and one from our own property crashed down upon us, four of them hitting the house. The double-wide trailer itself did remarkably well in the storm. It was unexpectedly solid and we never felt the wind threaten the structure while we were inside. I think we would only have lost the downspouts for our gutters, if it had not started raining trees. It was not designed to withstand falling trees, even though once they fell, the structure held up a lot better than I ever would have expected.
We did what we could to clean up the mess inside, a task we worked at for quite a few hours. We were able to use our cellphones until midnight, notifying friends and family that we were safe, when suddenly the signals died. So being quite exhausted, went to bed in the heat without electricity or running water. Later I would learn that while there was some damage to a downtown facility, Verizon had purposely disrupted civilian use of cell services to reserve the bandwidth for emergency workers and law enforcement, a situation which they maintained for a few weeks.
The next morning we woke early and decided that we had to head out for supplies. It was several hours before we were able to do so. All through the night and into the next day, men from the neighborhood were cutting a path through the fallen trees so that cars could reach the highway. Around midday we were able to wind our way around the cut-through pine trunks and headed south towards town on U.S. Route 231, the main artery from Panama City to Alabama, which actually runs all the way to St. John, Indiana.
Only 24 hours after the hurricane, the local police turned us around at Star Ave. This road intersects U.S. Route 231 about six-and-a-half miles north of the Panama City line. For the next several days, only law enforcement and emergency workers were allowed into the town. We would only find out days later how badly the city was damaged. So we headed north to Dothan. Route 231 is frequented by tens of thousands of vacationers each year, and the hurricane also seemed to have taken it north. Melissa had actually mentioned that possibility the night before the storm hit. All along the highway there were smashed buildings, twisted billboards, downed utility poles, and broken or downed trees – what seemed like hundreds of thousands of broken or downed trees. Entire fields of trees were broken in two, snapped off in the middle, or uprooted.
Along the way to Dothan we also saw entire caravans of utility trucks, ambulances, and police agency vehicles from other Florida counties pouring down into Panama City. The southbound traffic was at a crawl, and heading north we knew we would have to deal with it upon trying to return. Traffic in both directions was also slowed considerably because of all of the downed trees and utility poles blocking the right lanes going both north and south, and the fact that all traffic lights were out of commission. While the gravity of the destruction seemed to diminish somewhat as we headed north, at least along the highway, there were damaged buildings, downed trees and poles, and electrical outages all the way to Dothan, which is about 90 minutes north of our house. We have heard from friends that many smaller towns north and to the east of Panama City fared just as badly as the city itself did, but have not yet gotten the opportunity to see them for ourselves.
Once we reached Dothan, we were able to procure a generator, a week's supply of non-perishable canned food, bottled water, gas cans, gasoline, candles, batteries, and other items we thought we would need. But a lot of other people from Florida had the same idea we had, and if we were only a few hours later, we may have had to drive on to Troy, or even to Montgomery. It was late afternoon, or maybe early evening when we began our return trip south with a jeep full of supplies.
While I had to buy a generator, I already had one that a good friend gave us a couple of years ago. It would not operate because it was not dry-stored and the gasoline was probably unstable after sitting in it for two years. I got it started Wednesday night, but it only ran for a few seconds. The second time I tried to start it, the pull-cord snapped. Life can be hard when being prepared for these events is only an afterthought. For the next storm season, I will endeavor to work out a routine of keeping so much gas on hand and rotating it, which probably means bringing gas cans to the station once a month, and test-starting the generator several times throughout the season, letting it run until the gas runs out.
During the drive to Dothan I was contacted by a friend, Martin, a long-time Christogenea Forum member. He had just been through a bad a storm that hit where he lives in south Florida just last year, and he promised to drive up to help us dig out. Kevin, another friend, and a fellow League of the South member, also called and promised to be in Panama City Friday afternoon. These friends were invaluable, as it probably would have taken me over a week to do by myself what they had helped get done in only two days, and much better than I could have done it alone.
Driving home from Dothan, Melissa was worried about the new house which we had just bought, since the one we were living in was practically destroyed. So driving home we decided it would be good to check on it, since even though it is an hour west it may save us from sitting in the southbound traffic on 231 all night, which certainly did turn out to be a good idea. While we were still far north of Panama City, we headed west for State Route 79. The further south we got on 79, the more our hearts were encouraged. There was hardly any damage, all the way to the back end of Panama City Beach. Later we would learn that most of the Beach escaped serious damage, with only a few exceptions. Most of the damage occurred east of St. Andrew's Bay, which seemed to be on the western edge of the most furious part of the storm. Here Panama City Beach on the west is called "the Beach", and Panama City on the east is "the Town", while St. Andrew's Bay separates the two portions. Once upon a time they were incorporated into one city, but divided in the 1930's. It would still be a couple of days before we learned that Mexico Beach, a vacation town twenty miles to the east of St. Andrew's Bay, was almost totally destroyed.
When we arrived at the new house, the electricity was out, but the house was untouched. The property was covered with leaves and small limbs and other debris caused by heavy winds, but nothing a day or two of raking can't repair. For that we praised Yahweh, although we still have not had the chance to finish the raking. As things developed, the area was only without electricity for a couple of days, as line damage was minor. Now the drive east back to Panama City was not so bad, and it was late Thursday evening when we finally got home.
Last year I bought a small battery-operated De Walt chainsaw for a backyard project that I never got around to doing. The saw sat on top of a bookcase in the hall outside my office and throughout the hot summer I was almost thinking that I may never get the time to use it. Having grown up in the city, I never even used a chainsaw before. So Friday morning I awoke early, and learned how to use that one very quickly. By early in the afternoon, I had one pine tree cut out of the front yard, moving all the pieces to the side, and had started on the second. Once Martin arrived with generators and other supplies and tools, together we cut away the trees in our front yard, to open up access to the house and have some space for parking.
So after topping and trimming the remaining trees, we used Martin's truck and a heavy chain to drag two large pine trunks out of the way, opening the driveway at the front of our home. Then we took Martin out to our other house, hoping to shower, but the electricity was still not on and there was no easy way to hook up a generator to the well pump. So while Martin got a tour, we returned as dirty as we started out. While we were gone, Kevin had arrived at dinnertime with a ton of supplies: water, dry food and MREs, 20 gallons of gas, and other equipment, but most importantly, two 20x40 foot tarps and the necessary tools and supplies to nail them down. He was already heating some of those MREs on a propane stove when we got home. Stores and restaurants are scarce here once you get a few miles out of town, and nothing was open within an hour's drive for at least several days. Many stores and restaurants are still closed, and may never open again.
The next morning we cut all the pine trees from the roof. Four trees had hit, two whole trees and two tops, but the first top was blown off into the backyard by the wind on the back side of the storm. It made a few holes in the roof, but had no large limbs which had punched through to keep it up there. The second top was a lot larger and had many large limbs, and the two trees which fell with their trunks were much larger than that, several of their lower limbs going through the roof and their upper limbs hanging over the front of the house. At one point we were cutting limbs by reaching up from inside the house, to make it easier to remove pieces from the roof.
Finally, on Sunday morning, we endeavored to tarp the half of the roof with all of the holes, but the far corner over the one destroyed room which was hit by two entire pine trees would never have held a tarp. Fortunately, we had plenty of materials on hand to remedy the situation. A storage shed which belonged to my neighbor made of many 8-foot-long 2x4's was blown apart and into my front yard. But Kevin noticed another one made of many 12-foot long panels of tin which had disintegrated and was blown into the back yard. The tin made an ideal temporary roof to support the tarps, and I spent the early morning collecting and preparing the least-crumpled pieces and passing them up to Kevin and Martin. By noon the tarps were nailed down and secured. Early Sunday afternoon both of our friends returned to their homes.
By Monday the Lowe's and Home Depot stores were open in Panama City Beach, and I bought dozens of bungee cords and secured the loose edges of the tarps, expecting them to withstand any normal rainfall over the coming weeks. Not knowing the future of the house, we wanted to preserve what was left of it. These last few weeks there has been much more than normal rainfall, and they have held up well. We could have stayed at our old home if we absolutely had to, but I would not have been able to do anything there for a long time to come. I certainly would not have been able to work there. There is still no electricity or running water, and it will probably still be quite some time before the house is repaired or replaced, if indeed we are even able to repair or replace it. It would have been like camping, and no better since it is also now impossible to escape from the heat and the insects. The insect problem is even greater than usual, since in the aftermath of the storm there is a whole new crop of flies, wasps and mosquitoes. In fact, all over the area there is an incredible amount of newly-hatched mosquitoes since the storm. The fire ants have also been much more aggressive than usual. So by Monday Melissa and I had already decided that we had little choice but to move to the new house.
Back at the end of September we took a trip to Tennessee with our RV trailer, and the Jeep had a serious problem towing it over the long distance. So during the trip, we had to have a costly repair made, and we decided to buy a ten-year-old Ford pickup truck to get the trailer home without running the Jeep into the ground. Little did we know, that only a week after coming home the pickup truck would be put to work moving. We are still not completely moved, but over the past few weeks we have been able to move most of my library and most of our furniture and other belongings. Hopefully, in a couple of more weeks the move will be completed. We did not even have the chance to paint the walls before moving in, so hopefully that will be a project for next year.
There are other issues with living here, however. We are far north of Panama City Beach, and outside of a few small towns several miles away, this part of Florida is still mostly wilderness. So it is difficult to work, satellite Internet is very slow, cell phone service is terrible, and I cannot do any live podcasts or live interviews from home. The podcasts I have done were prerecorded and uploaded in advance of our schedule. I have acquired a cell phone repeater, which I am hoping will improve communications, but it might yet be a few weeks before I can get it properly installed. And until we can get all of our belongings moved and get settled in, I cannot even consider spending all week at my desk.
So for those reasons, while I have resumed writing for our Friday night podcast schedule, I have not been able to resume Christogenea Saturdays. When I can resume the program, which I pray happens in the near future, it may even be moved to Sunday evenings, which will give me more time to prerecord. Traditionally, I have researched the Saturday programs on Tuesdays and Wednesdays, and have written them on Saturday, the same day that I would present them. But it is impossible for me to string together nine or ten thousand words, and then prerecord a podcast all in a single day, so I would have to move it to Sunday. I hope to resume the programs in the near future, even if it means going to town to get sufficient cell phone service to conference with friends and fellow-workers such as Donald Fox or Sven Longshanks. I also currently have four requests for interviews in my email, which I hope to be able to consider soon.
There is much more to our hurricane experience, which I hope to discuss in another podcast on the subject in the near future. For now I wanted to present only my personal experience, what befell us and what is the result for us. If anything, the hand of Yahweh in our lives is perfectly evident and humbling. This past month we have marveled at the sequence and timing of the events of this past year. Indeed, we were able to purchase this house while Clifton was still alive, but we decided to wait until he passed before investing the money which he left us. But if we had not bought this place six weeks before the storm, we may have been homeless and I would have no place at all to work. If Clifton were alive when the storm hit, it would have been very difficult for us to do everything we had to do, and to care for him as well. If we hadn't had the trouble with the Jeep in Tennessee, I would have had no convenient way to move our belongings. Our RV trailer was destroyed in the storm, but we have already been able to replace that with a slightly better one, even if we probably won't get to use it for a few months. So we marvel at the way in which things have worked out for us, and how the hand of our God always seems to be clearing the path in front of us, in ways that we would never expect. We are humbled, and we pray for His continuing shelter and guidance in the years to come.
As a digression, Christogenea is currently ranked in the top 200,000 websites in the world, it is receiving well over a hundred thousand visitors each month, and podcast downloads have climbed to exceed a hundred and forty thousand each month for the past four months, including this month. We only ask for your continued support, that we may be able to continue to spread this Christian Identity truth for as long as Yahweh permits us. Some of our enemies were predicting our demise on the Internet only hours before the storm, and I am not sorry to have disappointed them. One certain individual, who was gleeful at the prospect of our being homeless, is now homeless himself, and he is one of those from whom we became alienated after he decided that men are gods who can create their own reality. Rather, he should repent and learn from reality, because only the hand of Yahweh our God guides the future for us all, and determines our fate. We make nothing of ourselves.
As for this evening, I finally decided to present this account of my experience with the hurricane, because I strained my back moving furniture earlier this week, and it is quite uncomfortable to sit here writing for any significant length of time. So now we will hear a recording I had actually made last Saturday, with our friend Shaun Winkler and his experience in volunteering to come here to Panama City to help others. Shaun is also a long-time Identity Christian, much longer than myself, and perhaps we will hear him again in relation to his experience with that in the near future.