Christogenea Internet Radio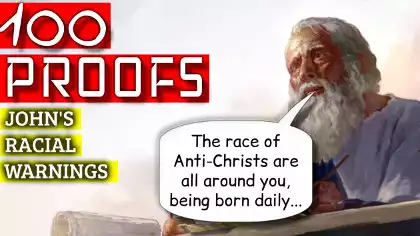 TruthVid's 100 Proofs that the Israelites were White, Part 35
Over the past two weeks we discussed the racial aspects of the messages of the apostles found in 2 Peter chapter 2 and in the epistle of Jude. In those chapters, we believe it is quite clear in the context of their remarks that the apostles had described a different race of people, men who could not have been of Israel because they were born into corruption and destruction, men who had surreptitiously infiltrated the body of the people of God and corrupted it with false teachings. Both apostles also warned that in their own time as well as in the future, men connected with those same intruders of old both were and would be infiltrating Christian assemblies and acting in that same manner. Now we shall endeavor to show that the apostle John had described these same men in different ways, something which Paul of Tarsus had also done.
50) The nature of the antichrist according to the racial message of the apostle John
In our long discussion of Proof #45 and the mistranslations or misunderstandings found in the epistles of Paul, we presented Paul's view of Satan as it is described in 2 Thessalonians chapter 2. Here I will present the relevant passage from that chapter, from the Christogenea New Testament, as we had also explained how the verbs are rendered much more accurately in our version: "3 You should not be deceived by anyone, in any way, because if apostasy had not come first, and the man of lawlessness been revealed; the son of destruction, 4 he who is opposing and exalting himself above everything said to be a god or an object of worship, and so he is seated in the temple of Yahweh, representing himself that he is a god. 5 Do you not remember that, yet being with you I had told these things to you? 6 And you know that which now prevails, for him to be revealed in his own time. 7 For the mystery of lawlessness is already operating, he prevailing only presently, until he should be out of the way, 8 and then will the lawless be revealed, whom Prince Yahshua will destroy with the breath of His mouth, and abolish at the manifestation of His presence."
Discussing this passage in Part 30 of these presentations, upon explaining the mistranslations of the King James Version we elucidated the fact that Paul was speaking of men who were living and ruling in the temple at Jerusalem in his own time, men who were ostensibly Edomites and not Israelites, which can be even further demonstrated from the Gospels and from Paul's other epistles. It is also evident that Paul, in spite of his having explained this phenomenon in this manner and others, understood that while these Edomite Jews who opposed God were operating in his time, they would not fully be revealed until some future time. They are Satan, a word which simply means adversary in Hebrew, and it is those same terms by which they were identified by Christ.
Then, discussing 2 Peter chapter 2 and the epistle of Jude, we saw descriptions of men who had been condemned in ancient times, who were associated with fallen angels, Sodom and the sin of fornication, but who were able to infiltrate the body of the people of God and feast and thrive among them. These men were described as outsiders, as interlopers or intruders, and as being destined for destruction regardless of their apparent fellowship with Christians. In any event, in these epistles of Paul, Peter and Jude, it is clear that these men are not of the race of Israel, and that there is no possible way by which they may be accepted by Christ.
Now we shall see yet another description of these same men, but which employs completely different terms, in the epistles of John. Once again we shall follow the King James Version, discussing any places where we must correct the translation and explaining our reasons for doing so.
1 John 1:8-10
Opening his epistle, John described the fact that he had witnessed the ministry of Christ, and described aspects of its purpose using very poetic language. Then, from the perspective of our purpose here, he made two interesting statements where he said in the first chapter that: "8 If we say that we have no sin, we deceive ourselves, and the truth is not in us" and then: "10 If we say that we have not sinned, we make him a liar, and his word is not in us." While these statements prove nothing by themselves, they do evoke the attitude of the ungodly Pharisee in a parable given by Christ in Luke chapter 18 where we read: "11 The Pharisee stood and prayed thus with himself, God, I thank thee, that I am not as other men are, extortioners, unjust, adulterers, or even as this publican. 12 I fast twice in the week, I give tithes of all that I possess." But because the publican to whom the Pharisee was being compared was humble and admitted his sin, even though publicans were among the most despised of men, the publican was accepted above the Pharisee, who only justified himself while pretending not to have sinned.
1 John 2:1-2
Moving along to John chapter 2, the apostle professes that sin does not separate the children of God from Christ, where he says: "1 My little children, these things write I unto you, that ye sin not. And if any man sin, we have an advocate with the Father, Jesus Christ the righteous: 2 And he is the propitiation for our sins: and not for ours only, but also for the sins of the whole world [society]." So we see that if we sin, "we" meaning Christians, we have a propitiation in Christ. This leaves open the question of those men whom Jude had described as "spots in your feasts of charity, when they feast with you, feeding themselves without fear: clouds they are without water, carried about of winds; trees whose fruit withereth, without fruit, twice dead, plucked up by the roots; Raging waves of the sea, foaming out their own shame; wandering stars, to whom is reserved the blackness of darkness for ever…. murmurers, complainers, walking after their own lusts…." If they are found feasting together with Christians, who were told to come out from the world, then they themselves must profess to be Christians, as those same epistles of the apostles also imply, lest they would not be able to infiltrate Christian assemblies in the first place.
1 John 2:4-5
Now, after John explains that to know and love Christ is to keep the commandments of the law, he describes true love for God as both keeping the commandments, and loving one's brother as Christ had also explained in the Gospel of John, so therefore we read: "4 He that saith, I know him, and keepeth not his commandments, is a liar, and the truth is not in him. 5 But whoso keepeth his word, in him verily is the love of God perfected: hereby know we that we are in him."
Then John explains that not only must we keep the commandments, but also love our brethren, which Christ had demanded in the Gospel of John. So we read further: "9 He that saith he is in the light, and hateth his brother, is in darkness even until now. 10 He that loveth his brother abideth in the light, and there is none occasion of stumbling in him. 11 But he that hateth his brother is in darkness, and walketh in darkness, and knoweth not whither he goeth, because that darkness hath blinded his eyes."
1 John 2:12-14
Now John explains why he is writing these things to his readers: "12 I write unto you, little children, because your sins are forgiven you for his name's sake. 13 I write unto you, fathers, because ye have known him that is from the beginning. I write unto you, young men, because ye have overcome the wicked one. I write unto you, little children, because ye have known the Father. 14 I have written unto you, fathers, because ye have known him that is from the beginning. I have written unto you, young men, because ye are strong, and the word of God abideth in you, and ye have overcome the wicked one."
These words evoke a statement by Christ found in the Gospel of Matthew, in chapter 7: "22 Many will say to me in that day, Lord, Lord, have we not prophesied in thy name? and in thy name have cast out devils? and in thy name done many wonderful works? 23 And then will I profess unto them, I never knew you: depart from me, ye that work iniquity." So mere belief does not make one a child of God, but according to those words of Christ, a preexisting relationship is necessary to be a child of God, as He rejects men who professed to believe Him on the basis that "I never knew you". That preexisting relationship is often described in the words of the prophets, but most succinctly in Amos chapter 3 where the Word of God says to the children of Israel: "1 Hear this word that the LORD hath spoken against you, O children of Israel, against the whole family which I brought up from the land of Egypt, saying, 2 You only have I known of all the families of the earth: therefore I will punish you for all your iniquities. 3 Can two walk together, except they be agreed? " Here John tells his readers that they knew God, but it is even more important that God knew them. Only the children of Israel were called to walk together with God, which we see in a promise of reconciliation found in the closing verses of Hosea, and the last verse reads: "9 Who is wise, and he shall understand these things? prudent, and he shall know them? for the ways of the LORD are right, and the just shall walk in them: but the transgressors shall fall therein." The transgressors cannot be mere sinners, as John repeated the promise in Christ of propitiation to sinners here. Rather, the transgressors are those men condemned "from of old".
1 John 2:18
So in the ensuing passages, after John encourages his readers to love not the world and warns that the world and its lusts shall come to pass, he warns them further on here in chapter 2 of this epistle: "18 Little children, it is the last time: and as ye have heard that antichrist shall come, even now are there many antichrists; whereby we know that it is the last time."
Here we have a contention with the translation of two verbs rendered "shall come" and "there are" in the King James translation of this passage. In the phrase "that antichrist shall come", ὅτι ἀντίχριστος ἔρχεται, the verb rendered as a future verb is actually a present tense active 3rd person singular form of the verb ἔρχομαι. It is he comes, and not he shall come, so here John is saying "ye have heard that antichrist comes", using the present tense. More significantly, the phrase "there are" had been translated from a perfect active 3rd person plural form of the Greek verb γίγνομαι. The phrase "there are" is in the present tense. But the perfect active verb form describes an action which these antichrists must have already completed in the past. The verb being γίγνομαι, used of people Liddell & Scott attest that it means, in its radical or most fundamental sense, "to come into being … of persons, to be born…" Speaking of living people, but using the verb in the perfect tense, John can only be using it in that very manner. Therefore we must translate the clause to read "even now many antichrists have been born". The King James Version is patently dishonest.
So once it is recognized that these men were born antichrists, which is what John had stated, then we see John is explaining a phenomenon that Christ Himself had explained in John chapter 10 where He told His adversaries: "26 But ye believe not, because ye are not of my sheep, as I said unto you." There Christ clearly informed His adversaries that they could not believe Him because they were not of His people.
As Christ also said in that statement, He had indeed explained that to them earlier, but in a different way, in John chapter 8. There, while He had admitted that they were of the seed of Abraham, He had also asserted that Abraham was not their father, and God was not their father, and told them that Cain was their father. Within the historical context of Scripture, the only way that all four conditions could have been literally true is if they were descdendants of Esau, and therefore they were bastards rather than Abraham's true seed which came through Jacob. In Romans chapter 9, Paul's lengthy explanation as to why not all of those of Israel were of Israel also elucidates the fact that those who rejected Christ were of the children of Esau, while attesting that he had prayed only for his "kinsmen according to the flesh" who had not yet received the Gospel.
So now John explains that same thing in yet another way:
1 John 2:19
For that same reason, that His adversaries were not His sheep, as Christ had said to them, John then explains to his readers: "19 They went out from us, but they were not of us; for if they had been of us, they would no doubt have continued with us: but they went out, that they might be made manifest that they were not all of us."
The King James Version added a few words here, however in this case, reading the original Greek text, it is manifest that the added words are appropriate and at least most of them are necessary to understand the sense of John's statement in English.
The apostle John was a Hebrew, an Israelite of Galilee in Judaea, citing the law and the prophets in the context of Christ having been a fulfillment of them, in respect to the Messiah, which is something that was proper for the Israelites of Judaea to believe. So where John says "us", he is speaking of "us" as he describes "us" in the general context of this epistle, referring to those Judaeans who were Israelites, like himself, had accepted Christ as the Messiah of Israel.
On the other hand, when he speaks of "they" here, he must be speaking of the Edomite Judaeans, the "not My sheep" of John chapter 10, whom Paul was not praying for as he only prayed for his own brethren, his "kinsmen according to the flesh… who are Israelites" as he described them in Romans chapter 9, proceeding from there to contrast those of Jacob as "vessels of mercy" and those of Esau as "vessels of destruction".
Contrasting his readers to these men who were "not of us", John says in the very next verse:
1 John 2:20
20 But ye have an unction from the Holy One, and ye know all things.
That word unction is χρῖσμα, a noun which is an anointing. It is the noun form of the adjective χριστός, which primarily means anointed but which, when it is used as a Substantive, as a noun, is translated as Christ. So the people to whom he writes, having an anointing, must have been anointed, and that supports our contention that on many occasions the term χριστός was used collectively of the children of Israel in general, where we have discussed the context of many such passages in the New Testament, rather than being used exclusively of Christ alone. Skipping ahead a verse, John describes the antichrist in another way, but we must not forget that he has disowned these people not merely because they did not believe, but because they were not of his own people in the first place:
1 John 2:22
22 Who is a liar but he that denieth that Jesus is the Christ? He is antichrist, that denieth the Father and the Son. 23 Whosoever denieth the Son, the same hath not the Father.
This is where verse 23 should end. The phrase added in italics in the King James Version, " (but) he that acknowledgeth the Son hath the Father also", is not in the original Greek and is not necessarily true. We have already invoked the warning of Christ from Matthew chapter 7, that there would be men who claim to do magnificent things in His Name to whom He shall say "I never knew you: depart from me".
So those who in John's time were denying the fact that Yahshua Christ is the Messiah, they are the antichrists of whom John speaks. In the context of John's time, this would only make sense when spoken in reference to men who were acquainted with Scripture, who knew that the prophets spoke of a Messiah, a Savior of Israel, a Son prophesied to rule over Israel forever. Christ was declared to be the fulfillment of all of these things prophesied in Daniel, in the Psalms, in Isaiah, and even in Moses and the books of the other prophets in diverse ways. Those who could have been aware of these things but who denied them are Jews, and the fathers of the Jews of today. John could not have been speaking of anyone else, and especially of pagans who had no inkling of these things, and who would have had to first learn them in order to ever deny them. They hardly had such an opportunity by the time John had written. Even Nero, Pliny, Tacitus and others who saw Christ as an affront to Rome had no proper opportunity to learn beforehand the significance of these things in order to make an educated decision, to understand what John and others had even meant when they used the title Christ. So John must have been referring to Jews.
But as we have seen from Jude and Peter, and from Matthew chapter 7, those who preach Christ out of deception, claiming to accept Him but not loving His children or keeping His commandments, will ultimately be exposed. So John continues with another warning:
1 John 2:24-25
24 Let that therefore abide in you, which ye have heard from the beginning. If that which ye have heard from the beginning shall remain in you, ye also shall continue in the Son, and in the Father. 25 And this is the promise that he hath promised us, even eternal life.
So Peter explained that the interlopers joining themselves to Christians at their feasts are "Spots they are and blemishes, sporting themselves with their own deceivings while they feast with you; Having eyes full of adultery, and that cannot cease from sin; beguiling unstable souls: an heart they have exercised with covetous practices; cursed children… wells without water, clouds that are carried with a tempest; to whom the mist of darkness is reserved for ever. For when they speak great swelling words of vanity, they allure through the lusts of the flesh, through much wantonness, those that were clean escaped from them who live in error." Likewise those who claim to love Christ but do not keep His commandments, those who claim to have God but do not love their brethren, may very well so do because they too are the children of these same bastards, false brethren crept in unawares.
Paul wrote of two sorts of these same wicked men. The first persecuted Christians openly, and never tried to infiltrate and subvert them. Of these he said, and we will offer our own translation because the manuscript upon which the King James Version is based has an inappropriate interpolation, in 1 Thessalonians chapter 2: "14 You have become imitators, brethren, of the assemblies of Yahweh in Judaea which are among the number of Christ Yahshua, because these same things even you have suffered by your own tribesmen, likewise they also by the Judaeans: 15 those who killed both Prince Yahshua and the prophets, and banished us, and are not pleasing to Yahweh, and contrary to all men. 16 Preventing us from speaking to the Nations that they would be preserved, for which to fill their errors at all times, but the wrath has come upon them at last." The second sort began to infiltrate Christian assemblies in order to subvert them, as Peter and Jude had described. Of those he wrote in Galatians chapter 2: "4 And that because of false brethren unawares brought in, who came in privily to spy out our liberty which we have in Christ Jesus, that they might bring us into bondage. 5 To whom we gave place by subjection, no, not for an hour; that the truth of the gospel might continue with you." We must note that Galatians was written, by our estimation, about five years after 1 Thessalonians, so by then perhaps Paul had greater experience, and so did the Jews at attacking Christianity.
Now, just as we saw in the epistles of Peter and Jude, and which is also evident in diverse places in the epistles of Paul, John speaks in a different way of men who are false brethren crept in unawares, and denies them the anointing which belongs to Israel by contrasting them to those who do have that anointing:
1 John 2:26-27
26 These things have I written unto you concerning them that seduce you. 27 But the anointing which ye have received of him abideth in you, and ye need not that any man teach you: but as the same anointing teacheth you of all things, and is truth, and is no lie, and even as it hath taught you, ye shall abide in him.
Where John refers to "them that seduce you" it is further revealed that he is speaking of the very same race of men which Peter had described as "false teachers among you, who privily shall bring in damnable heresies", which Jude had described as "certain men crept in unawares, who were before of old ordained to this condemnation", and which Paul had described "false brethren unawares brought in, who came in privily to spy out our liberty which we have in Christ Jesus, that they might bring us into bondage." They were not Israelites, or it would have been possible that they could have been corrected, and they could not have been described as "false brethren" as Paul defined brethren as "kinsmen according to the flesh" and as Jude had associated these men with the fallen angels who had committed fornication in their pursuit of different flesh.
Now John makes an appeal once again, and there is a word which the King James Version correctly translates as born, γεννάω, which Liddell & Scott explain is a causal form of the verb γίγνομαι, which in turn, in reference to people, we insist should be translated as born earlier in this chapter, in verse 18. In any event, we also insisted that γεννάω be translated as born in 2 Peter 2:12 where, in reference to "evil beasts made to be taken and destroyed" the King James Version should also have translated it as born, as they have here, rather than as made.
1 John 2:28-29
28 And now, little children, abide in him; that, when he shall appear, we may have confidence, and not be ashamed before him at his coming. 29 If ye know that he is righteous, ye know that every one that doeth righteousness is born of him.
Christ defined who is born of God in John chapter 3 where He said "Except a man be born from above, he cannot see the kingdom of God." Unfortunately, as we have already discussed, the King James Version also mistranslated that passage. But again, in John chapter 8, He told His adversaries "Ye are from beneath; I am from above: ye are of this world; I am not of this world."
When we continue with this epistle of John we will continue to discuss this concept, as John himself elaborates upon it in the opening verses of his next chapter.