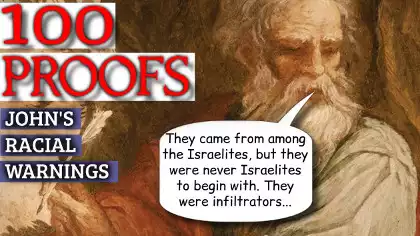 TruthVid's 100 Proofs that the Israelites were White, Part 36
Here we shall continue in our endeavor to show that the apostle John had described the antichrist as men who were not of his own people, but who were among his people and had denied Christ. Then at the end of 1 John chapter 2 where he described these men to his readers as "them that seduce you" it becomes evident that he was describing men who had been surreptitiously infiltrating the body of the people of God and corrupting it with false teachings. Doing this, it is further evident that he was essentially describing the same men that the apostles Jude, Peter and Paul had also warned Christians about in their own epistles, men who were infiltrators and corrupters of the body of Christ.
While Jude and Peter used similar terms to describe these men, although they used those terms in their own words, both Paul and John had employed quite different terms. Yet all four apostles were speaking of the same men and describing them in the same manner. In each of their various descriptions, once they are correlated, we see that they are all speaking of the same entities, men who were long ago condemned, who had long ago began infiltrating the Body of Christ in their attempts to corrupt it, and who would continue to infiltrate and corrupt it from the first century and into the future. These men are also described by each apostle as having been innately corrupted themselves, as they were bastards, and therefore corruption is a part of their intrinsic character, for which they have no choice but to produce its fruits. For that same reason, having not the Spirit of God, they can never be redeemed and Christianity was never offered to them as an option. So just as it was in Jude, Peter, and Paul, it was also stated here in John that these men are described as a different race of people, men who could not have been of Israel because they were born into corruption and destruction, as Peter had said. That had also become evident here in John where we would translate verse 18 of 1 John chapter 2 to read: "18 Little children, it is the last hour, and just as you have heard that the Antichrist comes, even now many Antichrists have been born, from which we know that it is the last hour."
50) The nature of the antichrist according to the racial message of the apostle John, continued
Before we proceed, perhaps it is fitting to discuss something which Paul of Tarsus had said to the elders of the Christians of Ephesus, whom he had feared he would not see again as he departed upon his last fateful journey to Jerusalem, where he was arrested. So in Acts chapter 20 we read: "25 And now, behold, I know that ye all, among whom I have gone preaching the kingdom of God, shall see my face no more. 26 Wherefore I take you to record this day, that I am pure from the blood of all men. 27 For I have not shunned to declare unto you all the counsel of God. 28 Take heed therefore unto yourselves, and to all the flock, over the which the Holy Ghost hath made you overseers, to feed the church of God, which he hath purchased with his own blood. 29 For I know this, that after my departing shall grievous wolves enter in among you, not sparing the flock. 30 Also of your own selves shall men arise, speaking perverse things, to draw away disciples after them. 31 Therefore watch, and remember, that by the space of three years I ceased not to warn every one night and day with tears."
Here in 1 John chapter 2 the apostle spoke of men who were born as antichrists, who were not true Israelites, and who seduce the assemblies of Christ. Ostensibly, this epistle was written some 30 years after Paul, as John was in Ephesus in the closing years of his own life, so he was also writing to at least some of the same people to whom Paul had spoken those words. So in Paul's earlier description, we see that Christians can be led astray, can think that perhaps they themselves can begin some new heresy, and lead people off into error. But the wolves of whom he had spoken, they cannot be sheep in spite of the fact that they must have been professing Christ in order to gain entrance to Christian assemblies, so it is evident that Paul was also making a reference to the same infiltrators described by the other apostles. The point is that if there are wolves, who are not sheep, and if even the false teachers among the sheep are still sheep, and not wolves, as they are distinguished from wolves, then Paul's message is racial in nature, that there is a race of wolves present among the Body of Christ which the other apostles had also described as a different race in different ways. So with that, we shall turn to 1 John chapter 3:
1 John 3:1: Behold, what manner of love the Father hath bestowed upon us, that we should be called the sons of God: therefore the world knoweth us not, because it knew him not. 2 Beloved, now are we the sons of God, and it doth not yet appear what we shall be: but we know that, when he shall appear, we shall be like him; for we shall see him as he is.
In chapter 11 of his Gospel, John had already attest that it was the purpose of Yahshua Christ to "gather together in one the children of God that were scattered abroad." So here he is not speaking merely of Christians as sons, but of a scattered race of people, the descendants of the ancient Israelites who were scattered abroad in ancient times, as James' epistle is addressed to the twelve tribes scattered abroad.
The context has not changed simply because the chapter number is different. John is still writing within the context of his statement in verse 26 of the last chapter where he had said: "26 These things have I written unto you concerning them that seduce you." So evidently, "them that seduce you" are not children of God, as here he is writing in a context which contrasts his readers to those others. Then continuing he says:
1 John 3:3: And every man that hath this hope in him purifieth himself, even as he is pure.
But not every man has hope in Christ, as Paul had said in 2 Thessalonians chapter 3, in verse 2, that "the faith is not for all", a short clause that many translators do not translate properly, and do not even understand. In that place, Paul was also speaking in reference to "unreasonable and wicked men" and praying that his readers be delivered from them. Surely they are those to whom John had referred here as "them that seduce you".
Here in verse 3 we see an exhortation by John to his readers, for them to purify themselves from sin because they are children of God, as we shall see. What John encourages here, which culminates in verse 9, Peter also encourages among the assemblies of Anatolia, in 1 Peter chapter 1 where we read: " 22 Seeing ye have purified your souls in obeying the truth through the Spirit unto unfeigned love of the brethren, see that ye love one another with a pure heart fervently."
But similarly, Paul commended Christians of Corinth for having departed from sin, where in 1 Corinthians chapter 6 he exhorts that fornicators, idolaters, adulterers and other sinners shall not inherit the kingdom of God, and then he says of those things: "11 And such were some of you: but ye are washed, but ye are sanctified, but ye are justified in the name of the Lord Jesus, and by the Spirit of our God." John is describing the same things which Paul had described: every Christian has an opportunity to hear the Gospel of Christ and choose to keep His commandments. If he keeps the commandments, he will cease from all of the sins of his former pagan life, where there was often no burden of guilt for sins such as fornication, idolatry, adultery or sodomy. While Christ has cleansed Israel of their sins, we in turn should cleanse ourselves of these things on that account. So now John defines sin:
1 John 3:4: Whosoever committeth sin transgresseth also the law: for sin is the transgression of the law.
Yet only the children of Israel ever had the law, in order to understand what sin is, and Christ had cleansed only the children of Israel, as only Israel having had the law needed to be cleansed. The following passages are relevant to our assertions, but they are not alone:
Psalm 147: "19 He sheweth his word unto Jacob, his statutes and his judgments unto Israel. 20 He hath not dealt so with any nation: and as for his judgments, they have not known them. Praise ye the LORD."
Jeremiah chapter 33: "7 And I will cause the captivity of Judah and the captivity of Israel to return, and will build them, as at the first. 8 And I will cleanse them from all their iniquity, whereby they have sinned against me; and I will pardon all their iniquities, whereby they have sinned, and whereby they have transgressed against me."
Romans chapter 5: "13 For until the law sin was in the world: but sin is not imputed when there is no law."
In Romans 5:13 we see that any and all men may commit sin, as Christ even told His enemies that they had sinned. But the important distinction lies in the fact that since only Israel had ever had the law, sin is only imputed to the children of Israel, so only they needed to be cleansed of their sins, and of course, in another aspect of the purpose of Christ, only they could be redeemed because out of all of the world's people only they were His in the first place. Therefore we shall read one more passage from Paul:
Galatians chapter 4: "4 But when the fulness of the time was come, God sent forth his Son, made of a woman, made under the law, 5 To redeem them that were under the law, that we might receive the adoption of sons."
As we have shown here in the past, Corinthians, Romans and Galatians were all descended from tribes which had departed from the main body of Israel in early times, or they were descendants of those Israelites who had been taken into the Assyrian captivity. So because they had sinned and Yahweh promised to cleanse their sins, we read next in 1 John:
1 John 3:5: And ye know that he was manifested to take away our sins; and in him is no sin. 6: Whosoever abideth in him sinneth not: whosoever sinneth hath not seen him, neither known him.
As for other races, they may sin, as sin is transgression of the law, but they are not being held accountable for their sins as sin is not imputed where there is no law. But neither can they be saved or granted salvation, as redemption is not for them, since they do not belong to Yahweh God and they have not the spirit of God through which there is a part in the resurrection.
Now what does is really mean to "abideth in Him"? In Genesis chapter 3 we read, in a promise of eternal life to Adam: "…and now, lest he put forth his hand, and take also of the tree of life, and eat, and live for ever." Then in John chapter 15: "1 I am the true vine, and my Father is the husbandman. 2 Every branch in me that beareth not fruit he taketh away: and every branch that beareth fruit, he purgeth it, that it may bring forth more fruit. 3 Now ye are clean through the word which I have spoken unto you. 4 Abide in me, and I in you. As the branch cannot bear fruit of itself, except it abide in the vine; no more can ye, except ye abide in me."
Christ is the True Vine, and evidently also the Tree of Life, the Branch, as He is identified in the prophets, and the root and the branch of Jesse as He is identified in Isaiah chapter 11, and the "root of David", or the "the root and the offspring of David," as He identified Himself in the Revelation. The cherubs of the garden keeping the way to the Tree of Life, they are next seen atop the ark of the covenant guarding the mercy seat and the law. So the way for a man to abide on the vine is to keep the law. Therefore Paul commended the Corinthians for cleansing themselves of idolatry, of fornication and of adultery, all of which can describe acts of race-mixing, which is departure from the vine. Both Jude and Peter described the false teachers introducing false teachings into the Christian assemblies as those "spots in your feasts of charity", as fornicators, idolaters and adulterers, the difference being that their nature is congenital, and it is they who lead Christians into sin.
Next, John makes that same comparison:
1 John 3:7: Little children, let no man deceive you: he that doeth righteousness is righteous, even as he is righteous. 8: He that committeth sin is of the devil; for the devil sinneth from the beginning. For this purpose the Son of God was manifested, that he might destroy the works of the devil.
Here it seems that all men have an equal choice of whether or not to do good or evil, but under the surface that is not what he is saying at all. We had used the words "that same comparison", but the truth of our assertion is not evident in the King James translation, nor in most others. That is because throughout this epistle John makes a distinction which all of the translations have missed, whether innocently or purposely.
The Greek word for sin is ἁμαρτία, and the corresponding verb, which is to sin or to commit sin, is ἁμαρτάνω. Yet here, where the King James Version has "he that committeth sin" we may expect to see a form of the verb ἁμαρτάνω, but instead there is another verb of which the meaning the King James Version basically glosed over.
First, by itself, the verb ἁμαρτάνω appears ten times in this first epistle of John, where it is usually to sin, and also to commit sin in 1 John 3:9. The verb appears alone here in 1 John 3:8 where he wrote "the devil sinneth from the beginning."
Yet here at the beginning of verse 8, where it says "He that committeth sin is of the devil" the word for sin is the noun ἁμαρτία, and the word translated as committeth is a verb, ποιέω. This verb, rather interestingly, is the root and origin for our English word poet, as a ποιητής is someone who makes something, a maker, and was also used in general of a writer or author of written works. According to Liddell & Scott, the verb ποιέω is primarily to make, produce, create, used of everything from houses and buildings to books and the works of craftsmen and artists, and then to bring to pass, bring about, cause and for that reason, in some contexts it is simply to do something. But translating it merely as do oversimplifies the meaning of the verb.
But here John cannot be referring to mere sinners, to those who simply do some sin, as he had already said in the opening verse of chapter 2 of this epistle that "My little children, these things write I unto you, that ye sin not. And if any man sin, we have an advocate with the Father, Jesus Christ the righteous." Having an advocate with the Father, the children of Israel even when sinning cannot possibly be "of the devil". Sin is not forgiven to bastards, as bastards themselves are sin by their very existence, and as they have no propitiation for sin.
Rather, the men who infiltrate and corrupt Christian assemblies and who introduce heresies into them are "of the devil", as the other apostles described them as having been condemned "from of old", and no Israelite was ever condemned in that manner, all of Israel being offered mercy and forgiveness in Christ. Therefore John must also be referring to something else, which are those same people: those who "from of old" had authored sin by introducing false teachings into the assemblies of God. Just as Jude and Peter had also attested, they were seducing Christians in John's own time.
Now John describes how one may do righteously, which his also how one may abide in Christ:
1 John 3:9: Whosoever is born of God doth not commit sin; for his seed remaineth in him: and he cannot sin, because he is born of God.
So we see that the man who is born of God is of God on account of the fact that "his seed remaineth in him". That does not mean that he doesn't sin, it means that he is forgiven of his sin. Sin was authored by the devil, as it was the devil who sinned from the beginning. Going back to 1 John 3:8, sin was authored by the devil, as it was the devil who "sinneth from the beginning", and Revelation chapter 12 connects the sins of both Genesis chapters 3 and 6 with the devil and his angels, the Nephilim or fallen ones. But Adam was the son of God, as we are informed in Luke Chapter 3, and if he clings to the Tree of Life it is by not committing fornication and race-mixing. So the family of Noah was preserved in the flood because Noah was "perfect in his generations", which is his descent. Then we read in the Wisdom of Solomon, in chapter 2, that "through envy of the devil came death into the world:" so we see once again that the devil was the original author of sin, and both Jude and Peter related the infiltrators who introduced false doctrines into the assemblies of Christ to those same angels that sinned, men who were condemned "from of old".
Because of the enmity resulting from the temptation which is described in Genesis chapter 3, we see that the tares planted by the devil shall forever be in opposition to the wheat planted by God, and so John says:
1 John 3:10: In this the children of God are manifest, and the children of the devil: whosoever doeth not righteousness is not of God, neither he that loveth not his brother. 11 For this is the message that ye heard from the beginning, that we should love one another.
And now John himself brings the root of the issue back to Cain:
1 John 3:12: Not as Cain, who was of that wicked one, and slew his brother. And wherefore slew he him? Because his own works were evil, and his brother's righteous.
It cannot be established that Cain was a student of the devil, or a believer in the devil. When Cain made his sacrifice, a sacrifice of the first fruits of his own labor which he had expected would have pleased God, it was rejected. It could not have been rejected for reason of anything Cain may have done, as Cain is depicted as trying to please God at a time when there was no law, and sin was not imputed.
Yet Cain was told, as Yahweh was challenging him to do good, in Genesis chapter 4 that "7 If thou doest well, shalt thou not be accepted?" yet Cain, not having done any apparent or attributed evil, his sacrifice was rejected, and the reason is revealed where the verse continues and Yahweh said: "and if thou doest not well, sin lieth at the door." Therefore Cain was rejected because "sin lieth at the door", meaning that his conception and birth were already sin, for reason that he could not do well. Cain was a bastard, as the Hebrew idioms of Genesis chapter 3 also demonstrate in spite of the text of Genesis 4:1, which is demonstrably corrupt, and it was corrupted in ancient times.
Where John wrote "not as Cain, who was of that wicked one", the preposition ἐκ translated as of is defined as "a primary preposition denoting origin", so the wicked one was indeed the origin of Cain, who slew Abel, and therefore Seth was a replacement for Abel, not for Cain.
1 John 3:13: Marvel not, my brethren, if the world hate you. 14 We know that we have passed from death unto life, because we love the brethren. He that loveth not his brother abideth in death. 15 Whosoever hateth his brother is a murderer: and ye know that no murderer hath eternal life abiding in him.
Even as John wrote, those who were still calling themselves Jews, of whom John had said that "They went out from us, but they were not of us", were indeed persecuting Judaean Christians, and all Christians, and instigating the Romans to also persecute them. John himself was a victim of that persecution, while he was not slain, as he was exiled on the island of Patmos during the rule of Domitian, after which he was able to return to Ephesus. Jews have had that same hatred for Christians ever since, and are responsible for most, if not all, of the wars among Christians, as they have instigated them throughout history through bribery, usury and other surreptitious means, having influenced princes and popes by the power and allure of money.
But since Jews are not Israel, it may be said that they are not true brethren. Even Paul described "perils among false brethren" in 2 Corinthians chapter 11, and spoke of "false brethren brought in unawares" speaking in reference to Judaizers in Galatians chapter 2. The Jews, being of Esau, are not true children of Abraham, as Christ had explained to them in John chapter 8 and as Paul also described the Judaeans who rejected Christ in Romans chapter 9, those for whom he did not pray, who were also described as "vessels of destruction" where he was comparing the descendants of Jacob and Esau.
So as Christ had said, as it is recorded in Luke chapter 9, "If any man will come after me, let him deny himself, and take up his cross daily, and follow me", John now urges his readers likewise:
1 John 3:13: Hereby perceive we the love of God, because he laid down his life for us: and we ought to lay down our lives for the brethren.
This does not necessitate dying for one's brethren, but at least dedicating one's life to them. Then in the verses which follow, 17 through 23, John speaks of Christian charity, which is charity for one's own brethren, much as James had also taught where he said that "faith without works is dead."
Then in the closing chapter of the verse we read once more:
1 John 3:24: And he that keepeth his commandments dwelleth in him, and he in him. And hereby we know that he abideth in us, by the Spirit which he hath given us.
Yet the infiltrators who were condemned "from of old" did not have the Spirit within them, as Jude said in verse 19: "These be they who separate themselves, sensual, having not the Spirit." That verse, from our own translation, actually says "19 These are those making divisions, animals, not having the Spirit." For that same reason, both Jude and Peter had called them "clouds without water… twice dead" or "cursed children… wells without water." Likewise Peter had said in chapter 2 of his second epistle that they are "natural brute beasts, made to be taken and destroyed". Peter warned about those same false teachers, of "false teachers among you, who privily shall bring in damnable heresies" and the word translated as heresy is also the source of the English word, as the Greek word αἵρεσις describes a taking or a choosing, and therefore in this sense also a sect. In Jude 19 we read of them that "these be they who separate themselves", in the King James Version, however the Greek should be read "these are those making divisions", or in other words, they who make their own sects.
In Galatians chapter 4 Paul had explained that Christ had come: "5 To redeem them that were under the law, that we might receive the adoption of sons. 6 And because ye are sons, God hath sent forth the Spirit of his Son into your hearts, crying, Abba, Father." Then he said a couple of years later, in Romans chapter 8, that "16 The Spirit itself beareth witness with our spirit, that we are the children of God: 17 And if children, then heirs; heirs of God, and joint-heirs with Christ; if so be that we suffer with him, that we may be also glorified together." Men with the Spirit of God are not sons because they have the Spirit. Rather, according to the words of the apostles, as we have just read, such men have the Spirit of God because they are sons. As Paul said here, and as John had said earlier, "because his seed is in him" because he is born of God, meaning that he is a true child of Adam, the son of God (Luke 3:38).
The devil is the author of sin, as John is explaining here. But in Romans chapter 5 Paul explained that all Adamic men, men descended from Adam, have salvation in Christ, and said in 1 Corinthians chapter 15 that "22 For as in Adam all die, even so in Christ shall all be made alive", so long as their seed is in them, as John attests here. Yet while this race of infiltrators has not the spirit of God, they do have a corrupt spirit, as all spirits are not the same, and as John now explains in the opening verses of chapter 4:
1 John 4:1: Beloved, believe not every spirit, but try the spirits whether they are of God: because many false prophets are gone out into the world. 2 Hereby know ye the Spirit of God: Every spirit that confesseth that Jesus Christ is come in the flesh is of God: 3 And every spirit that confesseth not that Jesus Christ is come in the flesh is not of God: and this is that spirit of antichrist, whereof ye have heard that it should come; and even now already is it in the world.
Of course, John was speaking of the men of the world of his own time, and evidently could not have foreseen that all sorts of beasts would be brought into the Christian society and presumed to be converted to Christ. They are also spots in our feasts of charity, raging waves of the sea foaming out of their own shame, and having eyes full of adultery. Universalism, which really began as a heresy in the 2nd century AD when Judaizers of Palestine and Alexandria convinced men that Christianity was a replacement theology, rather than the covenant theology which was taught by the apostles, certainly is one of the "damnable heresies" introduced by false brethren.
However to profess that the Christ has come in the flesh, since Christ bears the same meaning of the Hebrew word Messiah, promised in the words of Daniel the prophet in Daniel chapter 9, while at the same time He is also the savior of Israel promised throughout Scripture, and especially in the words of Isaiah, and the "ancient of days" in Daniel chapter 7 as well as the Son who would come to rule all kingdoms prophesied in the Psalms of David, namely in the 2nd Psalm. We read in John chapter 1 of the disciple Andrew that "41 He found first his own brother Simon, and said to him, 'We have found the Messiah' (which translated means Christ)."
Of course there are many other such prophecies, such as that of the root of Jesse, the Branch as a servant of Yahweh, and the birth of the child who would be called Wonderful Counselor, Mighty God, Eternal Father, and Prince of Peace, a prophecy which is found in Isaiah chapter 9 in both the Masoretic Text and the Dead Sea Scrolls copies of Isaiah. Then, with all of these, an agreement with the purpose and fulfillment of the promises to which the prophecies of a Messiah, Son and Savior are attached must also be a part of the profession that "the Christ has come in the flesh", and this is where the unworthy fall short, as they reject the notion which Christ Himself had professed where He said "I have come but unto the lost sheep of the house of Israel", or where the New Covenant, mercy, salvation, redemption and forgiveness of sins, along with reconciliation to God, were all explicitly promised to Israel and Judah alone. So if other races today profess Christ, they really do not profess Christ because they do not profess that the Messiah, Son and Savior of the Old Testament promises to Israel has come in the flesh. Rather, they profess some strange Jesus whom the Old Testament did not promise, as the modern churches tell nothing but lies about the purpose of Christ.
While 1 John chapter 4 is a lengthy dissertation of the love which these Israelite Christians should have for their own brethren, no one else being included, we shall skip ahead to chapter 5 where once again we see a reference to believing Christ:
1 John 5:1: Whosoever believeth that Jesus is the Christ is born of God: and every one that loveth him that begat loveth him also that is begotten of him. 2 By this we know that we love the children of God, when we love God, and keep his commandments. 3 For this is the love of God, that we keep his commandments: and his commandments are not grievous.
Keeping the commandments, Christians should not be doing the things which the apostles had advised them not to do, as Paul of Tarsus, for example, had warned in 1 Corinthians chapter 6: "9 Or do you not know that the unrighteous shall not inherit the kingdom of God? Do not be deceived; neither fornicators, nor idolaters, nor adulterers, nor effeminate, nor homosexuals, 10 nor thieves, nor the covetous, nor drunkards, nor revilers, nor swindlers, shall inherit the kingdom of God." So race-mixers and Sodomites, as well as adulterers and idolaters, will not enter into the Kingdom of Heaven.
Here I have cited the New American Standard Bible version because it correctly has the word homosexual in verse 9, where the King James Version has an archaic phrase, "abusers of themselves with mankind." The Greek word, ἀρσενοκοίτης, as it was used by the Classical and Hellenistic writers through the 1st century and the time of the apostles, is nothing but a Sodomite, or homosexual, as it is a noun describing a man who engages in the act of coitus, which is sexual intercourse, with other men. So a Sodomite will not enter into the Kingdom of Heaven, but as Paul had said in that same chapter, he may enter the Kingdom if he repents and cleanses himself of that sin, in verse 11: "11 And such were some of you: but ye are washed, but ye are sanctified, but ye are justified in the name of the Lord Jesus, and by the Spirit of our God." One is washed by turning to Christ and ceasing from those wicked practices, so long as he is a child of God.
Later in the chapter, in reference to the correction of brethren who do not keep the commandments of God, we read:
1 John 5:16: If any man see his brother sin a sin which is not unto death, he shall ask, and he shall give him life for them that sin not unto death. There is a sin unto death: I do not say that he shall pray for it. 17 All unrighteousness is sin: and there is a sin not unto death.
From this aspect we can once again say that it is not merely those who sin who are born of the devil, but those who author sin, those who creep into Christian assemblies and corrupt them with false doctrines are demonstrably the authors of sin. The sin unto death, which is also the blasphemy of the Holy Spirit, the sin which won't be forgiven as Christ had explained, is indeed the sin of Jeremiah chapter 2 which can never be washed off, which is race-mixing fornication. In Revelation chapter 2, Christ Himself professed in His messages to the seven churches that He will punish such fornicators, but that at the same time He will kill their children "with death", so we see the sin unto death is the sin of producing bastards, in whom there is no life, because the spirit of God cannot dwell in a broken cistern, as Jeremiah also explained in chapter 2 and as Jude used the term "clouds without water".
So in the next verse, which is the last one in this epistle which we will discuss here:
1 John 5:18: We know that whosoever is born of God sinneth not; but he that is begotten of God keepeth himself, and that wicked one toucheth him not.
In other words, no matter what the devil does to us in this life, we have our true life with God, if indeed we are born of God, and He is not going to hold us accountable for all of those sins which the devil has brought into the world. The entire race of devils, the tree of the knowledge of good and evil, will be held accountable for those sins. Just as Paul of Tarsus had explained in Romans chapter 5 and again, more concisely, in 1 Corinthians chapter 15, the entire Adamic race shall be reconciled to God in Christ, and all of Israel shall indeed be saved, as we may read in Romans chapter 11 and in Isaiah chapter 45, for examples. But while in other Scriptures it is explained in a similar fashion, here in chapter 3 of this epistle, John has informed us that "Whosoever is born of God doth not commit sin; for his seed remaineth in him: and he cannot sin, because he is born of God." His seed is in him: he is not a bastard because his seed is in him, as Paul also made a distinction in Hebrews chapter 12 between sons and bastards. While all of Israel are forgiven their sins, for the balance of the Adamic race sin is not imputed, as Paul had also said. So we read also in the Wisdom of Solomon, chapter 2: "23 For God created man to be immortal, and made him to be an image of his own eternity." As we have read in 1 John 3:8, "For this purpose the Son of God was manifested, that he might destroy the works of the devil."
But if one is a bastard, a product of fornication, then one has no eternal life. So we read in chapter 4 of the Wisdom of Solomon: "3 But the multiplying brood of the ungodly shall not thrive, nor take deep rooting from bastard slips, nor lay any fast foundation. 4 For though they flourish in branches for a time; yet standing not last, they shall be shaken with the wind, and through the force of winds they shall be rooted out." This also evokes the words of Jude, who had called them "clouds they are without water, carried about of winds; trees whose fruit withereth, without fruit, twice dead, plucked up by the roots…"
1 John was a general epistle which apparently did not contain any explicit salutation indicating to whom it may have been written. Evidently, John returned to Ephesus after his exile on Patmos, and therefore he seems to have been writing to early Christians in that area, as well as to Christians in general. Where he mentioned "them that seduce you" in chapter 2, when he recorded the Revelation, one of the messages to the seven churches commended the Ephesians for having "tried them which say they are apostles, and are not, and hast found them liars." But it also warned the Ephesians for having left their first love, which seems to be a reference to the Christian teachings of Paul of Tarsus, who was there several decades earlier, and who had founded the assemblies in Ephesus. So perhaps John was recounting their own experiences where he spoke of "them that seduce you".
But John's other two surviving epistles were personal, written to specific individuals. The 3rd epistle was written to an elder man named Gaius. The 2nd, which we shall discuss briefly here, to a woman and her children. In that epistle, the apostle mentioned antichrists, in the plural, once again and warned:
2 John 7: For many deceivers are entered into the world, who confess not that Jesus Christ is come in the flesh. This is a deceiver and an antichrist.
Now here John used a verb, ἐξέρχομαι, which actually means to come or go out from. But he used it with a preposition which is literally into, so perhaps it may have been translated more accurately as "many deceivers have gone out into the world", but that does not change the sense of the statement. Rather, his intention becomes evident where he wrote in his first epistle, describing these men who had been born as antichrists, that "they went out from us, but they were not of us". So that is what he means by using that explicit language in the meaning of the verb ἐξέρχομαι, that many deceivers had gone out from among the Judaeans and brought their heresies into the world. So this warning nevertheless corroborates his earlier statements in his first epistle to some degree, that his teaching was indeed consistent.
Then John professed that Christians must have nothing to do with them, not even to greet them, so therefore there is no means by which they should have ever been given any opportunity by which they may ever have been Christians, as according to the apostle, there would be no opportunity for Christians to convert them:
2 John 9: Whosoever transgresseth, and abideth not in the doctrine of Christ, hath not God. He that abideth in the doctrine of Christ, he hath both the Father and the Son. 10 If there come any unto you, and bring not this doctrine, receive him not into your house, neither bid him God speed: 11 For he that biddeth him God speed is partaker of his evil deeds.
To "bid God speed" is an archaic phrase meaning to greet or welcome. Greeting or welcoming a devil, a Jew or anyone else who denies Christ, one becomes just as liable for his sins.