Christogenea Internet Radio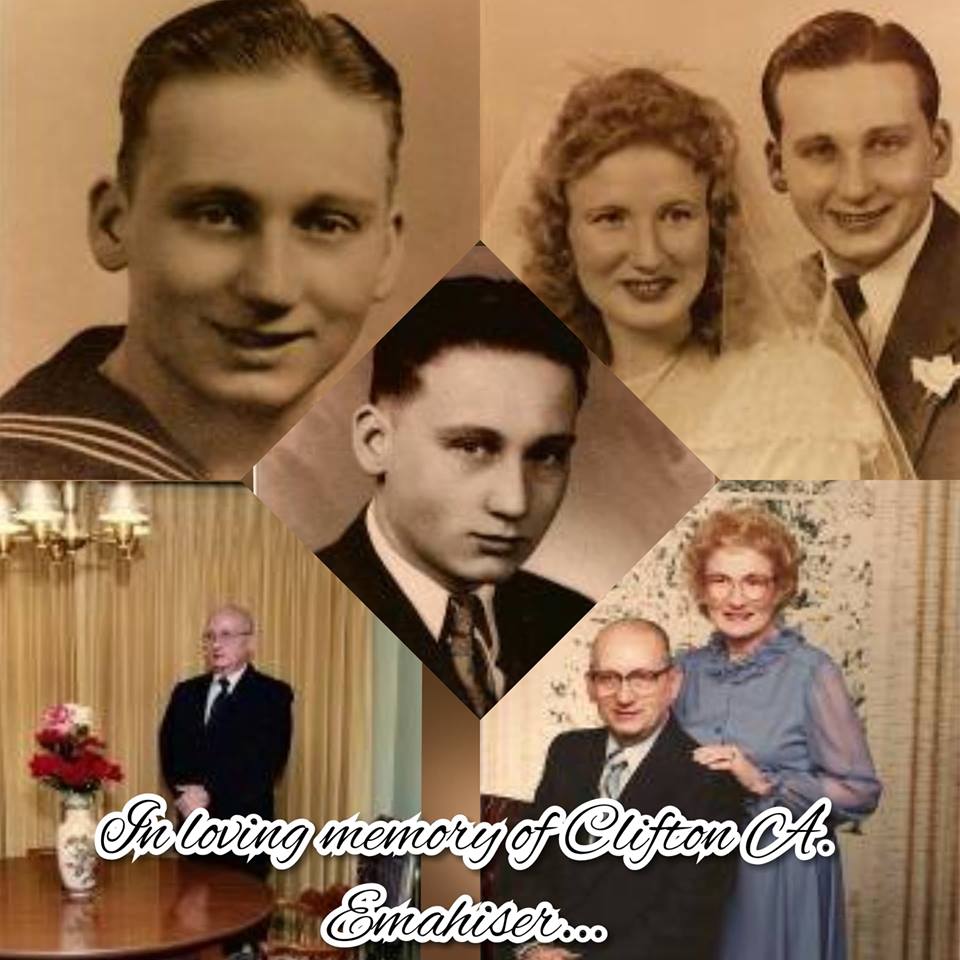 A Eulogy for Clifton Emahiser
It is just over twenty years ago that Clifton Emahiser decided to start his Watchman's Teaching Ministry, and my name was added to his list of subscribers by a mutual friend. He decided to begin his endeavor while he was hospitalized following a heart attack, in February of 1998. With his first issue he said that he was committed to publishing his teaching letters for as long as he lived, saying that "Since I came down with a heart attack February 6, 1998, I have dedicated the rest my life (at least what there is of it) to full time writing for the Almighty." He very nearly lived up to that promise, and I am certain he never expected to complete 232 monthly editions, spanning 19 years and four months from when he had started. There are still a couple of papers Clifton wrote as late as this past winter, which I must retrieve from his files and evaluate for publication.
Near the end of the first year of his publications, I wrote him with a disagreement in reference to a particular historical subject. Often, pastors and Bible teachers who are challenged concerning such things are offended, but not Clifton. Rather than be upset over my criticism, rather than be angry, Clifton was more than happy to study what I had written him, and to discuss and reconsider his position after investigating the matter further. So we developed a working relationship and an enduring friendship over the subsequent years.
Clifton was incredibly humble, he loved hearing and discussing my critiques of his work, and over the eighteen years that I edited for him, he was always happy if I found anything that could be improved or corrected. Clifton was also humble enough to trust in his companions. He told me nearly ten years ago, when I first set up his website, that I could change anything which I thought needed correction and he would be pleased. Of course, I do not think I should change anything at all, except perhaps for minor typing or grammar corrections, whether or not I agree completely with him on any other subject. I mention all of this here as a testimony to Clifton's character. Clifton was always eager to learn as well as to teach, while he could also ardently defend his positions when he believed that criticisms were unfounded. But when criticism had merit, Clifton never rejected good evidence and he was always willing to reconsider and develop a new perspective. He was always a student as well as a teacher, eager to listen and slow to speak. We should all be like Clifton Emahiser.
Aside from his humility, if I had to name one more defining feature of his character by which to describe him, it is his unending perseverance and dedication. He built his own small barbershop business and sustained himself and his family through good times and bad through his own perseverance and faith. He lived for over 60 years in a house he that built with his own hands from a kit which he purchased through Sears, Roebuck and Company. Throughout all of his life, he was a husband of one woman, and he loved her and spoke quite fondly of her right up to the time of his passing.
Clifton's perseverance and dedication carried over into all of the studies he did for the subjects that he presented in his teaching letters and essays. For example, when he delved into a Biblical topic, he would check every relevant passage and cross-reference he could find using all the analytical and reference tools he could obtain. Then he would have two dozen or more Bible Commentaries or Bible Dictionaries laid out in a methodical manner on his large dining-room table, reading and comparing what every one of them had to say about his subject of interest, and considering them all along with any related information he could find from other sources before he began to write.
Several years ago Clifton had a fall and a minor heart attack and was hospitalized for a few days, and from that time we began to offer him a place in our home in Florida. But Clifton was committed to living in his own home for as long as he possibly could, and to continue producing his teaching letters and essays in the peaceful solitude of his own office. Then last year, after another fall and another heart attack, he finally relented, when he ultimately realized that he was far too feeble to live alone. So I promised him when he moved to live with us that he would be buried here with his wife. I only wish that this day had not come so soon, in spite of Clifton's 91 years. While he was no longer up to maintaining his writing schedule, his mind was still sharp, he could still quote his Bible and discuss his own writings, and who knows what more he may have offered us if it were not for his persistent heart troubles.
Like most Christian Identity, or as Clifton liked to call us, Israel Identity believers, his faith had divided him against his own family. So we, his community of friends and long-time readers and students, had become his family. That is one of the promises of the Gospel which is made in the very words of Christ himself. Many of you here with us today had visited with us in Clifton's home when we came to town over the past few years, and while he never said it, I know that it gave him great satisfaction to get to meet some of the people who found and followed his ministry.
Today Clifton's website has at least five thousand visitors each month. And while five thousand visitors a month is not a large number compared to the many mass-media outlets or major denominational churches on the Internet, the people who repeatedly return to read and study Clifton's writings and research are affected in profound ways that few denominational churches could achieve. Clifton has helped bring the light of the true Gospel of the Kingdom of Christ into the hearts of men in ways that will have a positive impact on our community for generations to come.
From the 25th Psalm: "1 Unto thee, O Yahweh, do I lift up my soul. 2 O my God, I trust in thee: let me not be ashamed, let not mine enemies triumph over me. 3 Yea, let none that wait on thee be ashamed: let them be ashamed which transgress without cause. 4 Shew me thy ways, O Yahweh; teach me thy paths. 5 Lead me in thy truth, and teach me: for thou art the God of my salvation; on thee do I wait all the day. 6 Remember, O Yahweh, thy tender mercies and thy loving-kindnesses; for they have been ever of old. 7 Remember not the sins of my youth, nor my transgressions: according to thy mercy remember thou me for thy goodness' sake, O Yahweh. 8 Good and upright is Yahweh: therefore will he teach sinners in the way. 9 The meek will he guide in judgment: and the meek will he teach his way. 10 All the paths of Yahweh are mercy and truth unto such as keep his covenant and his testimonies."
As Christians, we know that in the end our enemies will not triumph over us, and all those who mock us and scoff at us shall be ashamed. But we also know that this is because for us, death is only a passing unto our God and Creator, that with our death in this life we pass on to eternal life. As Paul of Tarsus wrote in his second epistle to the Corinthians, where he expressed fear of his own death, that "8 We are confident, I say, and willing rather to be absent from the body, and to be present with the Lord. 9 Wherefore we labor, that, whether present or absent, we may be accepted of him." Clifton spent the last twenty years of his life in that same labor, and the very best way that we can honor him for it is to preserve the things which he strove to provide for us, and to continue in that labor, which is all that he himself desired. An examination of the epistles of Paul reveals that same thing to have also been his hope, so that he did not labor in vain.
Furthermore, Clifton was meek and humble in heart. Therefore inquiring into the Word of God he received wonderful instruction, all of which he sought to share with us. So we can only ask that Yahweh blesses us with the same level of humility and dedication to the truth and perseverance in our common cause that Clifton had exhibited throughout his own life, so that like him, we too can edify our fellows. For many, Clifton was a teacher. But for us, those of us who were blessed to know him personally, he was even more. He was a model example of what a teacher should be, steadfast and persevering until his dying days.