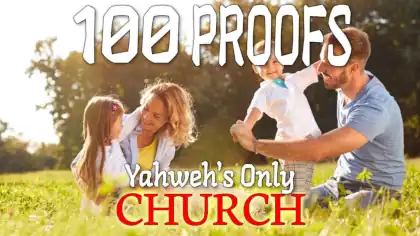 TruthVid's 100 Proofs that the Israelites were White, Part 65
In our last presentation we continued our discussions of themes found in the epistles of Paul of Tarsus with the Scope of the Covenant and the Family of the Faith, as they certainly do consist of the White European nations to whom he had brought the gospel of Christ. Now we shall continue with a discussion of the word church, and what is the true church as it is described by Scripture and in the definitions of the word used which has traditionally been translated as church. A church certainly is not a collection of mere believers congregating in some building. That is actually something which is better described by the word synagogue, rather than church.
87) What is the Church?
Portions of this presentation are taken from an essay at Christogenea which is titled Misconceptions Concerning Paul and the Church.
Here we are not going to digress at length on what a Christian church is not, except to mention that priests, in the sense of an officer of a church organization, are not found in Christian writings until the 4th century AD. In the New Testament, every man is a priest of God in the sense that he serves God by loving his brethren and keeping the commandments. But once Christianity began to be accepted by Rome, a new class of Christian priests developed, and pagan temples began to be converted for use into church buildings. Once the emperor Justinian created the office of pope, eventually nuns, orders of monasteries, a college of cardinals, and a hierarchical, centralized organization which conducted or supervised the ordination of priests and bishops all developed. While many of these institutions were useful or helpful in medieval society, and did things which are useful to us today, none of them are necessarily Biblical or required by Christianity. They are actually antichristian in several ways, because they set up authorities over men which the Scriptures do not advocate or support, and in some cases even refute or condemn.
Wherever the word "church" appears in the King James Version and other translations of the New Testament, the Greek word is ἐκκλησία (Strong's # 1577, ekklesia). The ἐκκλησία is, according to Liddell & Scott, "an assembly of the citizens regularly summoned". By itself the word does not signify or describe a building or any organization with a systematized hierarchy, but is rather simply the assembly itself, which in the Bible refers to those of the children of Israel who are summoned by Yahweh their God. The word first appears in the Greek Septuagint in Deuteronomy chapter 4 where in Brenton's translation it is appropriately rendered as assembly and we read: "10 even the things that happened in the day in which ye stood before the Lord our God in Choreb in the day of the assembly; for the Lord said to me, Gather the people to me, and let them hear my words, that they may learn to fear me all the days which they live upon the earth, and they shall teach their sons."
According to the BibleWorks version 10 software, the word ἐκκλησία appears 114 times in the New Testament, and 103 times in the Old Testament. The Hebrew word from which it is most often translated is qahal, or קהל, and it is qahal which appears in that passage of Deuteronomy. There is another Hebrew word meaning assembly or congregation, which is adah or עדה, and that is also often translated into Greek as συναγωγή or synagogue, which is a word from Classical Greek. The word qahal in its various forms appears in the Old Testament on 162 occasions, and adah on 172 occasions. As a verb, qahal is often gather, and as a noun assembly or congregation. Interestingly, in the promise that Jacob's seed would become a "company of nations", the Hebrew word for company is qahal, and the phrase could be read as congregation of nations. Both words, qahal and adah, are translated as company in various other passages.
Among several other Hebrew words which are translated as assemble, as a verb, there is tsa'aq or za'aq, זצק, which is to call together. This is the word we see in 2 Samuel chapter 20 where we read "4 Then said the king to Amasa, Assemble [or call together] me the men of Judah within three days, and be thou here present." The Septuagint translated this word in that passage with the Greek word βοάω, a verb which in this context means to call for, shout out for. It is in this sense that the ancient Greeks had used the word ἐκκλησία, a word which, as it is is explained in the lexicons, developed from a similar noun, ἔκκλητος. In turn, ἔκκλητος is derived from the verb ἐκκαλέω, and ἐκκαλέω is a compound word derived from the preposition ἐκ, which is of or from, and the verb καλέω, which is to call or summon. This is a pattern typical in the development of Greek words. Likewise the word κλητός is primarily defined by Liddell & Scott as invited, and then as called out, chosen. So ἔκκλητος is an assembly of those who are invited, called or chosen for some purpose or reason, and that is the word which also gives us ἐκκλησία. So Liddell & Scott primarily define ἐκκλησία as an assembly of the citizens regularly summoned, the legislative assembly. This also reflects the political systems of the various Greek states, and even if the reason for calling in the Bible is slightly different, the meaning of the word is the same. An Ethiopian or a Chinaman could not have expected acceptance in an ἐκκλησία in Sparta or in Athens, just as he happened to venture into the city, if he even got that far. Neither has Christ invited any of them, as He never knew them.
In the New Testament, the word συναγωγή appears 43 times, and it is almost always used in the same sense as it was in the Old Testament, of a gathering for religious purposes related to the ceremonial readings of the law. But in a Christian context, the word chosen to describe the gathering of Christians for those same purposes, as well as for purposes of community, is always ἐκκλησία. The word συναγωγή is a secular word which merely refers to the place itself, as it is a compound formed from three Greek words, σύν which is properly a preposition meaning in company with or together with, ἄγω which is primarily to lead, carry, fetch, or bring, and γῆ which is earth, and in this context it means land or ground. So συναγωγή is a secular word which can be interpreted to refer to any group of people which are led together to a particular place for some reason or another. That more accurately describes the purpose of Christian churches throughout recent history. But in contrast, an ἐκκλησία is comprised of people who assemble because they are invited, having been chosen.
That accords with what Paul had written in Romans chapter 8 where he said, according to the King James Version: "28 And we know that all things work together for good to them that love God, to them who are the called according to his purpose. 29 For whom he did foreknow, he also did predestinate to be conformed to the image of his Son, that he might be the firstborn among many brethren. 30 Moreover whom he did predestinate, them he also called: and whom he called, them he also justified: and whom he justified, them he also glorified." So in order for one to be of the ἐκκλησία, one of those who are invited to be Christians, you must first have been predestinated, meaning that you are among the descendants of the ancient Israelites who were promised this inheritance in Christ in the Old Testament, because first you must also be one of those whom He foreknew, and the Scriptures attest that He only foreknew those same children of Israel. Then you must be called, or invited into the fellowship, and Paul is relating the fact that it is only the predestinated and the foreknown who are the called. Moreover, only they are justified, and only they shall be glorified. Men cannot change the calling of God. Christ told His disciples "I know whom I have chosen" and "you have not chosen me, but I have chosen you" (John 13:18, 15:16). Peter called Christians a chosen race in his first epistle. If they were of mixed races, he could not have called them that.
So in order to establish the identity of the invited, we shall read a series of passages found in Messianic prophecies from Isaiah, beginning with chapter 42: "1 Behold my servant, whom I uphold; mine elect, in whom my soul delighteth; I have put my spirit upon him: he shall bring forth judgment to the [Nations]. 2 He shall not cry, nor lift up, nor cause his voice to be heard in the street. 3 A bruised reed shall he not break, and the smoking flax shall he not quench: he shall bring forth judgment unto truth. 4 He shall not fail nor be discouraged, till he have set judgment in the earth: and the isles shall wait for his law. [The children of Israel was scattered into the isles, or coastlands.] 5 Thus saith God the LORD, he that created the heavens, and stretched them out; he that spread forth the earth, and that which cometh out of it; he that giveth breath unto the people upon it, and spirit to them that walk therein: 6 I the LORD have called thee in righteousness, and will hold thine hand, and will keep thee, and give thee for a covenant of the people, for a light of the [Nations]; 7 To open the blind eyes, to bring out the prisoners from the prison, and them that sit in darkness out of the prison house." We have already explained at length in these presentations that these are the children of Israel in captivity, and at the beginning of His ministry, as it is recorded in Luke chapter 4, Christ had announced that this is what He had come to fulfill. Then, a little further on in that same chapter of Isaiah we read a verification of that: "16 And I will bring the blind by a way that they knew not; I will lead them in paths that they have not known: I will make darkness light before them, and crooked things straight. These things will I do unto them, and not forsake them…. 18 Hear, ye deaf; and look, ye blind, that ye may see. 19 Who is blind, but my servant? or deaf, as my messenger that I sent? who is blind as he that is perfect, and blind as the LORD'S servant? 20 Seeing many things, but thou observest not; opening the ears, but he heareth not. 21 The LORD is well pleased for his righteousness' sake; he will magnify the law, and make it honourable. 22 But this is a people robbed and spoiled; they are all of them snared in holes, and they are hid in prison houses: they are for a prey, and none delivereth; for a spoil, and none saith, Restore." These are the called and the chosen: the children of Israel in captivity. There may be many other assemblies, in the sense of the word συναγωγή, which call themselves churches. But only the children of Israel can comprise the ἐκκλησία.
The context for this chapter is set in chapter 41, and there were no chapter breaks when Isaiah wrote. So there we read where it is addressing Israel, " 8 But thou, Israel, art my servant, Jacob whom I have chosen, the seed of Abraham my friend. 9 Thou whom I have taken from the ends of the earth, and called thee from the chief men thereof, and said unto thee, Thou art my servant; I have chosen thee, and not cast thee away. 10 Fear thou not; for I am with thee: be not dismayed; for I am thy God: I will strengthen thee; yea, I will help thee; yea, I will uphold thee with the right hand of my righteousness." Then a little further on Israel is challenged concerning their idols and we read "26 Who hath declared from the beginning, that we may know? and beforetime, that we may say, He is righteous? yea, there is none that sheweth, yea, there is none that declareth, yea, there is none that heareth your words. 27 The first shall say to Zion, Behold, behold them: and I will give to Jerusalem one that bringeth good tidings. 28 For I beheld, and there was no man; even among them, and there was no counsellor, that, when I asked of them, could answer a word." Israel had no counselor, so here in chapter 42 Yahweh answers by stating "1 Behold my servant, whom I uphold; mine elect, in whom my soul delighteth; I have put my spirit upon him: he shall bring forth judgment to the [Nations]." This is a Messianic prophecy promising that Israel would have God as their counselor, in Christ.
So again, we read from Isaiah chapter 43: "1 But now thus saith the LORD that created thee, O Jacob, and he that formed thee, O Israel, Fear not: for I have redeemed thee, I have called thee by thy name; thou art mine." So who else is called in the words of the law or the prophets? If no other race is called, then no other race is of Christ. Next, we read a promise of Israel's preservation in captivity: "2 When thou passest through the waters, I will be with thee; and through the rivers, they shall not overflow thee: when thou walkest through the fire, thou shalt not be burned; neither shall the flame kindle upon thee." Now as we proceed, we also see that Israel would be preserved at the expense of other nations: "3 For I am the LORD thy God, the Holy One of Israel, thy Saviour: I gave Egypt for thy ransom, Ethiopia and Seba for thee. 4 Since thou wast precious in my sight, thou hast been honourable, and I have loved thee: therefore will I give men for thee, and people for thy life." Finally, we see that Israel will ultimately be regathered to God: "5 Fear not: for I am with thee: I will bring thy seed from the east, and gather thee from the west; 6 I will say to the north, Give up; and to the south, Keep not back: bring my sons from far, and my daughters from the ends of the earth; 7 Even every one that is called by my name: for I have created him for my glory, I have formed him; yea, I have made him. 8 Bring forth the blind people that have eyes, and the deaf that have ears." Once again, this gathering is in Christ, as it is He who shall make the blind of Israel to see and the deaf of Israel to hear, speaking only of the children of Israel.
Then, from Isaiah chapter 44: "1 Yet now hear, O Jacob my servant; and Israel, whom I have chosen: 2 Thus saith the LORD that made thee, and formed thee from the womb, which will help thee; Fear not, O Jacob, my servant; and thou, Jesurun, whom I have chosen…." Then, Yahweh describes pouring water onto the dry ground, which is actually a prophecy of the Gospel of Christ, where we read: "3 For I will pour water upon him that is thirsty, and floods upon the dry ground: I will pour my spirit upon thy seed, and my blessing upon thine offspring: 4 And they shall spring up as among the grass, as willows by the water courses." So the water poured onto the dry ground is also a promise reserved to the children of Israel, to their offspring, and Christ spoke of such water in John chapter 4 where speaking to the woman at the well, who professed to being an Israelite, He compared it to literal water: "13 Jesus answered and said unto her, Whosoever drinketh of this water shall thirst again: 14 But whosoever drinketh of the water that I shall give him shall never thirst; but the water that I shall give him shall be in him a well of water springing up into everlasting life." Now Isaiah reaffrims the identity of the children of Israel in relation to this Messianic prophecy: "6 Thus saith the LORD the King of Israel, and his redeemer the LORD of hosts; I am the first, and I am the last; and beside me there is no God. 7 And who, as I, shall call, and shall declare it, and set it in order for me, since I appointed the ancient people? and the things that are coming, and shall come, let them shew unto them." So once again, even in relation to Christ, only the children of Israel are the appointed, the chosen, the called and the Gospel is the metaphorical water which was promised to them alone.
The theme continues throughout Isaiah, now from chapter 48: "12 Hearken unto me, O Jacob and Israel, my called; I am he; I am the first, I also am the last. 13 Mine hand also hath laid the foundation of the earth, and my right hand hath spanned the heavens: when I call unto them, they stand up together." So when the call comes, it is intended only for Jacob, for the children of Israel to whom Yahweh promised that call here. That is the call of Christianity. Then, after prophesying the destruction of Babylon nearly a hundred years before the start of the Babylonian empire, a few verses later in the chapter we read: "15 I, even I, have spoken; yea, I have called him: I have brought him, and he shall make his way prosperous. 16 Come ye near unto me, hear ye this; I have not spoken in secret from the beginning; from the time that it was, there am I: and now the Lord GOD, and his Spirit, hath sent me. 17 Thus saith the LORD, thy Redeemer, the Holy One of Israel; I am the LORD thy God which teacheth thee to profit, which leadeth thee by the way that thou shouldest go." So here, in a Messianic prophecy, Yahweh appealed to the children of Israel in captivity to "Come ye near unto me, hear ye this" and declares that "I have not spoken in secret from the beginning", but this is all still a mystery to the organized so-called churches, even after Paul of Tarsus had attested that it was revealed in the apostles and prophets.
If you call your children for some reason, you are not going to accept and take any other child, who is not of your children, as they are someone else's children. What if you call six children to dinner, and six strangers answer first, so you feed them instead? Then when your own children arrive there is nothing for them to eat? What mother would do that to her own children, simply because they were late coming home? Neither shall Yahweh allow dogs to eat the bread of His Own children.
In Isaiah chapter 49 we see yet another address to Israel in captivity, in another Messianic prophecy of Christ: "1 Listen, O isles, unto me; and hearken, ye people, from far; The LORD hath called me from the womb; from the bowels of my mother hath he made mention of my name. 2 And he hath made my mouth like a sharp sword; in the shadow of his hand hath he hid me, and made me a polished shaft; in his quiver hath he hid me; 3 And said unto me, Thou art my servant, O Israel, in whom I will be glorified. [His glorification came when the children of Israel accepted the gospel of Christ.] 4 Then I said, I have laboured in vain, I have spent my strength for nought, and in vain: yet surely my judgment is with the LORD, and my work with my God. 5 And now, saith the LORD that formed me from the womb to be his servant, to bring Jacob again to him, Though Israel be not gathered [because they were scattered abroad in captivity], yet shall I be glorious in the eyes of the LORD, and my God shall be my strength." Next we see another prophecy of the purpose of Christ: "6 And he said, It is a light thing that thou shouldest be my servant to raise up the tribes of Jacob, and to restore the preserved of Israel: I will also give thee for a light to the [Nations], that thou mayest be my salvation unto the end of the earth. 7 Thus saith the LORD, the Redeemer of Israel, and his Holy One, to him whom man despiseth, to him whom the nation abhorreth, to a servant of rulers, Kings shall see and arise, princes also shall worship, because of the LORD that is faithful [Yahweh is faithful because He keeps promises which He made to to the patriarchs], and the Holy One of Israel, and he shall choose thee [Israel]." These nations and kings are the nations and kings of the children of Israel, the twelve tribes scattered abroad to whom Paul was purposed to bring the Gospel of Christ, in accordance with the promises which He had made to Abraham.
So Finally, we read in Matthew chapter 15 the words of Christ where He said: "24… I am not sent but unto the lost sheep of the house of Israel." Then, in John chapter 10: "2 But he that entereth in by the door is the shepherd of the sheep. 3 To him the porter openeth; and the sheep hear his voice: and he calleth his own sheep by name, and leadeth them out. 4 And when he putteth forth his own sheep, he goeth before them, and the sheep follow him: for they know his voice." How can men replace the sheep, those whom the Shepherd had said that He would call, with animals of other sorts, or with people of other races?
Here a digression is necessary, and we must discuss a claim which has been made for the last 1,500 years, and which has prevailed with many, but which is not true. The Roman pope cult claims that there has been an unbroken chain of succession from Peter and Paul through a line of bishops of Rome down to today, and also claims that its authority is from Peter, as they further claim that Peter is the rock upon which the Roman Catholic Church was built. But first, an examination of history would reveal that the first claim is a lie: the early bishops of Rome were all martyred in the persecutions, and most later bishops were mere political opportunists. Accounts of the bishops of Rome varied among later Christian writers, and there was no organization to preserve accurate documentation of the earliest history of the Church of Rome.
Then an examination of scripture, including Paul's epistles, reveals that the second claim is also a lie. When Paul wrote his epistle to the Romans in 57 AD, he had not ever visited Rome, yet there were at least several Christian ἐκκλησίαι, or assemblies, in various houses, and never once in that epistle did he address or mention a bishop. Paul did not write to "one true church" at Rome, which is Roman Catholic propaganda, but rather, he wrote to "all those in Rome who are beloved of Yahweh, called saints" (Romans 1:7), who were actually distributed among several different assemblies, or "churches" (Romans 16:5), and that is as they were in other places also (2 Corinthians 8:1; Galatians 1:2). In the Book of Acts, in chapter 28, when Paul arrived at Rome, many of the circumcision, the prominent Judaeans of the city, came out to see him, as if they had not yet heard the gospel from an apostle but had only heard the many negative things which were being spread concerning Christianity by the Romans. So we read where Paul had said to them: "20 Therefore for this reason I have summoned you, to see and to speak with you: for because of the hope of Israel I am wrapped in this chain!" Then Luke records their answer where we read: "21 But they said to him 'We have not received letters from the Judaeans concerning you, nor have any of the brethren arriving reported or spoken anything bad about you. 22 But we think it worthy to hear from you the things which you think, since concerning this sect it is known to us that it is spoken against everywhere.'" So where was Peter? He certainly was not preaching in Rome up to that time, or they being the leaders of the circumcised could not have avoided him since his mission was to the circumcised. The churches at Rome to which Paul had written were themselves independent of these men. Nowhere in his epistles or in Acts did Paul ever recognize any single leader of the Roman Christians. A local ἐκκλησία, an assembly or Christian community, answers to no religious authority except the Word of God.
Neither do we know if Peter was ever in Rome at the time that the assemblies to which Paul had written were founded, a time which must have been much earlier than when Paul had written to them. While someone must have brought Christianity to Rome well before 57 AD, we are never informed who it was that had founded the assemblies there. Peter was the apostle to the circumcision, the assemblies at Rome contained both Judaeans and Greeks, as we are informed by Paul's epistle, and Peter was still in Jerusaelm as late as 53 AD where he then met Paul in Antioch, and then he was in Babylon some years later when he wrote the two epistles of his which have survived. The circumstances of those epistles show that they were probably written after the time of Paul's arrest, and that Peter was not yet in Rome. As I wrote in a March, 2012 commentary on 2 Peter:
The editors of the volumes of The Ante-Nicene Fathers, Translations of the writings of the Fathers down to A.D. 325 state that "the Roman imprisonment and martyrdom of St. Peter seem historical", and that is possible, but still does not prove that Peter founded the Roman Church – something for which there is no authentic evidence at all, and which the Book of Acts and Epistle of Paul to the Romans seem to refute. It makes more sense that Peter was in Rome later (if at all) since the Gospel of Mark contains some Latin words and therefore may have been written for a Greek-speaking Roman audience, and we know from many early Christian writers that it was Peter's testimonies which Mark had later recorded. The earlier Clement - if indeed the citations are accepted as being original - has Peter preaching and martyred in Rome, the later Irenaeus has Peter, and Paul, "laying the foundations of the church" there, and as early as Eusebius the claim is made that Peter and Paul founded the "church", in the singular, in Rome. Therefore the Catholic tradition developed over the centuries, but it was not at all original. The editors of The Ante-Nicene Fathers, Translations of the writings of the Fathers down to A.D. 325 also demonstrate that there were indeed some Roman Catholic interpolations of the works of Cyprian, where his writing seems to support later Romish Church doctrines, found to be fraudulent through a comparison of older manuscripts.
But whether Peter was ever in Rome is also immaterial, because furthermore, the third claim is also a lie. In Matthew 16:18 we see that Yahshua Christ had changed Simon's name to "Peter". In truth, Christ only added to Simon the name Peter, as Christ Himself had continued to call him Simon on later occasions, for example in John chapter 21, and so did the other apostles. But while the addition of Peter to his name is also mentioned in Mark 3:16, Luke 6:14 and John 1:42, only Matthew's gospel has the statements attributed to Christ in Matthew 16:18-19 where we read: "18 And I say also unto thee, That thou art Peter, and upon this rock I will build my church; and the gates of hell shall not prevail against it. 19 And I will give unto thee the keys of the kingdom of heaven: and whatsoever thou shalt bind on earth shall be bound in heaven: and whatsoever thou shalt loose on earth shall be loosed in heaven."
Interpreting this passage, there is an important distinction made at which the apologists for the cult of the Pope only scoff. Where Christ had said "thou art Peter" he used the Greek word πέτρος, and where He said "upon this rock I will build My church", He used the Greek word πέτρα. Since there is no definite article accompanying πέτρος in the text, it is more proper to translate the word commonly as stone, rather than as a proper name. The significant distinction between πέτρος and πέτρα is lost in the King James translation. Liddell & Scott define πέτρος as "a stone, distinguished from πέτρα", and πέτρα as "a rock, a ledge or shelf of rock ... Properly, πέτρα is a fixed rock, πέτρος a stone". Consequently, we would translate this portion of verse 18 to read: "you are a stone, yet upon this bedrock I will build My assembly", in order to properly maintain the distinction. We cannot imagine that Christ had referred to the most stubborn of the apostles, one who was quick to argue with Him, as a bedrock foundation for His church. Christ Himself is the only true foundation.
Even the King James Version has stone for πέτρος in John 1:42 where we read: "And when Jesus beheld him, he said, Thou art Simon the son of Jona: thou shalt be called Cephas, which is by interpretation, A stone." Later, Paul of Tarsus would often use that Hebrew term kephas to refer to Peter. Certainly Peter, as he had become known, is but a stone, and is not the rock upon which Yahshua Christ builds His ἐκκλησία (assembly). Even Peter recognized this distinction, where in his own epistle he in turn called his readers "living stones" and referred to Yahshua Christ as the "chief cornerstone" (1 Peter 2:5-6). So while we do not know to what it was that Christ had contrasted Peter where He said "upon this bedrock I will build My assembly", we can infer that the bedrock is Christ Himself. Paul described Yahshua Christ as the foundation of His own building in 1 Corinthians chapter 3 (1 Corinthians 3:9-11). Then the same authority which was given to Peter by Christ in Matthew 16:19 was also given to the other disciples, as it is recorded in Matthew 18:18.
In the Revelation, Yahshua Christ sent messages to seven different assemblies, all independent, and not to "one true church" (Revelation 1:11), and Rome was not even considered among those seven churches. The Roman pope really derived his power and authority from the edicts of Justinian, armed with the forged so-called "Donation of Constantine", and it used those circumstances to promote itself and to gain dominion over all of the Christian assemblies of the Roman world, and later of the entire European world. It persecuted all those who refused to prostrate themselves before it, and to this day it is only a tool for the dragon in his war against the woman, the children of Israel which are the true Church. In reality, the Roman church is built upon the bones of the saints, both figuratively (i.e. Dan 7:25; Rev. 6:9; 12:17) and literally. The cult's foremost temple, which is called "Saint Peter's Basilica", is built upon a large necropolis (see Archaeology Odyssey, March - April 2001, p. 60, "City of the Dead")!
But the true ἐκκλησία is that body of true Israelite Christians either in the world or in any particular community, depending on the scope of the context in which the word is used. They are called the ἐκκλησία whether or not they happen to be currently assembled together. As we saw in Isaiah chapter 49, that Israel was the called even "though Israel be not gathered", in the New Testament there are references to the ἐκκλησία when they were not gathered. First, in Acts chapter 8 we read: "3 As for Saul, he made havock of the church, entering into every house, and haling men and women committed them to prison." The word church there is ἐκκλησία, but Saul, which is the name Luke had used for Paul when he was still working for the temple rulers in Jerusalem, had found the ἐκκλησία at their homes, in their houses. So the ἐκκλησία is not a church in the sense of a building or organization.
As a digression, the word church comes into English through German, but was derived from the Greek word kuriakos, a Genitive form of the word kurios, or lord, which means "of the Lord". In the sense of the children of Israel, the application may not be incorrect. But it is certainly wrong if it is applied to peoples other than Israel or to some building or organization. A church may possess a building, but a building cannot ever be a church.
Continuing our examples where the word ἐκκλησία describes a class of people, and not an organization or building, in Acts chapter 9, it speaks of Paul after his conversion: "29 And he spake boldly in the name of the Lord Jesus, and disputed against the Grecians: but they went about to slay him. 30 Which when the brethren knew, they brought him down to Caesarea, and sent him forth to Tarsus. 31 Then had the churches rest throughout all Judaea and Galilee and Samaria, and were edified; and walking in the fear of the Lord, and in the comfort of the Holy Ghost, were multiplied." Unfortunately, the word for churches in the Majority Text is plural, but in the ancient Greek manuscripts in that passage it is singular. There were no buildings that were called churches in those days, and no organization called a Church, so the word ἐκκλησία was used to describe the body of Christians even though it was scattered in diverse places.
Finally, in 1 Corinthians chapter 14 Paul wrote: "23 If therefore the whole church be come together into one place…" and therefore it is evident that they are the church, or ἐκκλησία, even when they are not gathered anywhere. So it should be evident, that the modern so-called churches, buildings owned and operated by large incorporated organizations who allow anyone of any race to participate, are really just συναγωγαί, or synagogues, while the true ἐκκλησία consists of the children of Israel, and the word does not describe a building or organization. It describes those who were called and chosen. Those who were predestinated and foreknown can only be the called and chosen. It is true, however, that a local ἐκκλησίαι should be organized as it is described in the New Testament, but not in the way of the popes of Rome. The pope cannot call anyone to Christ, as Yahweh has already done the calling, and has assured us that He has only called the children of Israel.
So once again, that is why the apostles of Christ brought that Gospel to White Europeans. The people of White Christian Europe are also the saints, and next we shall define that term. The pope cannot make men into saints, but some men, and women, already are saints. They were appointed to be saints by God.