Christogenea Internet Radio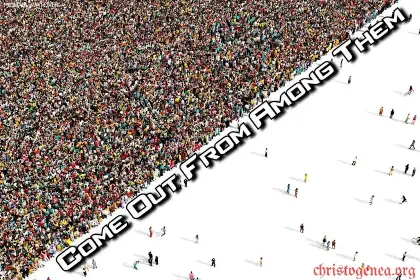 Come Out From Among Them
Two of my favorite passages from the ancient Greek Tragic Poets, both of whom wrote in the 5th century BC, express eternal truths: "The bastard is always regarded as an enemy to the true-born" (Euripides, Hippolytus, 962-963) and "Stain clear water with mud and you will never find sweet drink" (Aeschylus, Eumenides, 694-695). The citation from Euripides is indeed about relationships between people. Cain and Abel are the first historical manifestation of that in Scripture. But the second citation, from Aeschylus, is actually in relation to law. Citing the Loeb Classical Library edition of Aeschylus translated by Herbert Weir Smyth, in Eumenides the Apollo character is depicted as recalling "the first trial ever held for bloodshed" in Athens, and an appeal for its judges to judge justly. So in a poetical allegory we read "Reverence, indwelling in my burghers, and her kinsman Fear, shall withhold them from doing wrong by day and night alike, so be it they do not themselves pollute the laws with evil influences; stain clear water with mud and thou shalt never find sweet drink."
It should not surprise us to find Christian principles imbued in certain ancient Greek literature, as we have often discussed the similarities in the ancient Greek and Hebrew cultures in other contexts. It certainly is a Christian principle, that Christians should never seek to pervert, undermine, corrupt or transgress the commandments of the law out of fear of God. So we read, for example, in Deuteronomy chapter 6: "2 That thou mightest fear the LORD thy God, to keep all his statutes and his commandments, which I command thee, thou, and thy son, and thy son's son, all the days of thy life; and that thy days may be prolonged." A little further on in the chapter we read: "24 And the LORD commanded us to do all these statutes, to fear the LORD our God, for our good always, that he might preserve us alive, as it is at this day. 25 And it shall be our righteousness, if we observe to do all these commandments before the LORD our God, as he hath commanded us." In both Deuteronomy chapters 4 and 12 there are commandments neither to add nor to remove anything from the books of the law.
The same principle of keeping the commandments out of fear of God is found in the New Testament, where for example the apostle Paul is recorded as addressing "Men of Israel, and ye that fear God", in Acts chapter 13. He was not addressing two different parties, but rather, those of Israel who did fear God, as he continued by saying "the God of this people of Israel chose our fathers…" Likewise, in chapter 2 of his first epistle Peter admonished his readers to "17 Honour all men. Love the brotherhood. Fear God. Honour the king." The only king he could have referred to in the context and historical setting of that epistle is Christ Himself. Finally, in Revelation chapter 14 we see an admonishment to "Fear God, and give glory to him; for the hour of his judgment is come."
The overall lesson in a study of all of these passages and others like them is the fact that if a man fears God, he must keep His commandments. One cannot pretend to be a Christian or to worship God or Christ and purposely forsake His commandments. So the apostle John wrote in chapter 5 of his first epistle that "2 By this we know that we love the children of God, when we love God, and keep his commandments. 3 For this is the love of God, that we keep his commandments: and his commandments are not grievous." For that same reason David lamented in the 119th Psalm that "126 It is time for thee, LORD, to work: for they have made void thy law. 127 Therefore I love thy commandments above gold; yea, above fine gold." There David was calling for the judgement of Yahweh upon those who had departed from the law. If men depart from the law and one does not admonish and depart from them, then one is just as guilty as they are and invites the judgment of God upon oneself (Leviticus 5:1, Romans 1:32).
So, because we have perceived that certain of our friends have recently departed from some of those commandments, a situation which truly grieves us, and because that has caused us to become estranged, this discussion will be a sort of supplement to the presentation which I gave here last week titled The Widening Gulf and the Tolerance of Evil. The purpose of this is to clarify an important aspect of that presentation and our reason for making it here rather than where it was intended. We simply did not go to Charlottesville in 2017 so that we could rub shoulders with Cubans in 2023. So towards the end of that presentation, I had cited Paul's second epistle to the Corinthians, where, paraphrasing Isaiah, he had urged his readers to "come out from among them, and be ye separate", and now I thought that I should elaborate on that admonition. This evening we shall also hear from our friend Clifton Emahiser, who also had a few words to say on this subject in a paper titled What Scripture Teaches About the "Unclean".
So we shall read from 2 Corinthians chapter 6 once again, first from the King James Version: "14 Be ye not unequally yoked together with unbelievers: for what fellowship hath righteousness with unrighteousness? and what communion hath light with darkness? 15 And what concord hath Christ with Belial? or what part hath he that believeth with an infidel? 16 And what agreement hath the temple of God with idols? for ye are the temple of the living God; as God hath said, I will dwell in them, and walk in them; and I will be their God, and they shall be my people. 17 Wherefore come out from among them, and be ye separate, saith the Lord, and touch not the unclean thing; and I will receive you, 18 And will be a Father unto you, and ye shall be my sons and daughters, saith the Lord Almighty. "
As we have explained before, there are problems with the translation of this passage. First, the word thing in verse 17 appears in italics, since it was added by the translators. The form of the Greek verb ἀκάθαρτος from which the word unclean is translated is either masculine, referring to a man, or neuter, referring to a thing. But it is not necessary to add either man or thing to a translation because in context, Paul was speaking of people, and not of things, where he wrote "come out from among them" and the "them" are still the subject. Paul had already explained to the Corinthians in chapter 11 of his first epistle that idols are nothing, that they should be accounted as nothing by Christians, and that they may eat whatever foods were sold in the markets so long as their consciences were not burdened. So he could neither have been speaking merely of idols, nor of any things.
But more importantly, the phrase "unequally yoked" does not convey the full meaning of the Greek verb ἑτεροζυγέω. The same word appears in Leviticus chapter 19 (19:19) in the Septuagint as an adjective, ἑτερόζυγος, where it is correctly translated by Brenton as "one of a different kind" although the concept of yoke is missing, since it appears with a word describing sexual intercourse and therefore to be yoked is also implied in that word. So where the Greek reads τὰ κτήνη σου [your cattle] οὐ κατοχεύσεις [you shall not let gender, or have intercourse] ἑτεροζύγῳ, [with one of a different kind] Brenton wrote "thou shalt not let thy cattle gender with one of a different kind," and the King James Version, translated from the Hebrew of the Masoretic Text, reads "You shall not breed together two kinds of your cattle". To write "be not unequally yoked" is an understatement as it obfuscates the full intention behind the use of the word.
So, seeing the meaning of the word in the Greek Old Testament, and since it only appears in these two places, the same meaning must be applied here, since where it is used of people it can only mean to be yoked to someone of another kind, to be joined to something or someone different. Most of the citations of the Old Testamnent made by Paul in his epistles were taken from the Septuagint, and therefore the language of the Septuagint must have been the influence in his use of the word ἑτεροζυγέω. Elsewhere, Paul used a similar word, σύζυγος, which simply means yoked together, to describe a proper partnership. Then here Paul then described that other kind reflected in ἑτεροζυγέω by using the adjective ἄπιστος, and the King James Version translates the word merely as unbelievers.
As we had explained in The Widening Gulf, ἄπιστος is an adjective which Liddell & Scott define as "not to be trusted...not trusty, distrusted, faithless". Therefore we would properly translate the word as an adjective modifying the noun which is implied in the definition of ἑτεροζυγέω. In verse 15 of this same chapter, ἄπιστος is opposed to πιστός (Strong's # 4103) where the King James Version has "he that believeth with an infidel", but which we would translate as "the faithful with the faithless". It is evident that by using the term ἄπιστος, Paul is describing those without the faith, meaning those who are not included in the covenants which Yahweh God had made with Israel, which is the faith of Abraham that Paul had described in Romans chapter 4.
This passage in 2 Corinthians chapter 6 is not a religious admonition, that his readers should separate from non-believers or pagans. If it were, then Paul would be directly and explicitly contradicting himself where he advised the Corinthians in chapter 7 of his first epistle to them, that "12… If any brother hath a wife that believeth not, and she be pleased to dwell with him, let him not put her away. 13 And the woman which hath an husband that believeth not, and if he be pleased to dwell with her, let her not leave him. 14 For the unbelieving husband is sanctified by the wife, and the unbelieving wife is sanctified by the husband: else were your children unclean; but now are they holy." We cannot force Paul to contradict himself, but if we understand the word according to its use in the Greek Old Testament, it becomes clear that Paul is not contradicting himself, because here he is warning Christians not to join themselves to those of other races, to those who are without the faith because they are outside of the promises. The Roman Catholic Church, founded upon lies which accomodated the Empire in the 4th century after Christ, could never comprehend that fact.
The children of Israel were told that they would be a peculiar people to God in Exodus chapter 19, as soon as they had accepted the law at Sinai where we read: "5 Now therefore, if ye will obey my voice indeed, and keep my covenant, then ye shall be a peculiar treasure unto me above all people: for all the earth is mine: 6 And ye shall be unto me a kingdom of priests, and an holy nation…." Later, in Deuteronomy and in the Psalms, the relationship is affirmed. For example, in Deuteronomy chapter 14: "2 For thou art an holy people unto the LORD thy God, and the LORD hath chosen thee to be a peculiar people unto himself, above all the nations that are upon the earth."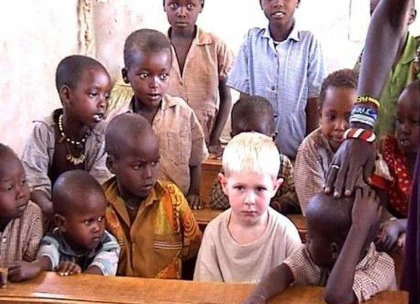 The children of Israel were commanded to be a separate people. Therefore in Leviticus chapter 20 we read: "24… I am the LORD your God, which have separated you from other people." We also read this in 2 Kings chapter 8, where Solomon is recorded as having addressed God: "53 For thou didst separate them from among all the people of the earth, to be thine inheritance, as thou spakest by the hand of Moses thy servant, when thou broughtest our fathers out of Egypt, O Lord GOD." In the Song of Moses in Deuteronomy chapter 33 we read: "27 The eternal God is thy refuge, and underneath are the everlasting arms: and he shall thrust out the enemy from before thee; and shall say, Destroy them. 28 Israel then shall dwell in safety alone: the fountain of Jacob shall be upon a land of corn and wine; also his heavens shall drop down dew." This is the same song of Moses which is also the song of the Lamb, mentioned in Revelation chapter 15, as it is sung by "them that had gotten the victory over the beast".
So it is evident that the ancient children of Israel were to be a peculiar people, a kingdom of priests, a holy nation, and a separate people. Therefore when the apostle Peter wrote his first epistle, he addressed it "to the elect sojourners of the dispersion of Pontus, Galatia, Cappadocia, Asia and Bithynia", which are all provinces in Anatolia. Asia was Asia Minor, or eastern Anatolia, which at the time was inhabited primarily by Greeks and Romans. Galatia was inhabited by Germanic tribes which are often identified as Keltic by historians. The king of the Tolistobogii, a Keltic tribe in Galatia, was an ally of Rome during Pompey's conquest of Pontus and Bithynia in the mid-1st century BC. Paul of Tarsus in his epistle to the Galatians had told them that they had been under the law, and therefore they were included in the promises of Christ, because Paul understood that they had descended from the ancient Israelites of the Assyrian deportations. That is why Paul referred to his ministry as a "ministry of reconciliation" in 2 Corinthians chapter 5 and elsewhere, because as he had also professed in Acts chapter 26, "6 And now I stand and am judged for the hope of the promise made of God unto our fathers: 7 Unto which promise our twelve tribes… hope to come…" and for that same reason he brought the Gospel of Christ only to those twelve tribes.
So as Peter continued his epistle to the Christians of these provinces, who converted to Christ from among these "elect sojourners", he wrote in chapter 2 and informed them: "9 But ye are a chosen generation, a royal priesthood, an holy nation, a peculiar people; that ye should shew forth the praises of him who hath called you out of darkness into his marvellous light." That word generation is the Greek word γένος, which means race. The word generation in medieval English did not have quite the same meaning which it does today, and therefore it is translated as race in other modern Bible versions. For example, the North American Standard Bible has the same verse to read: "10 But you are a chosen race, a royal priesthood, a holy nation, a people for God's own possession, that you may proclaim the excellencies of Him who has called you out of darkness into His marvelous light."
Here we see that Peter had described these Christians, who had indeed descended from the ancient Israelites, in all of the same ways in which the ancient children of Israel, their ancestors, were also described. So according to both Paul and Peter, the children of Israel, those of them who became Christians, should have always remained a separate and peculiar race, as the promises in Christ are only for the twelve "lost" tribes of Israel. But that never meant that they should stop converting their brethren, as Peter and Paul had also done. In Romans chapter 9, speaking of Judaeans, Paul defined his brethren as his "kinsman according to the flesh", since not all of those in Israel were truly of Israel, as he also explained.
The proof that Peter was writing to anciently dispersed Israelites, and not to Judaeans, is found in his own words in that verse, and the verse which follows. First, where he said that God "called you out of darkness", it is the children of Israel of the ancient dispersions who were described as sitting in darkness, and who had a promise to be called out of it. This is a theme which is found throughout the final 26 chapters of the prophet Isaiah. So, for example, we read in Isaiah chapter 49: "7 Thus saith the LORD, the Redeemer of Israel, and his Holy One, to him whom man despiseth, to him whom the nation abhorreth, to a servant of rulers, Kings shall see and arise, princes also shall worship, because of the LORD that is faithful, and the Holy One of Israel, and he shall choose thee. 8 Thus saith the LORD, In an acceptable time have I heard thee, and in a day of salvation have I helped thee: and I will preserve thee, and give thee for a covenant of the people, to establish the earth, to cause to inherit the desolate heritages; 9 That thou mayest say to the prisoners, Go forth; to them that are in darkness, Shew yourselves. They shall feed in the ways, and their pastures shall be in all high places."
Paul cited this passage from Isaiah in reference to the Corinthians, who were Dorian Greeks and descendants of the ancient Israelites, earlier in the same chapter of his epistle where he told them to " come out from among them, and be ye separate", and he had explicitly explained to them in 1 Corinthians chapter 10 that they were indeed descendants of ancient Israel, whose fathers were with Moses in the Exodus. Paul was not taking the prophets out of context, and neither was Peter, especially since Christ professed having come to fulfill the prophets, and not to destroy them (Matthew 5:17).
So in the very next verse of Peter's first epistle, verse 10 of 1 Peter chapter 2, he continues to describe this "chosen race" and "holy nation" by saying: "10 Which in time past were not a people, but are now the people of God: which had not obtained mercy, but now have obtained mercy." This passage does not mean what the denominational churches claim that it means, but rather, it refers exclusively to the children of Israel who were dispersed in the Assyrian captivities. This we read in Hosea chapter 1, which Peter was citing when he wrote those words, but now so that we may see the proper context, we shall read a larger portion of the prophecy.
The prophet Hosea was told to take a whore for a wife and have children with her, and as he did, the children were named in accordance with accompanying prophecies concerning the children of Israel, whereby the children stood as examples. So the first two children were named Jezreel, which means God sows, and Loruhamah, which means no mercy, because Yahweh would no longer have mercy upon Israel for their sins, but instead He would punish them severely. Then for a third time, Hosea was told to sire a child, and he did, having had a son. Then once the son was born we read: "9 Then said God, Call his name Loammi: for ye are not my people, and I will not be your God." So those of Israel who survived the Assyrian invasions were taken off into Assyrian captivity. But the punishment was accompanied with a promise of reconciliation where it continues and we read: "10 Yet the number of the children of Israel shall be as the sand of the sea, which cannot be measured nor numbered; and it shall come to pass, that in the place where it was said unto them, Ye are not my people, there it shall be said unto them, Ye are the sons of the living God. 11 Then shall the children of Judah and the children of Israel be gathered together, and appoint themselves one head, and they shall come up out of the land: for great shall be the day of Jezreel." The day of Jezreel would be the day in which God sows, which is how Christ had often described His Own ministry, and He came only for the lost sheep of the house of Israel, so they may repent and once again be accepted as the "sons of the living God". But there is nothing in this promise for anyone who is not of Israel in the first place.
So the children of Israel were put off into captivity for their disobedience, and during that time they became many nations and spread to the north, east and west, since God sows. Their movements can be traced to a great degree in both ancient inscriptions and classical histories. To these people did the apostles of Christ bring the Gospel, and only to these people, in spite of the later errors of the so-called Roman Catholic Church and all of the other denominations which eventually arose out of it. As they became Christians, Paul warned them to be separate from other races, and Peter informed them that they were a chosen race, a royal priesthood, a holy nation, and a peculiar people.
They are a chosen race because they are all generally descended from the ancient children of Israel even if they became many nations. They are a royal priesthood as every Christian man should be a servant of God. They are a holy nation because although by the time of Christ they were many nations, they were all from the same ancient nation, and they are prophesied to one day be one single nation once again, for example in Ezekiel chapter 37. They are a peculiar people as God has never forsaken them, as He promised in Isaiah chapter 42, addressing Israel scattered to the ends of the earth, and says in part: "16 And I will bring the blind by a way that they knew not; I will lead them in paths that they have not known: I will make darkness light before them, and crooked things straight. These things will I do unto them, and not forsake them." So here we used the present tense where we just described how Peter had described them, because all of his words still describe them in that manner today, except that presently, having stained clear water with mud one can hardly find sweet drink. But Paul's admonition still stands, and Christians must "come out from among them, and be ye separate" if they are ever going to please their God. Otherwise, they invite His wrath and even further punishment, rather than His mercy.
The apostles of Christ had warned that Christian churches would be infiltrated and subverted by the enemies of Christ, and by the second century there is a clear departure from their teachings concerning the issue of race and the nature of the covenants of God, which obviously suited the Jews of that time just as well as it had suited the Roman Empire. There is also a record of direct Jewish involvement in the formation of Roman Catholic Church doctrines from at least as early as the 13th century and the overwhelming popularity of the Bible commentaries written by Nicholas of Lyra and especially that of Paul of Burgos, a converted rabbi who quickly became a Catholic bishop. So I can understand the depth of the deception in doctrinal understanding, and how long it has been ongoing. But the words of the apostles themselves are plain, and were in agreement with the Old Testament prophets, and both the apostles and the prophets directly contradict nearly all modern church teachings so long as their words are not taken out of context.
Now, concerning Paul's use of a word meaning unclean, where he said "touch not the unclean", we will offer a review of a paper by Clifton Emahiser titled What Scripture Teaches About the Unclean which he had written in January of 2008, and of course we shall offer some of our own comments and clarifications.
What Scripture Teaches About The "Unclean" by Clifton Emahiser
The subject of what is "clean" or "unclean" is of the utmost importance in Scripture, and cannot be overemphasized! Many times when the subject of the "clean" and "unclean" is brought to the fore, the full meaning is not fully comprehended by the reader.
Most well-intending but misinformed Christians point to Acts 10:10-16 to support their insistence upon the consumption of unclean foods such as swine, where Peter had a vision, which says: "10 And he became very hungry, and would have eaten: but while they made ready, he fell into a trance, 11 And saw heaven opened, and a certain vessel descending unto him, as it had been a great sheet knit at the four corners, and let down to the earth: 12 Wherein were all manner of fourfooted beasts of the earth, and wild beasts, and creeping things, and fowls of the air. 13 And there came a voice to him, Rise, Peter; kill, and eat. 14 But Peter said, Not so, Master; for I have never eaten any thing that is common or unclean. 15 And the voice spake unto him again the second time, What God hath cleansed, that call not thou common. 16 This was done thrice: and the vessel was received up again into heaven."
Clifton's articles were always written in a very precise manner, since he wanted to fit them onto a two-sided pamphlet of legal-sized paper, four columns on each side. So he did not make a quip here that he often made elsewhere in relation to this passage, where he would assert that Jesus did not die so that he could eat a ham sandwich. In any case, the quip really does expose the shallow Biblical understanding of most all denominational Christians. So now he comments on the passage:
Three times makes this very important! You will notice here it says, "... a great sheet knit at the four corners…" Any truly alert Bible student will recognize that the "four corners" spoken of here represent Israel as they camped in the wilderness in the formation of a square. It's not unclean animals in the sheet but unclean Israelites who were divorced from the Covenant.
The proof that this vision pertains to people is found where immediately thereafter, two uncircumcised men come to Peter and ask him to come to the house of Cornelius, a pagan Roman. Peter would never have done so if he had not first received this vision, as the Judaeans accounted the uncircumcised as unclean and would not have anything to do with them. The evidence for that is found throughout the New Testament and the writings of the first century Judaean historian Flavius Josephus. Continuing with Clifton:
Once divorced, they became "not a people", and came under the classification with unclean heathen. Then Christ, whom most people call "Jesus" but who was Yahweh in the flesh as Yahshua, came to redeem Israel back to Himself. Israel, once divorced by Old Testament law, could not be remarried to Yahweh again, except by one provision, and that being that either Israel or Yahweh must die. This was the whole purpose of the crucifixion, for upon Yahshua dying, the way was clear for Him to once again marry Israel as he had done before. Therefore, it says further, "What God hath cleansed, that call not thou common." This is where Colossians 2:14 comes into play: "Blotting out the handwriting of ordinances that was against us, which was contrary to us, and took it out of the way, nailing it to his cross."
The fact that Yahweh had to die in order to release Israel from the law is explained by Paul of Tarsus in Romans chapter 7, and is also evident in the prophets, among other places especially in Hosea chapter 2, and in the law, in Deuteronomy chapter 24. In the Gospel, where Christ had called Himself the Bridegroom, He Himself had alluded to Hosea chapter 2. Continuing with Clifton:
What one must understand is that Yahweh found Israel as a virgin and married her (all 12 tribes), and later he found uncleanness in her through her unfaithfulness and turning to idolatry – and the gross immorality to which idolatry ultimately leads, such as race-mixing or homosexuality as was practiced in Sodom.
While race-mixing fornication is not mentioned in the Genesis accounts in reference to Sodom, it is explained that they were doing as much by the apostle Jude where he wrote in his epistle that "7 Even as Sodom and Gomorrha, and the cities about them in like manner, giving themselves over to fornication, and going after strange flesh, are set forth for an example, suffering the vengeance of eternal fire." The word for strange in that passage is from the Greek word ἕτερος, which means different, and which is the same word used as a prefix in the term ἑτεροζυγέω which Paul had used where we had earlier discussed the Christian obligation to "come out from among" people of different kinds. Continuing with Clifton once again:
So Yahweh handed Israel a bill of divorce, Jeremiah 3:8: "And I saw, when for all the causes whereby backsliding Israel committed adultery I had put her away, and given her a bill of divorce; yet her treacherous sister Judah feared not, but went and played the harlot also." The "handwriting of ordinances that was against us" is found at Deuteronomy 24:4: "Her former husband, which sent her away, may not take her again to be his wife, after that she is defiled; for that is abomination before Yahweh ..."
At Luke 16:18, Yahshua Christ Himself declared: "Whosoever putteth away his wife, and marrieth another, committeth adultery: and whosoever marrieth her that is put away from her husband committeth adultery." It should be glaringly apparent that once Yahweh had divorced Israel, he could not take her back as His wife again without breaking His own law on the matter! Nor could He marry another, such as the clergy call "Gentiles"! Nor could He have a son (whom many call "Jesus") and allow Him to marry his Father's wife without breaking His own law, as so many insist!
As we explained at length recently, discussing another of Clifton's papers, the modern Clergy with its false doctrines essentially claims that Yahweh God has committed both fraud and adultery, because they reject both the explicit terms of His covenant and the sanctity of His marriage to Israel. [If he had lived longer, I am certain that Clifton may have eventually published a separate paper titled The Clergy Claims God Committed Adultery, and it certainly would be a valid accusation. So now Clifton briefly explains how Yahweh upheld the sanctity and the legality of His side of the relationship with Israel:
The only other provision is if one of the two parties of the marriage were to die. If Israel were to die, she had no power of resurrection, and she would be dead forever! So Yahweh took it on Himself to come in the flesh as a man and die in order to satisfy His own law, and having the power of resurrection can and will remarry Israel! ("... he that hath seen me hath seen the Father ...") The important thing for the reader to understand is, upon Yahweh's divorce of Israel for her unfaithfulness, she fell into an "unclean" category.
Getting back to Peter's sheet-vision, Yahshua said, "What God hath cleansed, that call not thou common." And the word common means "unclean". Therefore the message of the Gospel is that by Christ's shed blood upon the cross, Israel was cleansed. You will notice that it is written in the past tense, so it happened 2000 years ago, and people since that event have no choice in the matter! And we as Israel have been clean ever since! The only choice we have is to accept that cleansing and be thankful for it. Furthermore, Yahweh married Israel only, and by His law can take only Israel back! If He were to marry members of any other race, it would be adultery, and Yahweh Himself would become "unclean"! If He were to do that, as so many claim He will, He might as well have kept Israel in her adulterous condition! Do they mean to tell us that Yahweh is going to marry unclean sewer-people? [Such as Cubans? - WRF] Universalism is Satan's agenda, not Yahweh's! The sewer-races will not inherit the Kingdom! [Therefore we must "come out from among them" - WRF]
There is a distinction here which is important, but which Clifton for one reason or another had not explained. Five years after he wrote this, I explained it at length in my commentary for Acts chapter 10. In this passage from Acts chapter 10, Peter said "for I have never eaten any thing that is common or unclean." The word common is from the Greek word κοινός. The word unclean is from the Greek word ἀκάθαρτος, the same word Paul had used in his admonition to "touch not the unclean". So here we should discuss those terms briefly.
In their Greek-English Lexicon, Liddell & Scott explain that the adjective κοινός is "common, shared in common… common to all the people, common, public, general… of meats, common, profane…" and that the related verb κοινόω is "to make common, communicate… to defile, profane…" But while something common may be accounted unclean for that reason, the adjective ἀκάθαρτος literally and simply means unclean. In Scripture, generally something which is ἀκάθαρτος or unclean is unclean according to the law. But something κοινός or common is something which was defiled but which may be cleansed under the law, usually by a priest or by some cleansing ritual, or even a routine washing. The King James Version and many other Bible translations fail to properly distinguish between these two terms. So for that reason, where Yahweh is recorded as having responded to Peter we read: "What God hath cleansed, that call not thou common." In that answer, there is no regard for anything which is inherently unclean, but only for that which was considered common.
Now keeping that distinction in mind, we shall continue with Clifton:
It should be pointed out, though, as long as Israel had divorce status from Yahweh, she also was considered unclean, not that she was genetically impure in any sense of the matter. Many confuse the language at Isaiah chapter 56 because of this, and assume that Isaiah was opening the door of Israel's Covenant to everyone, but that simply isn't true. They will quote Isaiah 56:3, 5, 6, 7, 8: "3 Neither let the son of the stranger, that hath joined himself to Yahweh, speak, saying, Yahweh hath utterly separated me from his people:
This alone proves the son of a stranger is an estranged Israelite, that he laments that Yahweh had separated him from His people. If he were a racial alien he could not say that, but perhaps being accepted he could instead say that Yahweh had joined him to His people. Continuing with the citation from Isaiah:
neither let the eunuch say, Behold, I am a dry tree ... 6 Also the sons of the stranger, that join themselves to Yahweh, to serve him, and to love the name of Yahweh, to be his servants, every one that keepeth the sabbath from polluting it, and taketh hold of my covenant; 7 Even them will I bring to my holy mountain, and make them joyful in my house of prayer: their burnt offerings and their sacrifices shall be accepted upon mine altar; for mine house shall be called an house of prayer for all people. 8 Yahweh [God] which gathereth the outcasts of Israel saith, Yet will I gather others to him, beside those that are gathered unto him." Typical universalists' view on this passage can be found in the Believer's Bible Commentary by William MacDonald, page 982: "... Neither the foreigner nor the eunuch should fear that they will be barred from any of the benefits of Christ's kingdom. In fact, those who obey the Word of the Lord will have preferred positions. The temple will then be a house of prayer for all nations, not just Israel. God will gather Gentiles to His fold in addition to the house of Israel." BUT I SAY, THERE IS NOTHING FURTHER FROM THE TRUTH!
We could spend a significant amount of time here, as we have done so already in past presentations, proving Clifton's position on Isaiah chapter 56. Here it must suffice to say that the word stranger in verse 3 is nekar, a Hebrew word describing someone who is either estranged, or not immediately identifiable or recognizable. The word was often used in Scripture to describe fellow Israelites not immediately known to a subject, and it does not necessarily mean foreigner, depending on the context in which it is used. The children of Israel having been estranged from Yahweh had become strangers to Him. The children of Israel having been put off in divorce had been cut off by Him and become no better than eunuchs, as we read earlier in Isaiah, in chapter 48: "17 Thus saith the LORD, thy Redeemer, the Holy One of Israel; I am the LORD thy God which teacheth thee to profit, which leadeth thee by the way that thou shouldest go. 18 O that thou hadst hearkened to my commandments! then had thy peace been as a river, and thy righteousness as the waves of the sea: 19 Thy seed also had been as the sand, and the offspring of thy bowels like the gravel thereof; his name should not have been cut off nor destroyed from before me." Their seed would have been as the sand, but they were cut off, so the transgressors were not better than eunuchs. Therefore those of Israel who would continue to keep the laws and sabbaths while in captivity would be better than those who would not, who were strangers and eunuchs. So we continue with Clifton:
Once we grasp that the northern Ten Tribes had been divorced by the Almighty, along with most of Judah [all taken into captivity by the Assyrians], we can understand that they were cut-off from the Covenant and became estranged to Him. The tribes, being cut-off from the Covenant, became like a "eunuch" or a "dry tree". Another simile about a eunuch is that he cannot procreate children to carry on his name, so too, Israel being divorced, lost her name. For that period, Israel's seed had been cut-off, so figuratively, the simile of a "eunuch" is appropriate. Upon understanding that Israel was the "eunuch", there is no longer a conflict with Deuteronomy 23:1 [which forbids eunuchs from entering the congregation - WRF]. This passage is not talking about bringing non-Israelites under the Covenant, but quite the opposite. Once Yahshua died for our Redemption, we were then brought back under the New Covenant, which includes only the House of Israel and the House of Judah, (Jeremiah 31: 31; Hebrews 8:8). And to try to force "whosoever" into the equation is a matter of fraud! Unclean sewer-people under the Covenant? You have to be kidding! [Something which Deuteronomy 23:2 and many others laws forbid. - WRF]
Here Clifton should have used the term metaphor rather than simile, and he would have been echnically correct, but the difference between the two is minor. So o continue:
Then we must also understand the use of the word "stranger." Some may argue that the word "stranger" at Isaiah 56:3 & 6 is #5236 [nekar] instead of #1616 [geyr, which is an acceptable guest or sojourner]. When Israel was divorced, they became equivalent to non-Israelites until Yahshua purchased them back, so #5236 is not out-of-order in this passage. At Isaiah 56:2 "man" is used twice, #582 [enosh] & #120 [adam] and Jamieson, Fausset & Brown's Commentary, p. 582, on this passage describes #582 thus: "the man — Hebrew, enosh, 'a man in humble life', in contradistinction to Hebrew, ish, 'one of high rank'." In this sense the meaning of enosh is very fitting, for Israel was humbled when she was punished, but they didn't become genetic sewer-people like bad-fig-jews, arabs, mexicans or any other nonwhite race!
Here I must note a few things about the definitions of these words. I will also disagree with the Jamieson, Fausset & Brown definition of enosh. But first I must state that early Christian Identity teachers had sort of painted themselves into a corner concerning these words, which they never resolved and by which their enemies sought to discredit them. Clifton was caught up and misdirected by this, and so was I early in my own studies. They asserted that the word nekar always desribes a racial alien, and it does not. It is demonstrable in Scripture that it refers to a stranger of any race, including one's own. It is also demonstrable in Scripture that the word enosh is merely a mortal man of any race, whereby only adam is used of a particular race, and often enosh is used to describe Adamic men. Only sometimes is it set in apposition to adam, whereby it describes non-Adamic men. But Jamieson, Fausset & Brown believe that all men came from Adam, so they cannot understan the true meaning of the word. We have most recently discussed these terms fully, in part 18 of our series titled 100 Proofs the Israelites were White.
Continuing with Clifton and Isaiah chapter 56:
It should also be evident that when it speaks of others at Isaiah 56:8, it does not mean non-Israelites! It should be noticed that "others" is italicized here, although the remainder of the verse does support its use. So just whom are the others? Sometimes it would help if one were familiar with the history surrounding it, when the passage was written. Isaiah wrote this when Manasseh was king of Judah, who reigned 696-641 B.C.
I must interject here that Clifton must have read this somewhere, that Isaiah had lived wrote until after Manasseh became king of Judah. But in Isaiah chapter 1, which mentions the kings under whom Isaiah conducted his ministry, Manasseh is not mentioned explicitly. Isaiah's ministry began as early as 740 BC, maybe even earlier, but certainly before Uzziah died around 739. So while it is possible he lived until Manasseh became king it is not certain. What is certain is the fact that the final 26 chapters of Isaiah, which address the Israelites scattered abroad, were written after the failed Assyrian siege of Jerusalem which happened as late as 701 or 700 BC. According to some sources, Hezekiah died in 698 BC, and that is when Manasseh became king of Judah. Various chronologies differ with one another by several years. So Clifton continues speaking of the time when Isaiah wrote his final 26 chapters, where he also touches on the distinction between something which is common and something which is unclean under the law:
At that time the ten-tribed northern house of Israel [with much of Judah] were already captive in Assyria, and the southern kingdom of Judah was a tribute-paying province of the Assyrians. During Manasseh's reign, he tolerated the high places, and Judah's morals dipped to an all-time low, even beyond that which the northern Ten Tribes had committed, leading to a certain amount of race-mixing with the Canaanites, thus producing half-breed unclean sewer-children. So the "others" at verse 8 can only be pure-blooded members of the ten northern tribes! This whole passage at Isaiah 56:3-8 can only be speaking of the restoration of the ten northern tribes, at the time of Isaiah, back into the Kingdom after their Christ-blood-washed cleansing under the [or according to] ministry of Paul, which Peter saw in his four-cornered sheet-vision. Yahweh in the flesh didn't die for pigs, but rather [for] Israelites! It is blasphemous to even suggest that Christ died for pigs! Nevertheless, pig is unclean and unfit for consumption by White men, but permissible for the other races.
Since pigs are unclean under the law, a priest of Yahweh could not cleanse them according to any ritual, and the same would hold true for bastards. But since cattle were clean under the law, if they were mistreated or defiled, thereby being considered common, they could nevertheless be cleansed under the law. So continuing again with Clifton:
Adultery happens within a woman's body with the introduction of an alien element. In metallurgy the word "alloy" means "... 2: to reduce the purity of by mixing with a less valuable metal ... 3b: an impairing alien element ..." (Merriam-Webster's Collegiate Dictionary, 10th ed.) "Impairing" means: "cause to diminish in quality, power or value; make worse." Is this not exactly what happens when an alien sperm fertilizes the egg of a pure White female? Such an introduction is a sin for which there can be no forgiveness, for the end product can never be corrected. Once such a conception of a sperm cell and an egg takes place, every succeeding cell forming the baby has the blueprint of that alien element, which is unclean. Under such a scenario, every single cell is polluted, therefore nothing short of complete annihilation by the angels of Christ [explained] at Matthew 13:47-50 can remedy such a sin. If the conception is unclean, so too the entire formation of the final product, as well as all generations downstream forever, and that's a lot of uncleanness.
That is why 1 John 3:9 states: "Whosoever is born of God doth not commit sin; for his seed remaineth in him: and he cannot sin, because he is born of God." This is not some kind of spiritual seed as some would suppose, for the word in Greek is sperma, and whoever heard of spiritual sperm? And the way "his seed remaineth in him" is – he chooses a wife of his own kind. Was not Eve made from Adam? Didn't Adam's seed remain in him when Abel and Seth were conceived? It's when a man goes into a foreign woman that his seed remaineth NOT in him and he committeth sin, or likewise when an alien goes into a White woman is when she sins. That's why the Bible defines such an offspring as a bastard! And because it has an alien element, it's unclean! And no amount of washing can make it clean!
Jeremiah's language makes that quite clear at 2:21-22: "21 Yet I had planted thee [Judah] a noble [unmixed] vine, wholly a right [racial] seed: how then art thou turned into the degenerate [race-mixed] plant of a strange vine unto me? 22 For though thou wash thee with nitre [strong lye], and take thee much soap, yet thine iniquity is marked before me, saith Yahweh." In other words, one could buy forty gallons of strong lye soap and shower for forty days and forty nights, and one could not wash away the mark of an alien! Such a mark is a mark of uncleanness! Oh the money that is wasted on foreign missions!
Here I will only interject that the apostles contradicted none of these Old Testament writings, but had rather only confirmed them, as Christ Himself also had done. In fact, this is the Word of which He was made flesh! So Clifton moves on to his next example:
Ezra, at 9:10-11 lamented: "10 And now, O our God, what shall we say after this? for we have forsaken thy commandments, 11 Which thou hast commanded by thy servants the prophets, saying, The land, unto which ye go to possess it, is an unclean land with the filthiness of the people of the lands, with their abominations, which have filled it from one end to another with their uncleanness." This is a similar description of America today, with all of the unclean sewer-people pouring in from distant lands from all over the world to become bloodsuckers and leeches on our economy, while at the same time defiling our women to annihilate us as a pure race. The introduction of the mexican sewer-people alone has lead to a major catastrophe! At this verse, Ezra was addressing White people, advising them of the evils of a race very much like today's mexicans.
Clifton's words apply to any alien race, jews, negroes, east asians, or whatever. But at the time when he had written this, he was upset with a friend who had taken to wife a woman who had two mexican shitlets in her past, and the friend had accepted and was succoring them. So Clifton was trying to send him a message which, quite sadly, I know that the friend had heard but had never received. Now he continues:
At Job 14:4 we read of his wisdom: "Who can bring a clean thing out of an unclean? not one."
So there will never be any such thing as a clean pig, or a clean hispanic, especially a cuban.
Christ declared to the scribes and Pharisees that they were an unclean racial people at Matthew 23:27: "Woe unto you, scribes and Pharisees, hypocrites! for ye are like unto whited sepulchres, which indeed appear beautiful outward, but are within full of dead men's bones, and of all [racial] uncleanness." [Within they had not the spirit of God, as Jude had called them "clouds without water" and "twice dead" in his epistle. - WRF]
At 1 Corinthians 7:12-14 we come across another manner of uncleanness, and that would be "clean" or "unclean" children: "12 If any brother hath a wife that believeth not, and she be pleased to dwell with him, let him not put her away. 13 And the woman which hath an husband that believeth not, and if he be pleased to dwell with her, let her not leave him. 14 For the unbelieving husband is sanctified by the wife, and the unbelieving wife is sanctified by the husband: else were your children unclean; but now are they holy. 15 But if the unbelieving depart, let him depart. A brother or a sister is not under bondage in such cases: but God hath called us to peace. 16 For what knowest thou, O wife, whether thou shalt save thy husband? or how knowest thou, O man, whether thou shalt save thy wife?" Paul is here addressing something which is little understood and seldom addressed by churchianity today. This passage is indicative of Adam and Eve in the garden of Eden. Because Eve was genetically of Adam, Eve, though she sinned, was sanctified in Adam, just as the wife or husband in this passage. Take away the equation of race here, and Paul's words mean nothing.
We would assert that at the time when Paul wrote those words, a Christian was taught that he, or she, must marry only one of their own kind, thereby keeping the race pure and the children clean. Paul instructed the Corinthians not to commit fornication later in that same epistle, in chapter 10, using a race-mixing episode recorded in Numbers chapter 25 as an example. So Clifton continues:
This whole passage is based on believing the Gospel that Christ died on the cross in order to redeem his former wife, the twelve tribes of Israel, back to himself. The Gospel has nothing to do with what some term as "the original sin". There are some teachers who, on every reading of the word "sin", will replace it with the words "old Adam".
Personally I don't know who does this, but we will continue with Clifton:
But at 1 Timothy 2:14, Paul declares that: "And Adam was not deceived, but the woman being deceived was in the transgression." But we are told that Adam also ate of the forbidden tree. Think of it this way: If your wife takes out the family automobile and has an accident causing several thousands dollars of damage, when a claim is made for damages, you, the husband will find yourself equally liable along with your wife. In other words, when Eve committed adultery with the serpent, Adam was equally responsible for Eve's action. Now that was the original sin! [We should rather say that when Adam accepted the sinful Eve, that was the original sin. - WRF] So why don't the preachers say "old Eve" rather than "old Adam"? The "children" in this passage are NOT racially "unclean", but without at least one believing parent, are doomed to grow up in an unclean idolatrous environment and become mentally unclean. And it is simply appalling the mental uncleanness that our children are receiving today from our public school systems.
Clifton meant well here, but I would not say that an Adamic man or woman could be mentally unclean. However if one does not follow the commandments of Christ, one is mentally common, and ma make himself unclean through the subsequent sins he becomes prone to committing. Then, in a mixed-race society, something which Rome was quickly becoming at the time, one is destined to have children which are indeed unclean, and it was that to which Paul seems to have been referring. But on the other hand something common, if it is not cleansed, could described as unclean until it is cleansed. So continuing with Clifton:
Uncleanness always generates more uncleanness. Homosexuality generates more homosexuality, both among men and women. Today [early 2008], our armed services are replete with such unclean activity. In the high schools tremendous peer pressure is directed toward any young White virgin lady to have sexual intercourse with a member of a different race. And should she have a date with a young Caucasian man, she will be scorned and ridiculed to no end. Therefore, race-mixing generates more race-mixing! When we view what is going on in the world today, Sodom and Gomorrah would compare to a Sunday school picnic. Peter said at 2 Peter 2:5-6: "5 And spared not the old world, but saved Noah the eighth person, a preacher of righteousness, bringing in the flood upon the world of the ungodly; 6 And turning the cities of Sodom and Gomorrha into ashes condemned them with an overthrow, making them an ensample unto those that after should live ungodly ..." We're not playing a game of tinker toys here; race-mixing and homosexuality will be punished!
Few there are who notice that the reason Noah and his three sons and their wives were spared is because they were perfect in their genealogy. There wasn't a half-breed among them! Paul warned at Acts 15:20 and 1 Thessalonians 4:3 that we should avoid all pollutions of idols and unclean fornication (interracial sexual intercourse).
Acts 15:20: "But that we write unto them, that they abstain from pollutions of idols, and from fornication, and from things strangled, and from blood."
1 Thessalonians 4:3: "For this is the will of God, even your sanctification, that ye should abstain from fornication."
It is clear from his example in 1 Corinthians chapter 10, where he used the same term translated as fornication in an admonition to his readers not to do such things, that Paul was referring to race-mixing when he used the term, just as Jude had used it in his epistle and just as it is often used in the Revelation. In that passage, Paul referred back to an event in the Book of Numbers where we read that "1… Israel abode in Shittim, and the people began to commit whoredom with the daughters of Moab." Returning to Clifton:
Among the holiness movements they usually refer to sanctification as a second work of grace. But I believe it is so important to guard one's racial purity that it should be considered a first work of grace. What Paul was trying to warn the Thessalonians about was: So your offspring will be born Holy, don't perpetrate any race-mixing. Today we see a lot of unclean, unholy children coming into the world, and they are nothing more than sewer-creatures. One either has Holy seed or nothing! Ezra speaks of "holy seed" at 9:2: "For they have taken of their daughters for themselves, and for their sons: so that the holy seed have mingled themselves with the people of those lands: yea, the hand of the princes and rulers hath been chief in this trespass."
Holy, clean seed was important to Ezra during his day, and it is still just as important in our day. Though the majority seem to be following Satan's agenda for interracial multiculturalism, there is an even greater need for followers of Yahweh's program for segregation! At the moment, Satan seems to be winning his cause, but in the end he and his fallen will lose. But meanwhile we must not give up the fight. This war between the seed of the serpent and the seed of the woman has been going on now for nearly 7,500 years, and will soon end with the defeat of satanic-Canaanites and their father!
Here we must add, that only Yahweh God Himself is going to bring the children of Israel victory over the satanic world powers, as it is promised in Luke chapter 1, that Christ had come "71 That we should be saved from our enemies, and from the hand of all that hate us; 72 To perform the mercy promised to our fathers, and to remember his holy covenant; 73 The oath which he sware to our father Abraham, 74 That he would grant unto us, that we being delivered out of the hand of our enemies might serve him without fear, 75 In holiness and righteousness before him, all the days of our life." If we hope to have a part in that victory, as it is described in Revelation chapter 19, then we must keep His commandments. We do not keep, but rather we transgress His commandments by voting with spics. But I only use this example as it is an issue with some of our friends which I have recently addressed.
Now Clifton concludes:
Christ informed the scribes and Pharisees at Matthew 23:32 that they were of the "unclean" racially-mixed Canaanites mentioned at Genesis 15:16. (Compare "Fill ye up thou the measure of your fathers" to "… for the iniquity of the Amorites is not yet full.") These two verses cross-reference each other in many Bibles. In addition, Paul also identifies them as Canaanites at 1 Thessalonians 2:16, "… to fill up their sins alway[s] …"
The enemies of Yahweh God cannot help but to sin, and even when they appear to do good, it is not necessarily with the motives or for the same reasons that men may imagine, so it is still sin. These same people, and all of their spawn, have come to dominate society today. But it is not just jews. Rather, the arabs, mexicans and other hispanics, many mixed southern or eastern Europeans and others who have been under the control of either jewry or islam over these past 2000 years, are nearly all genetically related to jews. Even many American negroes are related to jews, to those jews and arabs who dominated the supply chain of the slave trade or who owned the plantations of the so-called New World.
I have learned throughout my own life's experience that children do not learn from what their parents say, but from what they see their parents do. A parent can warn a child not to do something, but if the parent is doing it, inevitably the child will also. But this is also true of people and their leaders or teachers or other influences. When you accept someone from outside, for example, a Cuban, those who respect you and follow you will also accept them. Once having done so, the alien becomes more and more acceptable to those who respect you, and it leads to sins such as race-mixing. So you are teaching men to sin through your own actions. Tread carefully, as Yahsjhua Christ is recorded as having said, in Matthew chapter 5: "19 Whosoever therefore shall break one of these least commandments, and shall teach men so, he shall be called the least in the kingdom of heaven: but whosoever shall do and teach them, the same shall be called great in the kingdom of heaven."
Now, in our modern society we are held captive by evil world governments, so sometimes we are compelled to do things which we despise simply in order to survive. That is acceptable so long as we do not forsake the laws of our God. The prophet Daniel is an ideal example, as he lived among the Chaldaeans and even held an office of authority under the Babylonians. But Daniel would die in the fires before he purposely dishonored or was disobedient to Yahweh. When we have a choice, and when we can control our own environments, if we transgress the commandments then we are purposely dishonoring God. We must come out from among them, meaning the aliens which the evil government has forced into our society. To voluntarily accept and even embrace them is to justify the wicked. In Isaiah chapter 5 the prophet condemned them "23 Which justify the wicked for reward, and take away the righteousness of the righteous from him!" We do not want to be condemned likewise. Therefore we do not seek to justify anyone who was not cleansed on the cross of Christ with our fellowship or our respect.
So this is also why I was recently compelled to part ways with the League of the South, because I am obligated to set this example; I have no other choice. [See this image and this image] I cannot stand silent before supposed friends who would justify the wicked for supposedly political reasons. I pray that they repent of it and learn from it, and that the Roman Catholic, denominational and politically-minded influences within the organization do not prevail, because we are confident that according to the Word of Yahweh our God, they can not prevail in the long term. Furthermore, the Florida chapter's recent push into mainstream politics is puzzling. I do not know how one can adjure the realm, and vote for politicians who hate us and who support the realm. Voting for the lesser of two evils has never been the answer. Only Christ is the answer, and He only demands our obedience to His commandments.
The law of Yahweh our God commands us to separate ourselves. If we refuse, we stain clear water with mud and with that we shall never find sweet drink.